Mar 13, 2003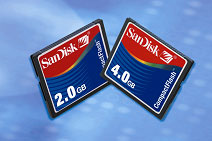 HANNOVER, Germany, March 13, 2003 - SanDisk Corporation (NASDAQ:SNDK) today introduced a four gigabyte (GB) CompactFlash® (CF) card, the worlds largest capacity CompactFlash memory card. With the new announcement, SanDisk is leveraging its production 0.13 micron NAND flash technology and a new advanced high density component package to quadruple the capacity of its largest capacity CF card. The card, which is in the popular Type I CF format, was introduced at a press conference at the CeBIT trade show. SanDisk is demonstrating products at the show in Hall 21, Booth B-24.
Wes Brewer, senior director of retail product marketing and business development at SanDisk, said, "With the continued growth in camera resolution and corresponding file sizes, many professional and prosumer-class cameras are requiring higher capacity memory cards than are currently available. Larger card capacities are also being driven in the point and shoot category of cameras by the addition of Motion JPEG video clips and audio support for both still and motion images. SanDisks ability to pack 4GBs into a Type I CompactFlash card is perfectly matched to sales trends in a growing segment of the digital imaging marketplace."
Chris Chute, a senior analyst at the IDC market research firm, said, "We predict an increased demand for higher capacity CompactFlash cards because of the growing popularity of high-resolution digital cameras and other consumer electronics products. This new SanDisk card will be an especially compelling product for professional photographers who need all the storage capacity they can get to store their many images."
With this unprecedented flash storage, more than 4,000 high resolution pictures could be stored on the 4GB CompactFlash card, or more than 1,000 digital songs or even a full length DVD movie. SanDisk also introduced a 2GB Type I CF card at CeBIT.
SanDisk CompactFlash cards are all built in the Type I format which fit into any CompactFlash slot. More than 500 different consumer electronics devices have CF slots today. High capacity CF cards (including the MicroDrive) from other manufacturers typically are built to the thicker Type II format and will only fit in a limited number of devices available today.
The 4GB CompactFlash card has a suggested retail price of $999.99 and is expected to start shipping this summer. The 2GB CF card has a suggested retail price of $499.99 and is expected to start shipping this summer.
SanDisk, the worlds largest supplier of flash data storage products, designs, manufactures and markets industry-standard, solid-state data, digital imaging and audio storage products using its patented, high density flash memory and controller technology. SanDisk is based in Sunnyvale, CA.
The matters discussed in this news release contain forward looking statements that are subject to certain risks and uncertainties as described under the caption, "Factors That May Affect Future Results" in the companys annual report on Form 10-K-A and quarterly reports on Form 10-Q, filed with the Securities and Exchange Commission. The companies assume no obligation to update the information in this release.
All trade names are either registered trademarks or trademarks of their respective holders.
For more information or images on SanDisk and its products, contact: http://www.sandisk.com