Apr 14, 2004
Year-over-Year Increase in Revenues of 122% and Operating Income of 184%
SUNNYVALE, CA, April 14, 2004 - SanDisk Corporation (NASDAQ:SNDK), the world's largest supplier of flash storage card products, today announced results for the first quarter ended March 28, 2004. First quarter total revenues increased 122% to $387 million compared to the first quarter of 2003 and were essentially unchanged from the seasonally strong fourth quarter. First quarter product sales were up 118% year-over-year and down 4% to $339 million compared to $353 million in the fourth quarter. Income from license and royalties increased to $48 million, up 153% and 34% year-over-year and sequentially. First quarter operating income was $99 million, compared to $35 million and $109 million for the first quarter of 2003 and the fourth quarter of 2003, respectively. The first quarter effective tax rate was 37% compared to 20% in the fourth quarter of 2003. Earnings per share were $0.34 per diluted share compared with $0.17 per diluted share in the same quarter of 2003 and $0.47 per diluted share in the fourth quarter of 2003.
"The first quarter was another good quarter for SanDisk given the traditional first quarter seasonality. Royalty income significantly exceeded our expectations due to strong sales of flash memory by our licensees in the fourth quarter. During the first quarter, we introduced a number of important products that are expected to materially contribute to our revenues in 2004 and in future years. Specifically, these include Shoot and Store™ consumable flash cards targeted for sales through supermarkets and convenience stores, TransFlash™ for semi-embedded storage in new models of camera cell phones, Reduced-Size MultiMediaCard for removable storage primarily in European multimedia camera phones, a broad lineup of new Cruzer USB flashdrives, and the industry's broadest lineup of MemoryStick Pro and Pro Duo," said Eli Harari, President and CEO of SanDisk Corporation.
"Supply and demand were in balance throughout the first quarter which resulted in stable pricing. Early in the second quarter we announced the world's first 4 gigabit NAND MLC monolithic chip, which employs the new 90-nanometer technology that we developed jointly with Toshiba. This chip is expected to start production in the third quarter of 2004 and we expect this will allow us to build highly cost effective 512 megabyte (MB) capacity cards using just one NAND chip and one controller chip. We recently initiated price reductions averaging approximately 20% for many of our products, primarily focusing on 256MB and higher capacities. The new lower pricing is intended to proactively drive demand elasticity and accelerate the retail consumer market transition towards 512MB and higher capacity cards in the second half of 2004. We expect overall year-over-year price reductions to be approximately at the previously stated 40%, which we consider healthy for stimulating the rapid growth and continuing adoption of flash storage in new mega market applications."
Additional Q1 Financial/Business Highlights
Sales of the CruzerTM line of USB Flashdrive products increased 76% sequentially.
Total megabytes sold in the first quarter were about the same as the fourth quarter of 2003 and increased 172% year-over-year.
Average price per megabyte sold in the first quarter declined 4% sequentially and 19% compared to the corresponding quarter of last year.
Total gross margin was 40% of revenues compared to 42% in the fourth quarter of 2003. Product gross margin was 32%, compared to 36% in the fourth quarter of 2003. Average price per megabyte sold declined, and incremental conversion and start-up costs were partially offset by increased sourcing from captive supply and increased MLC output.
Net cash provided by operating activities was approximately $54 million in the first quarter and SanDisk's cash and short-term investment position increased to $1.3 billion at quarter-end.
Business Outlook for the Second Quarter and 2004
SanDisk continues to be optimistic about business prospects in 2004 and expects:
Total annual revenues between $1.6 and $1.8 billion, with second quarter total revenues in the range of $400-$420 million driven by the newly implemented price reductions, as well as the traditional pick-up in retail sales heading into the early summer promotional season.
License and royalty revenues in the range of $40-$42 million in the second quarter. This is due to an expected increase in the level of royalty bearing sales which will be partially offset by a reduction in the royalty rates for some of our licensees.
Product gross margins for the remainder of the year of approximately 30%. This forecast is based on the following expectations: price reductions, Yokkaichi startup costs associated with the addition of new 90 nanometer capacity in the second half of 2004, lower costs due to increased utilization of cost effective MLC, increase in captive supply, and cost savings associated with 90 nanometer NAND flash technology.
Operating expenses of approximately 15% of total revenues for the year and approximately $65 million in the second quarter reflecting accelerated R&D and product development activities and our corporate branding program which is expected to commence in the second quarter.
Effective tax rate of approximately 37%.
Capital equipment outlays for 2004 of approximately $75 million primarily for SanDisk test equipment and $175 million in equipment loans to FlashVision, primarily for conversions of additional 200-millimeter capacity. Second quarter capital spending is projected at approximately $20 million.
These projections could vary significantly depending on a number of factors primarily related to growth in market demand and supply, the success of our recent price actions, start-up costs and capital outlays, and incremental supply and yields from our new 90 nanometer NAND MLC technology, all of which are difficult to forecast accurately for any particular quarter in 2004.
Forward-Looking Statements
This news release contains certain forward-looking statements, including our business outlook, expectations for new product introductions, capacity, future revenues, average selling prices, gross margins, operating expenses, capital equipment expenditures and tax rates that are based on our current expectations and involve numerous risks and uncertainties that may cause these forward-looking statements to be inaccurate and may significantly and adversely affect our business, financial condition and results of operations. Risks that may cause these forward-looking statements to be inaccurate include among others: market demand for our products may grow more slowly than our expectations or a slower adoption rate for these products in new markets that we are targeting, our recent price reductions may not result in strengthening demand as we anticipate, fluctuations in operating results, yields and possible delays related to our planned conversion to 90 nanometer NAND flash currently planned to start in the second half of the year, any interruption of or delay in supply from any of the semiconductor manufacturing facilities that supply products to us, future average selling price erosion that may be more severe than our expectations due to possible excess industry capacity of flash memory either from existing suppliers or from new competitors, decreased demand, price increases from non-captive flash memory sources and third-party subcontractors, higher than expected operating expenses due to unanticipated hiring and marketing expenses, higher than anticipated capital expenditures due to unexpected outlays for test equipment and FlashVision, adverse global economic and geo-political conditions, including adverse currency exchange rates, the timely development, internal qualification and customer acceptance of new products that are based on the 90 nanometer NAND technology, fluctuations in license and royalty revenues, higher than anticipated tax rates, business interruption due to earthquakes or other natural disasters, particularly in areas in the Pacific Rim where we manufacture and assemble products, further impairment of our investments in Tower Semiconductor Ltd. due to any decline in stock valuations, and the other risks detailed from time-to-time in our Securities and Exchange Commission filings and reports, including, but not limited to, the Form 10-K for the year ended December 28, 2003 and our quarterly reports on Form 10-Q. Future results may differ materially from those previously reported. We assume no obligation to update the information contained in this release.  
About SanDisk
SanDisk Corporation, the world's largest supplier of flash storage card products, designs, manufactures and markets industry-standard, solid-state data, digital imaging and audio storage products using its patented, high-density flash memory and controller technology. SanDisk is based in Sunnyvale, CA.
Conference Call
SanDisk's first quarter 2004 conference call is scheduled for 2:00 p.m. Pacific Time, Wednesday, April 14, 2004. The conference call will be webcast by CCBN and can be accessed live, and throughout the quarter, at SanDisk's website at www.sandisk.com/IR and at www.streetevents.com for registered streetevents.com users. To participate in the call via telephone, the dial in number is (800) 811-0667 or (913) 981-4901 for international callers. The call will also be available by telephone replay through Wednesday, April 21, 2004, by dialing (888) 203-1112 or, for international callers, (719) 457-0820 and entering the pass code 545822. A copy of this press release will be filed with the Securities and Exchange Commission on a current report on Form 8-K and will be posted to our website prior to the conference call.
SanDisk's web site / home page address: www.sandisk.com

All trade names are either registered trademarks or trademarks of their respective holders.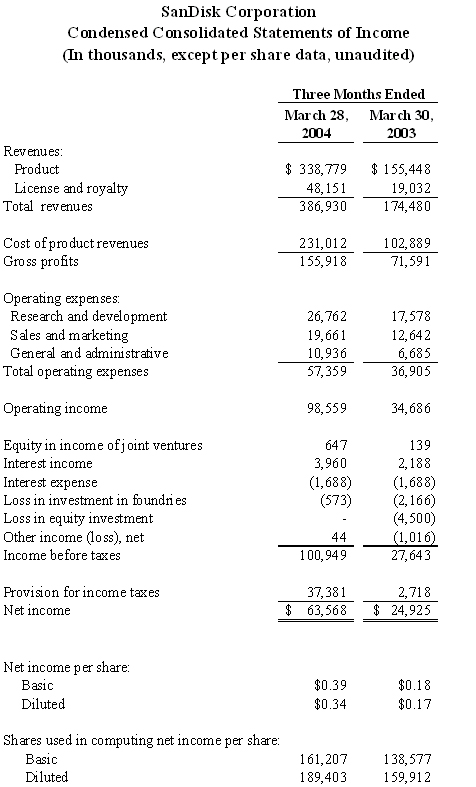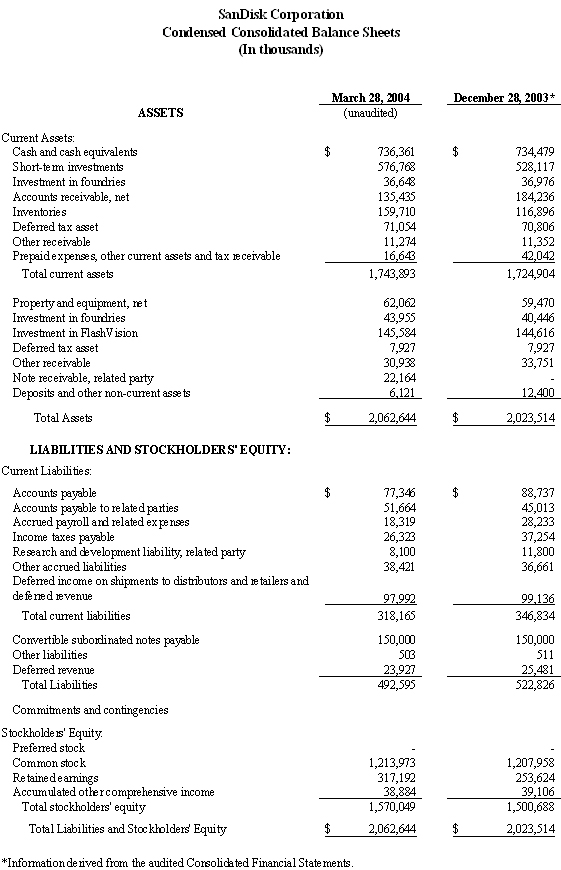 ---
Investor Contact:
Lori Barker Padon
SanDisk Corporation
(408) 542-0585
 
Media Contact:
Mike Wong
SanDisk Corporation
(408) 548-0223