May 24, 2004
New SanDisk Combination SD Card Works With Variety of
Windows Pocket-PC-Based Handheld Devices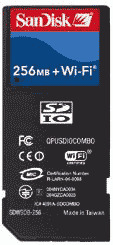 NEW YORK, NY, May 24, 2004 - SanDisk Corporation (NASDAQ:SNDK) announced today the availability of the SanDisk 256 megabyte (MB) + Wi-Fi® SD Combination card, the world's first card to include both memory and WLAN (802.11b) communications in a single SD card. The new card is compatible with handheld devices that feature an SDIO-enabled slot and use Microsoft® Pocket PC 2002, Pocket PC 2003 or Windows Mobile™ 2003 operating environments.
Availability of the SanDisk Combination SD card, with shipping planned in the next 30 days to worldwide markets, was announced at the Digital Experience media conference in New York. SanDisk's 256MB+Wi-Fi SD card has already received a 2004 Mobility Award from MobileTraxx.
"The SD Combination card makes the best use of the handheld's SDIO slot by combining two important features into a single, small-sized card-wireless connectivity and storage," said Dave Smurthwaite, product marketing manager for mobile card solutions at SanDisk. "In addition to the freedom and flexibility of wireless access, the 256MB of memory conserves precious internal memory of the handheld device by allowing the user to save files directly to the card without first saving them to the internal memory of the device. Without storage on the card, handheld users cannot download large files to their devices because the available internal memory of the device is too small. The introduction of this card will meet demand of next generation wireless applications such as the download of large streaming media files from public and private networks for personal use."
The new SanDisk SD Combination card ships with consumer and enterprise-grade security solutions, including WEP, 802.1x, PSK and WPA on the Windows CE platform. It uses Direct Sequence Spread Spectrum (DSSS) Wireless LAN technology to provide bandwidths of up to 11Mbps and ranges of up to 800 feet depending on environment.
The low-power device is designed to minimize battery drain, a key consideration for handheld computer users. In addition, combining flash memory and Wi-Fi in one card also represents a cost savings to consumers because if the cards were bought separately they would cost considerably more.
The 256MB+Wi-Fi SD Combination card has a suggested list price of $129. It will be initially available through popular e-tail websites in the Americas, Europe and most of Asia.
SanDisk, the world's largest supplier of flash data storage products, designs, manufactures and markets industry-standard, solid-state data, digital imaging and audio storage products using its patented, high density flash memory and controller technology. SanDisk is based in Sunnyvale, CA.
The matters discussed in this news release contain forward looking statements that are subject to certain risks and uncertainties as described under the caption, "Factors That May Affect Future Results" in the company's annual report on Form 10-K-A and quarterly reports on Form 10-Q, filed with the Securities and Exchange Commission. The company assumes no obligation to update the information in this release.
---
SanDisk's web site/home page address: www.sandisk.com
SanDisk is a trademark of SanDisk Corporation, registered in the U.S. and other countries. SD is a registered trademark of Toshiba Corporation. Wi-Fi is a registered trademark of the Wi-Fi Alliance. Microsoft, Windows and Windows Mobile are either registered trademarks or trademarks of Microsoft Corporation in the U.S. and other countries. Other trademarks and tradenames are for identification purposes only and may be either registered trademarks or trademarks of their respective holders.
Images can be downloaded from www.sandisk.com/corporate/media.asp
 
SanDisk Corporation
Mike Wong
408-548-0223
mwong@sandisk.com