Jul 27, 2004
Elite Portable USB Flash Drive Chosen For Speed, Durability and Unique Software
That Replicates Outlook® Folders, Backs Up Files and Offers Password Protection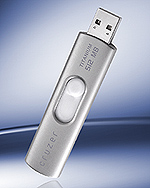 Sunnyvale, CA, July 27, 2004 - SanDisk Corporation (NASDAQ:SNDK) today announced that its new Cruzer® Titanium portable USB flash drive has been honored with two coveted Editors' Choice Awards -- one from consumer electronics website CNET (www.cnet.com), a leading resource for consumer electronic product reviews and information, and the other from Laptop mobile computing magazine.
In giving Cruzer Titanium a 9.0 ("Excellent") out of a possible 10 rating, CNET senior associate editor Justin Jaffe said the drive has "a trinity of useful utilities and superior durability at a competitive price per megabyte." Cruzer Titanium comes in a single capacity of 512 megabytes, has a USB connector that retracts into the body, and carries three software applications that provide on-the-road productivity. Users can synchronize and replicate their Microsoft® Outlook folders (including email, contacts and calendar) on two or more computers, back up selected files, and engage a password protection security feature.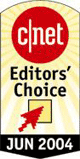 The CNET review, which is posted online at reviews.cnet.com/SanDisk_Cruzer_Titanium/4505-3233_7-30795193.html, recommended the drive's rugged metal construction, which SanDisk designed to be crush-resistant to 2,000 pounds*. Said Jaffe: "We couldn't track down a 2,000-pound weight to drop on it to test this claim, but we stomped on it, tried to crack it in half, and chucked it really hard at a wall. The drive and its contents survived wholly undisturbed, and we concede that the Cruzer Titanium is certainly among the sturdiest USB flash drives around."
CNET Editors' Choice winners are recognized as top products in their respective technology categories, and contribute to the standard by which all future products are judged. A key selection requirement is the difference it makes in the lives of its users, whether through innovative features, exceptional value for the price, remarkable ease of use, or a demonstrable boost to users' productivity.
The Laptop Editors' Choice designation, appearing in the July issue, is part of the monthly magazine's regular High Five section. Cruzer Titanium was given four-and-a-half stars out of a possible five stars, and it was the highest-rated of five USB flash drives. "Fashion meets technology in SanDisk's titanium-coated Cruzer - this gumstick-sized unit is virtually indestructible," wrote reviewer Louis Ramirez.

Laptop said it took just 22 seconds to transfer a test folder of 58.6MB full of MP3 music. Under SanDisk's specifications, Cruzer Titanium has a write speed rating of 13MB per second and a read speed of 15MB per second, making it one of the fastest USB flash drives on the market. The three software programs that come preloaded in the device are CruzerSync™, Cruzer PocketCache™ and CruzerLock™.
Eric Bone, product marketing manager for the Cruzer line, said, "We're delighted to receive two Editors' Choice awards so soon after the retail introduction of Cruzer Titanium. Both media companies are respected for their independent testing criteria and their credibility among consumers. We're proud to be recognized for our dedication and commitment to producing the highest quality products available today."
Cruzer Titanium is part of a family of SanDisk USB Flash Drives that also includes Cruzer Mini, which has capacities of 128MB to 1 gigabyte, and Cruzer Micro, which has capacities of 128MB to 512MB. Suggested retail prices range from $44.99 for a Cruzer Mini to $199.99 for the Cruzer Titanium.
SanDisk, the world's largest supplier of flash memory data storage card products, designs, manufactures and markets industry-standard, solid-state data, digital imaging and audio storage products using its patented, high density flash memory and controller technology. SanDisk is based in Sunnyvale, CA. 
---
* Cruzer Titanium is virtually indestructible, capable of surviving a force of up to 2,000 pounds, simulating abnormal usage conditions. This specification is based on a SanDisk test environment, validated by an independent laboratory. No other claims as to its ability to withstand other destructive forces or abnormal environmental conditions, including but not limited to, extreme temperatures, corrosive ambients, x-rays or other radiation, etc., are made by this claim.
SanDisk's web site/home page address: www.sandisk.com
SanDisk, the SanDisk logo and Cruzer are trademarks of SanDisk Corporation, registered in the United States and other countries. CruzerLock and CruzerSync are trademarks of SanDisk Corporation. PocketCache is a trademark of Kadena Systems. Microsoft and Outlook are trademarks of Microsoft Corporation. Other brand names mentioned herein are for identification purposes only and may be trademarks of their respective holder(s).
 
SanDisk Corporation
Mike Wong
(408) 548-0223
mwong@sandisk.com