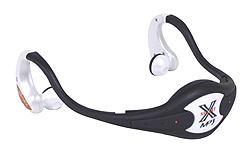 Las Vegas, NV, January 6, 2005 - Signaling a growing acceptance of the world's smallest removable storage module, SanDisk® Corporation today announced that GPX® of St. Louis, MO., will use SanDisk's TransFlash™ memory module to store music for its new SportX Series digital audio headphone player. The announcement was made during the annual Consumer Electronics Show where SanDisk is demonstrating products in the Las Vegas Convention Center, South Hall, Booth #31438.
Introduced less than a year ago as a flash storage solution for advanced feature phones, SanDisk's TransFlash module is quickly being adopted by a broad range of handset manufacturers because of its tiny size, its built-in content protection, and its compatibility, by means of an adapter, with SD™ flash card products. This highly compact music player from GPX is the first time that TransFlash has been incorporated into another consumer electronics device that is not related to a mobile phone.
Scheduled to ship to stores this spring at a suggested retail price of $129.99, the GPX headphone features WMA and MP3 playback, a stereo FM radio with station presets and an equalizer in an ultra-light back strap design. This innovative product can be purchased with 128, 256 or 512 megabytes of built-in memory but also adds an expansion slot in the battery compartment for a TransFlash module, which is an optional purchase. The player attaches to a personal computer through a USB 2.0 connection (compatible with USB 1.1) and operates on a rechargeable, replaceable lithium-ion battery.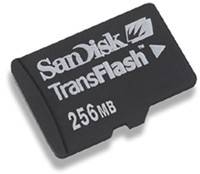 SanDisk TransFlash modules are available in capacities ranging from 32MB to 256MB, and are sold with an adapter that allows them to be used in SD™-enabled devices, such as PC card readers.
Wes Brewer, SanDisk vice president of consumer products marketing, said, "We're pleased to see TransFlash used in this type of application. Mobile phone manufacturers have already found TransFlash to be an important component in the design of small, full-featured handsets, but clearly there are benefits as well for other consumer electronics products. This is the first of what we anticipate will be more uses for TransFlash outside of the mobile channels."
Bill Fetter, CEO of GPX, said: "Since size and portability were critical elements in the award-winning design of our HW6805DT digital audio headphone player, using a SanDisk TransFlash module allowed us to add a memory expansion slot so that consumers can keep more of their favorite music tracks on a removable storage medium. The fingernail-sized TransFlash, which can be inserted into our ultra-light digital audio
headphone player, gives users a great deal of added capability and flexibility in the number of audio selections they can store and play. SanDisks innovation with the TransFlash module will prove to be a popular and attractive feature that adds great value to another truly unique and industry-leading product from GPX."
In business for over 30 years, GPX offers one of the most comprehensive consumer audio and video electronic product portfolios available on the market, including home music systems, portable audio product, personal CD players, MP3 players, DVD systems, direct-view televisions, AM/FM radios and digital audio devices, all marketed under the GPX brand. As an industry leader in product quality, reliability and value pricing, GPX has grown its customer base to include the nation's leading mass merchants, specialty electronics stores, variety and drug chains, home shopping networks and department stores, as well as direct mail and premium accounts. GPX's corporate headquarters, product design, engineering and distribution center are based in St. Louis, MO.

SanDisk is the original inventor of flash storage cards and is the world's largest supplier of flash data storage card products, using its patented, high-density flash memory and controller technology. SanDisk is headquartered in Sunnyvale, CA and has operations worldwide, with more than half its sales outside the U.S.
---
SanDisk's product images can be downloaded from www.sandisk.com/Corporate/MediaKit/
SanDisk's web site/home page address: www.sandisk.com
SanDisk and the SanDisk logo are trademarks of SanDisk Corporation, registered in the United States and other countries. TransFlash is a trademark of SanDisk Corporation. SanDisk is an authorized licensee of the SD trademark. Other brand names mentioned herein are for identification purposes only and may be the trademarks of their respective holder (s).


Press Contact:
Mike Wong
mwong@sandisk.com
+1 408-548-0223