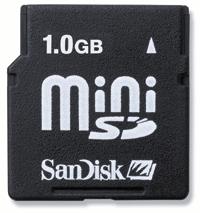 Cannes, France, Feb. 14, 2005 - SanDisk® Corporation (NASDAQ: SNDK) today announced that it is doubling the current capacity of its popular SanDisk miniSD™ card to 1-gigabyte (GB)*. The miniSD card is used in a growing number of mobile phones with multimedia capabilities such as digital cameras, music players, video recording and playback, games and more.
"The 1GB miniSD card provides a level of storage that significantly enhances the features and usability of these full-featured mobile phones," said Nelson Chan, executive vice president and general manager of SanDisk's consumer and handset business. "For example, with a 1GB card you can store approximately 16 hours of MP3 songs, record up to several hours of MPEG-4 video or take more than 2000 digital photos on a 1-megapixel mobile phone. With that level of capability, consolidating music, video, digital camera and other key features into the mobile phone platform is much more meaningful and powerful."
According to IDC, the global market for mobile phones with card slots is expected to increase to more than 258 million units by 2006, as manufacturers continue to add features to phones that increase their storage requirements. In addition to increasing available memory, a removable storage card provides greater interoperability with other portable consumer electronics devices, an important feature as mobile phones converge with other portable devices.

The SanDisk miniSD card includes an adapter allowing it to be used in any of the existing SD card devices. The new 1GB SanDisk miniSD card is expected to be available at the suggested retail price of $99.99 in Q2 2005.
SanDisk miniSD
| | | |
| --- | --- | --- |
| Capacities | US$ (SRP) | Availability |
| 64MB - 256MB | $21.99 - 49.99 | Now |
| 512MB | $69.99 | Now |
| 1GB | $99.99 | Q2 2005 |
This is the latest in a series of new capacity points offered by SanDisk. Also announced was the 512MB SanDisk TransFlash™, one of the smallest flash memory storage cards designed primarily for the mobile phone market.
Offered for sale to OEM customers and through retail markets, SanDisk cards are sold at many of the 100,000 consumer electronics stores and other retail outlets where SanDisk products are sold worldwide.
SanDisk is the original inventor of flash storage cards and is the world's largest supplier of flash data storage card products, using its patented, high-density flash memory and controller technology. SanDisk is headquartered in Sunnyvale, CA and has operations worldwide, with more than half its sales outside the U.S.
---
*1 megabyte = 1 million bytes.
The matters discussed in this news release contain forward looking statements that are subject to certain risks and uncertainties as described under the caption, "Factors That May Affect Future Results" in the company's annual report and quarterly reports on Form 10-Q, filed with the Securities and Exchange Commission. The companies assume no obligation to update the information in this release
SanDisk's images can be downloaded from www.sandisk.com/Corporate/MediaKit/
SanDisk's web site/home page address: www.sandisk.com
SanDisk and the SanDisk logo are trademarks of SanDisk Corporation, registered in the U.S. and other countries. TransFlash is a trademark of SanDisk. SanDisk is an authorized licensee of the miniSD trademark. Other brand names mentioned herein are for identification purposes only and may be trademarks of their respective holder(s).