SUNNYVALE, CA, July 21, 2005 - SanDisk® Corporation (NASDAQ:SNDK), the world's largest supplier of flash storage card products, today announced results for the second quarter ended July 3, 2005. Second quarter revenues increased 19% on a year-over-year basis to $515 million and increased 14% compared to the first quarter of 2005. Second quarter net income, which included $27 million from our portion of Fab 3 development costs, was $70.5 million compared to $70.6 million in the second quarter of 2004. Fully diluted earnings per share were $0.37, compared with $0.38 in the second quarter of 2004.
"We are very pleased with our second quarter results," said Eli Harari, SanDisk CEO. "SanDisk gained U.S. retail market share, and demand for high capacity cards grew at a surprisingly fast pace to an average retail card capacity of 496 megabytes. Demand for 1 gigabyte and higher capacity cards has been strong for the gaming market and our premium Ultra and Extreme lines. OEM bookings are robust, primarily from handset manufacturers that are bundling high capacity cards with new handsets that support music, video and higher megapixel cameras. We believe this trend may be a positive precursor for the long awaited handset card market acceleration in 2006. During the second quarter, we made steady progress towards qualifying our new 70-nanometer 8 gigabit NAND/MLC chip. We expect to complete internal qualification and start production of this highly cost-effective chip in the third quarter and reach volume output in the fourth quarter - in time for the anticipated increase in demand for high capacity cards for year-end holiday sales. We firmly believe that our 2005 investments in advanced technology and in large-scale 300 millimeter NAND/MLC fab capacity, coupled with our valuable IP assets and our strong balance sheet, position SanDisk well for 2006."
Financial Results and Highlights
 
Product revenue was $454 million in the second quarter, up 16% year-over-year and 14% sequentially.
Revenue from license and royalties increased to a record $61 million, up 46% year-over-year and 19% sequentially.
Megabytes sold in the second quarter were a record and increased 205% year-over-year and were up 39% from the first quarter of 2005.
Average density per card sold in retail was 496 megabytes, up 126% from the second quarter of 2004 and up 21% sequentially.
Average price per megabyte sold in the second quarter declined 18% sequentially and 62% from the second quarter of 2004. Migration to higher card capacities contributed to the quarterly decline.
Total gross margin was 42% of revenues compared to 41% in the second quarter of 2004 and 44% in the first quarter of 2005.
Product gross margin was 34% compared to 35% in the second quarter of 2004 and the record 37% in the first quarter of 2005.
Operating income was $106 million and 21% of revenue compared to $110 million and 25% of revenue in the second quarter of 2004 and $114 million and 25% of revenue in the first quarter of 2005. Fab development costs included in R&D were $27 million in the second quarter compared to $13 million in the first quarter of 2005.
Cash flow from operations was $59 million compared to $8 million in the second quarter of 2004 and total cash and short-term investments increased to $1.45 billion.
Scheduled Interview
SanDisk Corporation President and Chief Executive Officer, Eli Harari, is scheduled to appear on CNBCs "Squawk Box", July 22, 2005 at approximately 5:40 a.m. PDT. Judy Bruner, SanDisk's Executive Vice President, Administration and CFO is scheduled to appear on Bloomberg TVs "Market Line", July 22, 2005 at approximately 10:45 p.m. PDT.
Conference Call
SanDisks second quarter 2005 conference call is scheduled for 2:00 p.m. PDT, Thursday, July 21, 2005. The conference call will be web cast by CCBN and can be accessed live, and throughout the quarter, at SanDisk's website at www.sandisk.com/IR and at www.streetevents.com for registered streetevents.com users. To participate in the call via telephone, the dial in number is (913) 981-5584. The call will also be available by telephone replay through Monday, July 25, 2005, by dialing (719) 457-0820 and entering the pass code 5024005. A copy of this press release will be filed with the Securities and Exchange Commission on a current report on Form 8-K and will be posted to our website prior to the conference call.
Forward-Looking Statements
This news release contains certain forward-looking statements, including statements about our business outlook, expectations for new product introductions, production schedules, market growth rates and customers and scheduled appearances by certain of our executives that are based on our current expectations and involve numerous risks and uncertainties that may cause these forward-looking statements to be inaccurate and may significantly and adversely affect our business, financial condition and results of operations. Risks that may cause these forward-looking statements to be inaccurate include among others: slower than expected growth in market demand for our products or a slower adoption rate for these products in current and new markets that we are targeting, slower than expected expansion of our global sales channels, fluctuations in operating results, unexpected yield variances and longer than expected low yields and other possible delays related to our conversion to 70-nanometer NAND flash technology or the ramp-up of the new 300-millimeter flash fabrication facility, unexpected delays in qualification, initial production or the ramp-up of volume production of our new 70-nanometer 8 gigabit NAND/MLC chip, any interruption of or delay in supply from any of the semiconductor manufacturing facilities that supply products to us, our inability to make additional planned smaller geometry conversions in a timely manner, future average selling price erosion that may be more severe than our expectations due to decreased demand or possible excess industry capacity of flash memory either from existing suppliers or from new competitors, price increases from non-captive flash memory sources and third-party subcontractors, higher than expected operating expenses, higher than anticipated capital equipment expenditures, adverse global economic and geo-political conditions, including adverse currency exchange rates and acts of terror, the timely development, internal qualification and customer acceptance of new products that are based on 70-nanometer NAND technology, fluctuations in license and royalty revenues, business interruption due to earthquakes or other natural disasters, particularly in areas in the Pacific Rim and Japan where we manufacture and assemble products, scheduled appearances by our executives could be cancelled or delayed by us or the network, and the other risks detailed from time-to-time in our Securities and Exchange Commission filings and reports, including, but not limited to, the Form 10-K for the year ended January 2, 2005 and our quarterly reports on Form 10-Q. Future results may differ materially from those previously reported. We do not intend to update the information contained in this release.  
About SanDisk
SanDisk is the original inventor of flash storage cards and is the worlds largest supplier of flash data storage card products using its patented, high-density flash memory and controller technology. SanDisk is headquartered in Sunnyvale, CA and has operations worldwide, with more than half its sales outside the U.S.
SanDisk is a trademark of SanDisk Corporation, registered in the United States and other countries.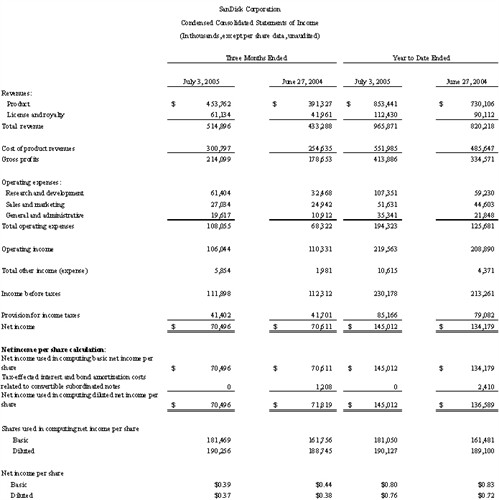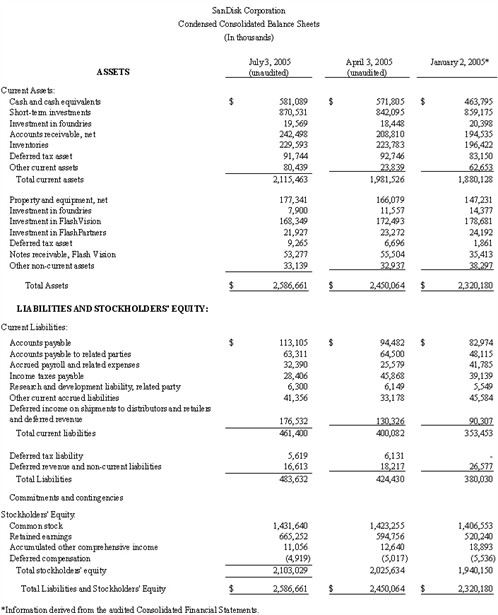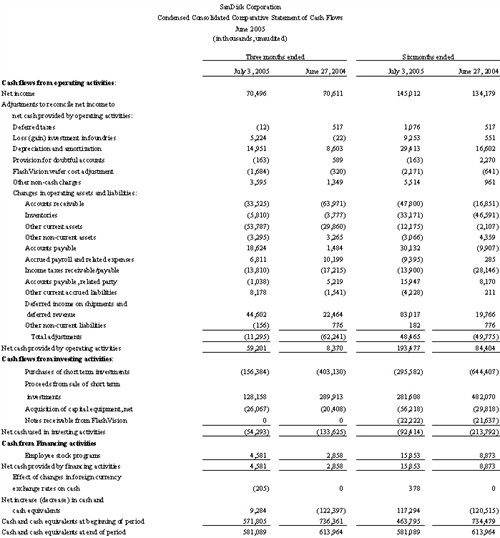 ---
Investor Contact:
Lori Barker Padon
SanDisk Corporation
(408) 542-0585
 
Media Contact:
Mike Wong
SanDisk Corporation
(408) 548-0223