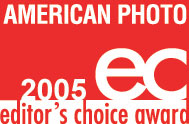 SUNNYVALE, CA, Aug. 4, 2005 - SanDisk® Corporation (NASDAQ:SNDK) today announced that its SanDisk Extreme™ III card family, 8-gigabyte (GB)* SanDisk Ultra® II CompactFlash® and new SanDisk Ultra II PLUS SD™ card line have won three Editors Choice Awards by American PHOTO Magazine. The American PHOTO Editors Choice Award is one of the most authoritative awards issued in the photography publishing industry and symbolizes the high levels of quality and performance.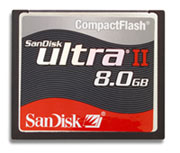 "Each year, the editors of American PHOTO select from hundreds of new products for photographers," said Jeffrey Roberts, vice president/group publisher of American PHOTO. "Only a handful of products pass the key selection requirement that it make a significant improvement in the lives and workflow of photographers who will use these products."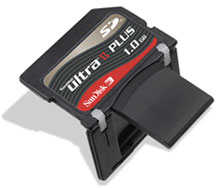 Tanya Chuang, SanDisks worldwide retail product marketing manager for high performance cards , said, "Winning three Editors Choice awards is extremely satisfying. We believe the speed and performance of SanDisks Extreme III and Ultra II cards are second to none and we are pleased to have this confirmed by such a highly regarded publication. Earning these awards is a testament to the commitment and dedication we have made to our customers to offer the best possible storage card products for digital photographers worldwide."
SanDisk Ultra II cards are targeted at digital cameras with 4-megapixel or higher resolution that can take advantage of a significantly faster memory card. Each card features a minimum write speed of 9 megabytes per second (MB/sec.) and a minimum read speed of 10MB/sec.**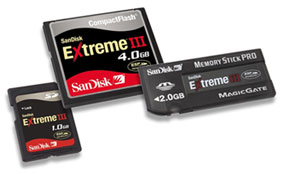 The SanDisk Ultra II PLUS SD is an innovative SD flash memory card with built-in USB connectivity. It simplifies the process of moving images from a camera to a PC. The new card works seamlessly in any SD card slot and can also be used as a high-speed USB 2.0 flash drive. Its advanced mechanical design eliminates the need for a removable cap, which can be lost, and gives consumers a dual functionality card that is fully SD compliant.
SanDisk Extreme III cards are ideal for professional-level digital SLRs that can take advantage of its read and write speeds of up to 20-megabytes per second** (MB/sec). They are available in CompactFlash, Memory Stick PRO™ and SD card formats. The CompactFlash and SD cards have minimum write and read speeds of 20MB/sec. Memory Stick PRO has minimum write and read speeds of 18MB/sec**. The cards range in capacity between 1 and 4GB.
SanDisk is the original inventor of flash storage cards and is the worlds largest supplier of flash data storage card products using its patented, high-density flash memory and controller technology. SanDisk is headquartered in Sunnyvale, CA and has operations worldwide, with more than half its sales outside the U.S.
---
Images of SanDisk products are available at www.sandisk.com/Corporate/MediaKit/
SanDiss web site/home page address: www.sandisk.com
SanDisk, the SanDisk logo, SanDisk Ultra and CompactFlash are trademarks of SanDisk Corporation, registered in the US and other countries. SanDisk Extreme is a trademark of SanDisk Corporation. SanDisk is an authorized licensee of the SD trademark. Memory Stick PRO is a trademark of Sony Corporation. Other brand names mentioned herein are for identification purposes only and may be trademarks of their respective holder(s).

* 1 gigabyte = 1 billion bytes.
** SanDisks results based on testing with HDBENCH benchmark software. Actual results in digital cameras will vary by model.
Contact:
Bob Goligoski
SanDisk Corporation
(408)542-0463
bgoligoski@sandisk.com