SUNNYVALE, CA, OCTOBER 4, 2005 - Creating a new milestone in handheld videogame-playing, SanDisk® Corporation (NASDAQ:SNDK) and Electronic Arts (NASDAQ: ERTS) today announced that SanDisk Memory Stick PRO Duo™ Game cards will be sold with bonus content to EA's recent release of Madden NFL 06 for the Sony PSP™ (PlayStation® Portable).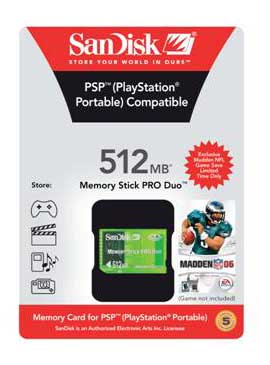 "As the world's largest supplier of flash cards, SanDisk is pleased to join with the world's largest independent developer of videogames to bring this special opportunity to consumers," said Nelson Chan, SanDisk's executive vice president and general manager for consumer and handset business.
Contained in a feature called Game Save, the bonus content will be available on SanDisk Memory Stick PRO Duo Game cards that are distributed in North America. There is no additional cost for the Game Saves on SanDisk cards, which have suggested retail prices ranging from $49.99 for a 256-megabyte* card to $114.99 for a 1-gigabyte card. Also, the Madden feature still leaves most of the card with substantial space for videos, music, digital images and other content.
Madden NFL 06 is named after John Madden, famed television network sportscaster and former coach of the Oakland Raiders football team. "We believe that this content will be well-received by PSP owners," said Christina Day, SanDisk retail product marketing manager for game cards. "It differentiates our products and provides real value and excitement for fans of the game."
With the Game Save content on SanDisk cards, players can unlock features that would normally take much time and high scoring to initiate. The bonus material grants users 100 points toward a new mode called "Assistant Coach Franchise," a game goal system that is exclusive to the PSP version of Madden NFL 06 . Among other advantages of the PSP game, users can play online** opponents and play them on the go.
"Consumers who buy Madden NFL 06 for the PSP and a SanDisk PRO Duo Game card will get a head start in collecting their points," said Todd Sitrin, vice president of marketing at EA. "Since the Sony PSP relies on flash memory cards to store game data from each play session, we saw the logic of bundling Game Saves with the cards to highlight features that are unique to the PSP edition of Madden NFL 06."
Madden NFL 06, which is shipping now for the PlayStation®Portable entertainment system (PSP), was developed in Orlando, Florida, by EA Tiburon. The game is rated "E" (Everyone) by the ESRB and has an MSRP of $49.99. For more information check out http://www.madden06.com
Electronic Arts Inc. (EA), headquartered in Redwood City, Calif., is the worlds leading interactive entertainment software company. Founded in 1982, the company develops, publishes, and distributes interactive software worldwide for videogame systems, personal computers and the Internet. Electronic Arts markets its products under four brand names: EA SPORTS™, EA™, EA SPORTS BIG™ and POGO™. In fiscal 2005, EA posted revenues of $3.1 billion and had 31 titles that sold more than one million copies. EAs homepage and online game site is www.ea.com. More information about EAs products and full text of press releases can be found on the Internet at http://info.ea.com.
SanDisk is the original inventor of flash storage cards and is the world's largest supplier of flash data storage card products, using its patented, high-density flash memory and controller technology. SanDisk is headquartered in Sunnyvale, Calif., and has operations worldwide, with more than half its sales outside the U.S.
---
SanDisk's product and executive images can be downloaded from www.sandisk.com/Corporate/MediaKit/
SanDisk's web site/home page address: www.sandisk.com
SanDisk and the SanDisk logo are trademarks of SanDisk Corporation, registered in the United States and other countries. Memory Stick PRO Duo and PlayStation are trademarks of Sony Corporation. Other brand names mentioned herein are for identification purposes only and may be the trademarks of their respective holder (s).
*1 megabyte (MB)  = 1 million bytes; 1 gigabyte (GB) = 1 billion bytes
**REGISTRATION AND SUBSCRIPTION required to access online features. See Madden NFL 06 PSP system product pack for details. Electronic Arts, EA, EA SPORTS, EA SPORTS BIG and POGO are trademarks or registered trademarks of Electronic Arts Inc. in the U.S. and/or other countries. All Rights Reserved. The mark "John Madden" and the name, and other attributes of John Madden reproduced on this product are trademarks or other intellectual property of Red Bear, Inc. or John Madden, are subject to license to Electronic Arts Inc., and may not be otherwise used in whole or in part without the prior written consent of Red Bear or John Madden. © 2005 NFL Properties LLC. Team names/logos are trademarks of the teams indicated. All other NFL-related trademarks are trademarks of the National Football League. Officially licensed product of PLAYERS INC. The PLAYERS INC logo is a registered trademark of the NFL players. www.nflplayers.com © 2005 PLAYERS INC.
Contact:
SanDisk Corporation
Ken Castle
(408) 542-9525
kcastle@sandisk.com