Jan 5, 2006
New SanDisk Cruzer Micro and Titanium Feature Sleek New Designs & Advanced Software Bundle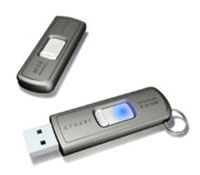 LAS VEGAS, NV, Jan. 5, 2006 - SanDisk® Corporation (NASDAQ:SNDK) today announced a significant enhancement to its line of award-winning Cruzer® Micro and Cruzer Titanium USB flash drives.

The two models feature a sleek new design and include software that turns them into 'U3 smart drives' so users can access their "personal workspace"-software programs, personal preferences, personal files and data as well as the means for managing them within a highly secure environment-on any personal computer running Microsoft Windows XP or Windows 2000. The new Cruzer models were unveiled at a press conference at the Consumer Electronics Show where SanDisk is demonstrating products in Booth #30329, South Hall, Level 3, Las Vegas Convention Center.
The Cruzer Micro will be available in capacities that range from 512-megabytes (MB) to 4-gigabytes (GB), while capacities for the Cruzer Titanium will be 1GB and 2GB.*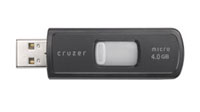 * 1 megabyte (MB) = 1 million bytes; 1 gigabyte (GB)   = 1 billion bytes.  Some of the listed capacity is used for formatting and other functions and thus is not available for data storage ** Based on internal testing
"The Cruzer Micro and Titanium raise the bar for USB flash drives," said Carlos Gonzalez, senior director of SanDisk's USB flash drive business unit. "These new drives offer a higher level of freedom and flexibility because they allow you to carry U3-compliant programs and content together on a single U3 smart drive and access them on most Windows-based PCs. The ability to bring your personal workspace with you is very convenient and a great way to boost your productivity when you're on the go."
The new Cruzers are small, 1.875  x 0.75 inches (4.76 cm x 1.91 cm) and easily fit on a keychain. Each features a retractable USB port for protection from dust and damage.
Cruzer Micro -The Affordable USB Flash Drive For Anyone Who Owns a Computer
The Cruzer Micro easily slips into a pocket or purse or can be worn around the neck with the included lanyard. With capacities of up to 4GB, it can hold the equivalent up to five data CDs - the equivalent of approximately 2,800 floppy disks, or hours of digital music, video or other personal data.
Cruzer Titanium - Lightning Speed, Rugged Durability
The Cruzer Titanium combines high performance with extreme ruggedness and durability. It has read and write speeds of 15MB/second**-among the fastest available-for speedy data transfers of large files. To physically protect the valuable data of business and power users, its high-strength case is mechanically crush-proof to more than 2000 pounds. It is manufactured with an advanced titanium alloy from Liquidmetal® Technologies that is pound-for-pound stronger than steel. The light weight, superior strength, hardness, high corrosion and wear resistance of this unique alloy make it ideal for the Cruzer Titanium.
Bundled Software Lets You Take Your Personal Workspace With You
U3™ Technology. U3 is a powerful new platform that offers a private, securely protected experience on any PC with Microsoft Windows XP or 2000. These smart drives will be able to launch a variety of U3-compatible (called "U3 Smart") software programs, including anti-virus, security, synchronization, communications, audio, video, gaming and photo-editing, to name a few. The catalog of U3-compatible software is growing quickly.
The new Cruzer products are preloaded with four free U3-smart programs:
SKYPE for Voice over IP (VoIP) capabilities (Cruzer customers will receive 30 free SkypeOut minutes for free PC to landline calls worldwide to any phone at any time)
Avast! Antivirus software
SignUp Shield™ password vault
CruzerSync™, which synchronizes with Outlook data.
Rather than installing Skype on each computer to make phone calls, a consumer merely plugs the Cruzer Micro U3 drive into the USB port of a Web-connected PC and clicks on Skype from a program menu in the U3 Launchpad.  It takes just moments for first-time users to set up a Skype caller name and password.  Then, using a headset that connects to another USB port or to the computer's microphone and earphone sockets, a consumer can make free calls to any other Skype user's PC on the planet. With SkypeOut, calls to landlines and mobile phones also can be made for a fraction of the normal costs.
Pricing and Availability
 

Capacities

Suggested Retail Price US$

Availability

Cruzer Micro

512MB

$49.99

March

1GB

$99.99

March

2GB

$159.99

March

4GB

$299.99

March

 

 

 

 
Cruzer Titanium

1GB

$119.99

April

 

2GB

$189.99

April
The Cruzer Micro and Titanium are "plug-and-play" with PCs and the Macintosh due to USB Mass Storage Class (MSC) compliance when used with Windows XP, Windows 2000, Windows ME, Mac OS 10.1.2+ and Mac OS 9.2.1+.
SanDisk is the original inventor of flash storage cards and is the world's largest supplier of flash data storage card products using its patented, high-density flash memory and controller technology. SanDisk is headquartered in Sunnyvale, CA and has operations worldwide, with more than half its sales outside the U.S.
 
This press release contains certain forward-looking statements, including expectations for new product introductions, applications, markets, and customers that are based on our current expectations and involve numerous risks and uncertainties that may cause these forward-looking statements to be inaccurate. Risks that may cause these forward-looking statements to be inaccurate include among others: market demand for our products may grow more slowly than our expectations or there may be a slower adoption rate for these products in new markets that we are targeting and the other risks detailed from time-to-time in our Securities and Exchange Commission filings and reports, including, but not limited to, Form 10-K and our quarterly reports on Form 10-Q. We do not intend to update the information contained in this press release.
---

SanDisk's product images can be downloaded from http://www.sandisk.com/about-sandisk/media-kit  
SanDisk's web site/home page address:  http://www.SanDisk.com
SanDisk, the SanDisk logo and Cruzer are trademarks of SanDisk Corporation, registered in the and other countries. CruzerLock and CruzerSync are trademarks of SanDisk Corporation. PocketCache is a trademark of Kadena Systems. U3 and the U3 smart logo are trademarks of U3, LLC.    Liquidmetal is a registered trademark of Liquidmetal Technologies, Inc. SignupShield is a trademark of Protecteer, LLC. Skype and the Skype logo are trademarks of Skype Technologies S.A. Other brand names mentioned herein are for identification purposes only and may be the trademarks of their respective holder(s). 

Media Contact:
SanDisk Corporation
Mike Wong
408-548-0223
mwong@sandisk.com