Jan 6, 2006
SanDisk Expands Mobile Line with Larger Capacities of miniSD and microSD Cards To Store Hundreds of Songs That Can Be Played on Phones and Personal Computers
LAS VEGAS, NV, JAN. 5, 2006 - SanDisk® Corporation (NASDAQ:SNDK) announced today that Verizon Wireless Communications Stores will sell SanDisk's newest and highest capacity flash memory cards for mobile phones in anticipation of consumer demand for Verizon Wireless' new V CAST Music service. The announcement was made at the Consumer Electronics Show (CES), where SanDisk is demonstrating several new products at Booth 30329, Level 3 of the South Hall in the Las Vegas Convention Center.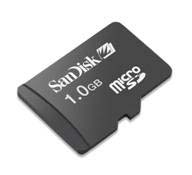 SanDisk is unveiling a microSD™ card - the world's smallest flash memory card - with a 1 gigabyte (GB)* capacity.  Originally developed by SanDisk and formerly known as TransFlash™, the fingernail-sized card will be able to store up to 32 hours of WMA-compressed music -- or approximately 480 songs**  -- downloaded from Verizon Wireless' V CAST Music service to compatible phones. The 1GB microSD card, which SanDisk introduced today, will be available in the United States initially through Verizon Wireless. The card comes with an adapter allowing it to be used in a standard SD™ slot. The previous highest capacity for the SanDisk microSD was 512 megabytes (MB)*.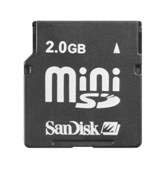 SanDisk also expanded its mobile line today by introducing a SanDisk 2GB miniSD card (up from 1GB) with the aim of accommodating consumers' increasing demand for accessing photos, music and video on their phone.     SanDisk's suggested retail prices for the newest cards are $119.99 for the 1GB microSD and $199.99 for the 2GB miniSD.
"We believe that 2006 will be a milestone year for network operators and handset manufacturers to provide consumers with an array of content that can be downloaded virtually anywhere, anytime on their mobile phones," said Jeff Kost, SanDisk's vice-president of handset business.  "Flash card slots in mobile phones are proliferating in response to new usages and services, which are driving the demand for higher capacity memory. We are delighted to supply Verizon Wireless with our highest capacity cards to give their customers the storage they will need when acquiring tracks from the V CAST Music service."
Using the Microsoft Windows Media platform, V CAST Music runs on Verizon Wireless' broadband network. The library of music is expected to include one million songs by spring from major labels such as Warner Music Group, EMI Music, Universal, Sony/BMG and independent provider, The Orchard.
Verizon Wireless customers will be able to download songs over the air and store them on SanDisk flash cards, where they can be played on the phone as well as transferred to a Microsoft Windows-based personal computer. V CAST Music will allow customers to take their own digital music from their PCs and sync it to their handsets.
"SanDisk's high-capacity memory cards allow Verizon Wireless customers to optimize their experience," said Patrick Bucci, Verizon Wireless director of accessory products. "Our customers have the flexibility to choose as much memory as they need to take advantage of the V CAST Music service.  SanDisk offers the highest capacity cards available to store our users' personal music, pictures and videos on their phone."
Verizon Wireless plans to launch V CAST Music on January 16 with several phones, including the Samsung a950 and the LG VX8100.  Both are clamshell V CAST-enabled phones with 1.3 megapixel digital cameras.  The Samsung a950 has a microSD card slot that features an external thumb dial to select music files; the LG VX8100 has a miniSD card slot.
SanDisk introduced its line of mobile cards and MobileMate™ portable flash card readers in Verizon Wireless Communications Stores in the last quarter of 2005.   They are sold in co-branded Verizon Wireless/SanDisk packaging. The new SanDisk 1GB microSD and 2GB miniSD mobile line flash memory cards are expected to be available through those stores in February.
Verizon Wireless was the first wireless company to launch a wireless broadband multimedia service when it introduced V CAST in February, 2005. Its award-winning wireless broadband network is the most robust in the United States.  The V CAST coverage area, which mirrors the company's wireless broadband network, is currently available to 150 million Americans in 180 major metropolitan markets.
SanDisk is the original inventor of flash storage cards and is the world's largest supplier of flash data storage card products, using its patented, high-density flash memory and controller technology. SanDisk is headquartered in Sunnyvale, CA and has operations worldwide, with more than half its sales outside the U.S.
---
* 1 megabyte (MB) = 1 million bytes; 1gigabyte (GB) = 1 billion bytes.
** Approximate playback at 64kbps for WMA, with figures based on four minutes per song.

SanDisk's product and executive images can be downloaded from
http://www.sandisk.com/about-sandisk/media-kit
SanDisk's web site/home page address: http://www.sandisk.com
SanDisk and the SanDisk logo are trademarks of SanDisk Corporation, registered in the United States and other countries.  TransFlash and MobileMate are trademarks of SanDisk Corporation. Microsoft and Windows Media are registered trademarks of Microsoft Corporation.  SanDisk Corporation is an authorized licensee of the SD trademark. Other brand names mentioned herein are for identification purposes only and may be trademarks of their respective holder(s).
 
This press release contains certain forward-looking statements, including expectations for new product introductions, applications, markets, and customers that are based on our current expectations and involve numerous risks and uncertainties that may cause these forward-looking statements to be inaccurate. Risks that may cause these forward-looking statements to be inaccurate include among others: market demand for our products may grow more slowly than our expectations or there may be a slower adoption rate for these products in new markets that we are targeting and the other risks detailed from time-to-time in our Securities and Exchange Commission filings and reports, including, but not limited to, Form 10-K and our quarterly reports on Form 10-Q. We do not intend to update the information contained in this press release.

CONTACT: 
SanDisk Corporation
Ken Castle
(408) 542-9525
kcastle@sandisk.com