Feb 2, 2006
Flurry Of New Honors for SanDisk Products Also Includes
 SanDisk Ultra® II SD Plus Card That Can Be Inserted Into USB Ports
SUNNYVALE, CA, JAN. 31, 2006 - SanDisk® Corporation's (NASDAQ: SNDK) innovative grūvi™ music flash memory card, bearing the latest album of the Rolling Stones, has scored a prestigious Innovations Design and Engineering Award from the recently-concluded Consumer Electronics Show (CES) in Las Vegas. The honor capped a series of year-ending and New Year's accolades for SanDisk products.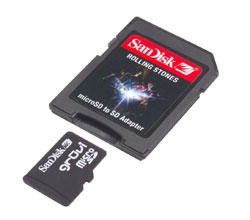 The grūvi music card, made possible through a unique secure content distribution technology called TrustedFlash™, consists of the Stone's "A Bigger Bang" release from EMI Music, digital photos of the band and dozens of tracks from four back catalog albums that can be purchased through e-commerce transactions. The grūvi card, which resides on a tiny SanDisk microSD™ card - about the size of a fingernail - was released in stores just prior to the holidays.
In announcing the CES Innovations Award, judges said, "grūvi cards enable consumers to buy premium entertainment content on flash memory cards for use in mobile phones, MP3 players and other portable devices without compromising the security of copyrighted content." The Rolling Stones grūvi card  provides a  simple, convenient solution for music playback on mobile phones. These cards illustrate not only the confidence that the major labels have with the TrustedFlash technology, but also the possibilities that are available to manufacturers, operators and content providers.
Previously, the TrustedFlash technology won the Innovative Product Award at the Fall CTIA show in San Francisco.  This award recognized the ability of TrustedFlash to provide a solution that meets both the security needs of the content providers as well as the flexibility and ease-of-use demanded by end users. "Virgin Music's willingness to release a grūvi card with Rolling Stones content is a testament to the label's confidence in this technology," said Pedro Vargas, SanDisk's director of mobile entertainment.
The unique SanDisk Ultra II SD™ Plus flash memory card -- which incorporates a built-in USB connector -- has received four major accolades.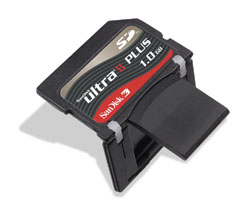 One is the 2006 Mobility Award from MobileTrax LLC, which is a leading source of information on the mobile computing and wireless data communications industry. The awards celebrate the best and finest mobile computing and wireless data communications products and services that were announced in 2005.
The Ultra II SD Plus card was singled out under the storage category for its innovative design. A user simply folds what appears to be a standard SD card and it becomes a USB drive that can be plugged directly into a USB port without needing a cable connection or a card reader. The card is sold in capacities of 512 megabytes and 1 gigabyte*.
Two major U.S. magazines also have recognized the Ultra II SD Plus card. Laptop Magazine, in its February 2006 issue, gave the card an Editor's Choice Award and a 4½-star rating. And the card was included in Popular Science magazine's "100 Best Innovations of the Year" for 2005. SanDisk received the award from Popular Science at CES. The editors' top products of the year were featured in the publication's December issue.  Also, the New York Times, in an article published December 29, selected the SanDisk Ultra II SD Plus card as one of the "10 best gadget ideas of 2005."
 SanDisk is the original inventor of flash storage cards and is the world's largest supplier of flash data storage card products, using its patented, high-density flash memory and controller technology. SanDisk is headquartered in Sunnyvale, CA and has operations worldwide, with more than half its sales outside the U.S. SanDisk's product images can be downloaded from http://www.sandisk.com/about-sandisk/media-kit  
* 1 megabyte (MB) = 1 million bytes; 1 gigabyte (GB) = 1 billion bytes
SanDisk, the SanDisk logo and SanDisk Ultra are trademarks of SanDisk Corporation, registered in the United States and other countries. TrustedFlash and grūvi are trademarks of SanDisk Corporation. SanDisk is an authorized licensee of the SD trademark. Other brand names mentioned herein are for identification purposes only and may be the trademarks of their respective holder (s).
CONTACT: 
SanDisk Corporation
Ken Castle
(408) 542-9525
kcastle@sandisk.com 
SanDisk's web site/home page address: http://www.sandisk.com