May 10, 2006
High-Speed MicroMate Card Reader and PSP Conversion Software - a $40 Value --
Will Be Bundled For a Limited Time With SanDisk Performance Game Card

LOS ANGELES, CA, MAY 10, 2006 - SanDisk® Corporation (NASDAQ: SNDK) today introduced RapidGX™, a high-performance Memory Stick PRO Duo™ Game card that offers a quick and easy way to capture and store movies, TV shows, games, digital images and music to the Sony PSP™ (PlayStation® Portable).   The announcement was made at E3, where SanDisk is showing its new line of gaming products in Meeting Rooms 6809 and 6811, Kentia Hall, at the Los Angeles Convention Center.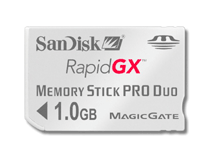 The SanDisk RapidGX card offers a complete content solution for owners of the popular handheld gaming and video device.  It comes with software that allows PSP owners to convert and transfer a host of multimedia files from a personal computer to a PSP, through a simple drag-and-drop interface.  It also comes with SanDisk's new MicroMate™ high-speed Memory Stick PRO Duo card reader, which is optimized for the RapidGX to achieve maximum transfer speeds. 
The SanDisk RapidGX card initially will be sold in a single capacity of 1 gigabyte (GB)* for a suggested retail price of $84.99. The PSP software and the reader, available for a limited time, represent a $40 value-add over the price of the individual components included in the package. Shipping to retailers is expected in early summer.
"Research has shown that millions of PSP owners are enjoying non-gaming entertainment features, such as watching movies, viewing digital photos and listening to music," said Christina Day, SanDisk's senior product marketing manager for gaming. "The RapidGX game card, which incorporates technology similar to that of SanDisk's  Extreme® III flash card line for pro photographers, simplifies and accelerates the process of converting content to the PSP format."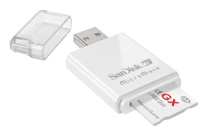 With the MicroMate reader, a PSP user can transfer data at read/write speeds of up to 15 megabytes (MB) per second**, about twice the read/write speeds of the PSP when the device is hooked up directly to a computer.  The reader contains a slot for the card and a USB connector that allows it to be plugged into a PC's USB port. Since there is no accessible on-board memory in the PSP, all content must be stored on removable Memory Stick PRO Duo cards.
 "Also, the speeds afforded by the SanDisk RapidGX card are up to three times faster than those of a standard Memory Stick PRO Duo card, making RapidGX the world's fastest gaming flash memory card," she said.
Support for the notion that video is a key selling point for the PSP came recently from a new report issued by The NPD Group, a major consumer electronics research company.  According to an NPD press release, the PSP Functionality and Content Study surveyed 55,000 consumers, ages 6 to 44, to determine their preferences with the PSP.
While playing games and listening to music were cited as the top uses, more than 40 percent of owners said that the ability to watch movies or television programs on their PSPs was a key factor in their decision to buy the device, according to the study.  Sony sells movies for the PSP on a proprietary format called Universal Media Discs (UMD), but the NPD report indicated that many users don't necessarily care about which format is used to deliver content.
"Watching videos from a PRO Duo memory card significantly lengthens the play time for movies and video when compared with watching from a UMD," said Wes Brewer, SanDisk vice president of consumer products marketing. "Longer play time and ease of video transfer are key selling features of our new RapidGX line."
Recently, several PSP-oriented websites have begun offering downloads of movies, TV shows and games, and Sony has indicated that it will launch various types of media download services within a year. 
The PSP management tool that comes with each RapidGX card was customized for SanDisk by Mediafour of West Des Moines, Iowa, and is based on an award-winning software program.  This all-in-one solution helps PSP owners organize and optimize their multimedia files as they are transferred to the PSP.  The software has a powerful point-and-click interface that makes it easy to add a file or a group of files onto a PSP. It automatically converts video files to the MP4 PSP format. Furthermore, it has several compression options that can save valuable space on the memory card by maximizing the number of videos, songs and photos that the card can hold. 
SanDisk is the original inventor of flash storage cards and is the world's largest supplier of flash data storage card products, using its patented, high-density flash memory and controller technology. SanDisk is headquartered in Sunnyvale, CA and has operations worldwide, with more than half its sales outside the U.S.
---
* 1 megabyte (MB) = 1 million bytes; 1 gigabyte (GB) = 1 billion bytes. ** Based on SanDisk internal testing. 

SanDisk's product and executive images can be downloaded from
http://www.sandisk.com/about-sandisk/media-kit

SanDisk's web site/home page address:
http://www.sandisk.com
 
SanDisk, the SanDisk logo and SanDisk Extreme are trademarks of SanDisk Corporation, registered in the United States and other countries.  MicroMate and RapidGX are trademarks of SanDisk Corporation. Memory Stick PRO Duo and MagicGate are trademarks of Sony Corporation. PSP and PlayStation are registered trademarks of Sony Computer Entertainment, Inc. (SCEI). Other brand names mentioned herein are for identification purposes only and may be the trademarks of their respective holder (s).

This press release contains certain forward-looking statements, including expectations for new product introductions, applications, markets, and customers that are based on our current expectations and involve numerous risks and uncertainties that may cause these forward-looking statements to be inaccurate.  Risks that may cause these forward-looking statements to be inaccurate include among others: market demand for our products may grow more slowly than our expectations or there may be a slower adoption rate for these products in new markets that we are targeting, and the other risks detailed from time-to-time in our Securities and Exchange Commission filings and reports, including, but not limited to, Form 10-K and our quarterly reports on Form 10-Q.  We do not intend to update the information contained in this press release.
CONTACT:
SanDisk Corporation
Ken Castle
(408) 542-9525 kcastle@sandisk.com