Jun 8, 2006
Innovative SanDisk USB Gaming Flash Drive Integration Helps Players Solve Murder Cases Faster
MILPITAS, CA, JUNE 8, 2006 - SanDisk ® Corporation (NASDAQ: SNDK) today announced that its Cruzer ® Crossfire ™ USB flash drive for gaming has been seamlessly integrated into Ubisoft's CSI: Crime Scene Investigation ™ 3 Dimensions of Murder video game for the PC. Players of CSI: 3 Dimensions of Murder use the Cruzer Crossfire as the primary detection and collection tool for digital evidence, including e-mails and computer files. This unique integration of a flash drive with a video game simulates the technology used by real forensic investigators.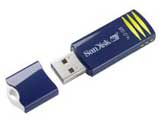 Ubisoft's video game challenges players to solve murder mysteries by piecing together bits of evidence, such as a bloody shoe, a strand of hair and a hotel room key. The game presents five cases, and normally a player must solve one case before moving to the next. But by connecting the appropriate SanDisk Cruzer Crossfire -- a USB drive that is designed specifically for gaming -- players get to solve the cases in random order.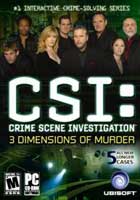 "This is our second partnership with Ubisoft, but the CSI game is the first time that we have put interactive gaming content on a USB flash drive," said Wes Brewer, SanDisk's vice president of consumer products marketing. The SanDisk special edition Cruzer Crossfire with the CSI: 3 Dimensions of Murder content is shipping to retailers this month. It is offered in capacities ranging from 1 gigabyte (GB)* to 4 gigabytes. Suggested list prices are $59.99 for 1GB, $99.99 for 2GB and $189.99 for 4GB, and the drives are sold separately from the game. Apart from the game content, there is plenty of storage space on the drive for videos, music, images and other files.
CSI: 3 Dimensions of Murder was released by Ubisoft in mid-March as part of a series of games based on the top-rated television series. Featuring the voices and likenesses of the cast from the CBS show, the Ubisoft game, like the series, emphasizes the use of high-tech equipment in crime scene investigations. This ranges from a camera to a "mobile analysis unit" to gather and evaluate forensic evidence. The game itself specifically refers to a branded SanDisk USB "data drive."
Further to the integration between the game and the SanDisk Cruzer Crossfire flash drive, players need to store evidence on the drive, within the game itself, to help solve the cases.
In addition to its new line of Cruzer Crossfire flash drives, which were announced at the Consumer Electronics Show in Las Vegas in January, SanDisk also manufactures a line of gaming flash cards aimed at users of the PSP ™ (PlayStation ® Portable) system.
About SanDisk
SanDisk is the original inventor of flash storage cards and is the world's largest supplier of flash data storage card products, using its patented, high-density flash memory and controller technology. SanDisk is headquartered in Milpitas, CA and has operations worldwide, with more than half its sales outside the U.S.
About CBS Consumer Products
CBS Consumer Products, a unit of CBS Enterprises, manages the worldwide licensing, merchandising and video activities for a diverse slate of properties owned or controlled by the CBS Corporation.  Additional information is available by visiting www.CBS.com.
About Ubisoft
Ubisoft is a leading producer, publisher and distributor of interactive entertainment products worldwide and has grown considerably through its strong and diversified lineup of products and partnerships. Ubisoft has offices in 21 countries and sales in more than 50 countries around the globe. It is committed to delivering high-quality, cutting-edge video game titles to consumers. Ubisoft generated revenue of 547 million Euros for the 2005-2006 fiscal year, an increase of 3 percent over the previous fiscal year at constant exchange rates. To learn more, please visit www.ubisoftgroup.com.
---
* 1 megabyte (MB) = 1 million bytes; 1 gigabyte (GB) = 1 billion bytes.
SanDisk's product and executive images can be downloaded from
http://www.sandisk.com/about-sandisk/media-kit
SanDisk's web site/home page address: http://www.sandisk.com
SanDisk and the SanDisk logo are trademarks of SanDisk Corporation, registered in the United States and other countries. Other brand names mentioned herein are for identification purposes only and may be the trademarks of their respective holder (s).
CSI: CRIME SCENE INVESTIGATION and elements and characters thereof © 2000-2006 CBS Broadcasting Inc. and Alliance Atlantis Productions, Inc. All Rights Reserved. CSI: CRIME SCENE INVESTIGATION is a trademark of CBS Broadcasting Inc. and outside USA is a trademark of Alliance Atlantis Communications Inc. ALLIANCE ATLANTIS with the stylized "A" design TM Alliance Atlantis Communications Inc. CBS and the CBS Eye Design TM CBS Broadcasting Inc. Software © 2006 Ubisoft Entertainment. All Rights Reserved. Ubisoft, Ubi.com, and the Ubisoft logo are trademarks of Ubisoft Entertainment in the U.S. and/or other countries. Company logos are trademarks of their respective owners. No celebrity endorsements implied. Game engine © 2006 Telltale Inc. All Rights Reserved.
PSP is a trademark of Sony Computer Entertainment Inc.
CONTACTS:
SanDisk Corporation
Ken Castle
(408) 801-7032
kcastle@sandisk.com
Ubisoft
Jaime Borasi
(415) 547-4065
jaime.borasi@ubisoft.com