Jul 19, 2006
New Cards Result In Faster Capture of High-Resolution Images and Quicker Card-to-Computer Transfers

NEW YORK, NY, July 19, 2006 - SanDisk® Corporation (NASDAQ: SNDK) today introduced the new SanDisk Extreme® IV line of CompactFlash® digital film cards for professional photographers. The line is targeted at photographers who require the highest possible performance and the largest capacities for their medium format and high-end digital single lens reflex (SLR) cameras. The SanDisk Extreme IV cards are available in capacities of up to 8-gigabytes (GB)1 and deliver minimum read and write speeds of 40 megabytes per second (MB/sec.)2 making these the fastest flash memory cards in the world. This exceptionally fast card speed is critical when shooting large numbers of high-resolution images.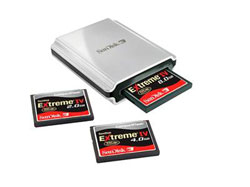 SanDisk also introduced the new SanDisk Extreme FireWire reader that can transfer images from the SanDisk Extreme IV cards to a computer at up to 40MB/sec. for significantly improved workflow efficiency. These new products were announced at a press conference held today at the NASDAQ Market Site in New York City.
The SanDisk Extreme IV cards are targeted at the professional photographer who needs the absolute highest performance and maximum reliability. The company will continue to offer the SanDisk Extreme III and SanDisk Ultra® II lines.
"The new SanDisk Extreme IV CompactFlash card and SanDisk Extreme FireWire reader offers photographers a number of key benefits," said Tanya Chuang, senior retail marketing manager at SanDisk. "First of all, the new cards are twice the speed of the current SanDisk Extreme III cards and offer performance that is ideal for medium format cameras, digital backs and other high-resolution cameras that require the combination of high performance and large capacities. In addition, they are available in industry-leading capacities so that photographers can capture a larger number of RAW or other high-resolution images. Lastly, photographers can quickly transfer gigabytes of images from the card to the computer for greatly increased workflow efficiency, an important consideration when working under deadline pressures."
Fast Cards Ideal For High-Resolution Digital Cameras SanDisk Extreme IV cards use SanDisk-developed ESP (Enhanced Super-Parallel Processing) technology that combine fast NAND flash memory chips and controller designs, 32-bit RISC processing and advanced algorithms in an architecture that streamlines every aspect of read and write data transfer operations. In addition, SanDisk works closely with major camera manufacturers to ensure the speed and compatibility of its cards.
Wes Brewer, vice president of consumer product marketing, said, "SanDisk has led the market for high performance/high reliability cards for imaging professionals since the introduction of our original SanDisk Extreme I card in 2003. Our SanDisk Extreme III cards have provided the highest performance in the industry at 20MB/sec., minimum read and write performance for CompactFlash and SD formats, since their introduction in 2004. It's taken nearly a year and a half for our competition to match that performance level. Now, with the introduction of the SanDisk Extreme IV line at 40MB/sec., we believe that SanDisk will continue to be the preferred choice of professional photographers based on our performance advantage as well as our commitment to the photographic market as a whole."
Chuang added, "The SanDisk Extreme IV line is the direct result of SanDisk's passion and continued drive to provide the highest possible performance for professional photographers. On behalf of SanDisk, I would like to personally thank our major partners and leading manufacturers of professional digital cameras such as Canon, Hasselblad, Leaf, Nikon and Phase One. Without their strong support and inputs, development of the SanDisk Extreme IV line would not have been possible."
Medium format cameras such as the Hasselblad H2D-39 and digital backs, such as the Leaf Aptus family, produce enormous files that must be quickly processed and then saved to the card. Their advanced firmware lets photographers save RAW and high-end JPEG images faster so they can continue to shoot without losing their rhythm.
High-end digital SLRs may also show increased performance with the SanDisk Extreme IV cards.
Christian Poulsen, CEO of Hasselblad, said, "The speed and capacities of the removable storage cards can have a serious impact on the overall performance of Hasselblad cameras. Our most advanced digital camera is the Hasselblad H2D-39, the world's first 39-megapixel (MP) digital auto-focus camera that can capture one image every two seconds. Using a SanDisk Extreme IV card, the initial burst rate is dramatically improved from 6 frames to 10 frames versus a SanDisk Extreme III card. This is a huge gain that can mean the difference between capturing the shot or not." 
Rob Galbraith, editorial, freelance photographer and publisher of the Rob Galbraith Digital Photography Insights website, said, "The best CompactFlash cards on the market until now are capable of real-world throughput of between 15MB-17MB/second in the best shipping readers we've tested. By comparison, the 2GB SanDisk Extreme IV card, when inserted into an Extreme FireWire Reader, tops out at a whopping 38.6MB/second. Given the blazing card-to-computer speed of the Extreme IV CompactFlash cards, the time it takes to transfer a big assignment's worth of photos is about to be cut significantly."
Dov Kalinski, general manager of Leaf, part of Kodak's Graphic Communications Group, said, "Leaf, as a leading supplier of digital camera backs for professional photographers since 1992, has consistently led the market with innovative solutions, quality and ground-breaking speed. Integrating the new SanDisk Extreme IV CompactFlash cards allow us to take a leap forward in terms of mobile storage performance. Our customers will now enjoy increased portability, which is of utmost importance to a significant portion of the market."
Robert Cristina, manager of professional products at Nikon Europe BV, said, "Nikon has long recognized the importance for photographers to be able to capture high resolution files without compromising speed, and this SanDisk Extreme IV initiative will be wholeheartedly welcomed by customers using our high performance cameras." 
Large Capacities Let You Focus On Taking Pictures
Available in 2-, 4- and 8GB capacities, the SanDisk Extreme IV cards are ideal for photographers who shoot RAW and JPEG images that are typically very large and can quickly fill up a card.
Jonathan Torgovnik, contract photographer for Newsweek magazine, war correspondent and freelance photographer, said, "Many photographers were wary of using cards larger than 1GB because they didn't want to 'put all their eggs in one basket.' While that may have been an issue for some in the past, that attitude is changing very quickly. I always shoot RAW images, so using 4- or 8GB cards is a must. It also lets me concentrate on taking pictures and keeping the momentum going rather than worrying about filling the card after only a few shots."
Faster Cards And Readers Improve Workflow-The "SanDisk Extreme IV System"While the speed of the card is important for in-camera performance, card-to-computer transfer rates are becoming an increasingly important workflow consideration. The time it takes to transfer images to a computer can be a bigger bottleneck now that card capacities have expanded into the multi-gigabyte range.
The SanDisk Extreme IV cards and SanDisk Extreme FireWire 800/400reader combine to form a high-speed "system" that dramatically decreases card-to-computer transfer time. Images are transferred at up to the 40MB/sec. speed of the SanDisk Extreme IV cards. For a limited time, the company will offer an introductory bundle pack that includes a 4GB SanDisk Extreme IV CompactFlash card and a SanDisk Extreme FireWire reader.
In the U.S. and Europe, a free 30-day trial version of Adobe® Photoshop® CS2 software is bundled with each SanDisk Extreme FireWire Reader. Photoshop is the professional image-editing standard and leader of the Photoshop digital imaging line, and the software supports both Macintosh and PCs.
Extended Operating Temperature Range For Reliable Use Under Extreme Environmental ConditionsSanDisk Extreme IV cards are designed to withstand the industry's widest guaranteed operating temperature range from a freezing minus 13 ◦ F (minus 25 ◦ C) to a scorching 185 ◦ F (plus 85 ◦ C). The cards also include RescuePRO® software that allows photographers to easily recover accidentally deleted images, lost digital images or data. The included software is compatible with both Windows and Mac platforms.
Pricing and Availability SanDisk Extreme IV CompactFlash cards and new reader will be available at the following suggested retail prices:
 
| | | | | |
| --- | --- | --- | --- | --- |
|   | Capacities | US$ | Euros, Ex VAT | Availability |
| SanDisk Extreme IV CompactFlash | 2GB | $159.99 | €128 | July |
|   | 4GB | $319.99 | €255 | July |
|   | 8GB | $639.99 | €509 | July |
| Introductory Bundle Pack | 2GB Card & Reader | $239.99 | €197 | July |
|   | 4GB Card & Reader | $399.99 | €323 | July |
|   |   |   |   |   |
| SanDisk Extreme FireWire Reader |   | $79.99 | €69 | July |
| SanDisk Extreme USB 2.0 Reader |   | $24.99 | €22 | August |

SanDisk Extreme IV cards carry a lifetime limited warranty. Photographers who purchase the cards also will have access to a dedicated toll-free number for technical support questions.

SanDisk is the original inventor of flash storage cards and is the world's largest supplier of flash data storage card products using its patented, high-density flash memory and controller technology. SanDisk is headquartered in Sunnyvale, CA and has operations worldwide, with more than half its sales outside the U.S.
---
SanDisk's web site/home page address: http://www.sandisk.com
SanDisk, the SanDisk logo, SanDisk Extreme, RescuePRO and SanDisk Ultra are trademarks of SanDisk Corporation, registered in the U.S. and other countries. The ESP Technology logo is a trademark of SanDisk Corporation. Other brand names mentioned herein are for identification purposes only and may be trademarks of their respective holder(s).
1 1 gigabyte (GB) = 1 billion bytes
2 Performance based on SanDisk internal testing. 1 megabyte (MB) = 1 million bytes.
CONTACT:
SanDisk Corporation   
Mike Wong  
408-801-1240  
mwong@sandisk.com
To view live press conference coverage:
http://www.sandisk.com/Ex4webcast