Dec 4, 2006
Team Led by SanDisk CEO Eli Harari Contributes $34,241,
Raising 1,359 Gifts for Needy Children
 MILPITAS, CA, DECEMBER 4, 2006 - Displaying their trademark competitive spirit as well as their holiday spirit, executives from six prominent Silicon Valley companies, including SanDisk® CEO Eli Harari, raced through the aisles of a local Target store on Friday in a frenzied 20-minute shopping spree to scoop up gifts for underprivileged children. The event was the second annual CEO Shopping Challenge sponsored by The Family Giving Tree, a charitable organization.

Harari and a posse of SanDisk vice-presidents filled up more than 50 shopping carts, chalking up $34,241 worth of presents and earning SanDisk (NASDAQ: SNDK) second place in the gift-raising event, which benefits children in the San Francisco Bay Area. This was up from fifth place last year. NVIDIA Corporation claimed the championship for the second year in a row, spending $49,971 and fulfilling 2,395 wishes. The total amount raised by the Challenge was $160,377 - all personal donations from the CEOs - and this will generate 7,067 gifts.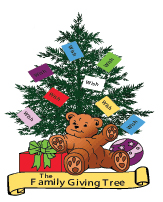 Havoc erupted as the executives and their assistants dashed madly down the aisles, grabbing everything from electronics and toys to dolls and sporting goods and throwing them into empty carts. The chaos continued with cart collisions, swapping of company tags to take possession of a filled cart, congested check-out lines and broken cash registers. At the end, a shortage of carts prompted the executives to physically carry their booty.

Strategies were developed days in advance, with reconnoitering and secret assignments given. Before the spree, Harari told his team, "We need to do this like a well-executed military operation."

Each company was given a stocking filled with children's wish cards. The challenge was for the teams to collect as many of the items as possible and spend the most money within the allotted time, without grabbing any item over $100 as it would not count toward the final numbers.

The SanDisk team consisted of Harari, vice presidents Yoram Cedar, Randhir Thakur and Tom Baker, and their executive assistants. The other teams of high-powered technology firms came from Applied Materials, National Semiconductor, NVIDIA, Palm and Silicon Graphics. The event was held at the Target store in Sunnyvale Town Center.

SanDisk's $34,241 will underwrite 1,369 gifts. In addition to Harari's donation, SanDisk's worldwide employees, through the SanDisk Community Sharing Program, are contributing another $100,000 to The Family Giving Tree this holiday season.

The Family Giving Tree is a nonprofit organization dedicated to fulfilling the holiday wishes of low-income, deserving children. It was established in 1990 as a San Jose State University MBA class project, but since then it has grown to become the largest gift donation program in California. Social agencies gather the names and wishes of the children and wish cards are distributed to host companies and schools throughout the region.

SanDisk is the original inventor of flash storage cards and is the world's largest supplier of flash data storage card products, using its patented, high-density flash memory and controller technology. SanDisk is headquartered in Milpitas, California, and has operations worldwide, with more than half of its sales outside the U.S.

SanDisk's product and executive images can be downloaded from
http://www.sandisk.com/about-sandisk/media-kit
SanDisk's web site/home page address: http://www.sandisk.com
SanDisk and the SanDisk logo are trademarks of SanDisk Corporation, registered in the United States and other countries.
CONTACT: SanDisk Corporation
Diem Dinh
(408) 801-7275
ddinh@sandisk.com