Jan 8, 2007
Wi-Fi MP3 Player is Designed to Get and Recommend Music on the Go,
Un-tether Users from Their PCs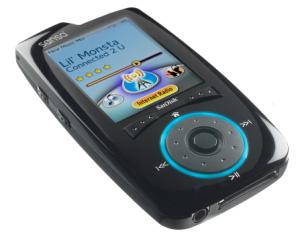 LAS VEGAS, NEVADA, Jan. 8, 2007 - SanDisk® Corporation (NASDAQ:SNDK) the second largest seller of MP3 players in the United States, today announced the Sansa Connect™, a Wi-Fi enabled MP3 player that lets consumers enjoy and recommend music from almost anywhere¹. The Sansa Connect un-tethers consumers from their PCs allowing them to connect to music and online photos through any open wireless "hot spot" Internet connection. The announcement was made at CES, where SanDisk is exhibiting in South Hall 4, 36206 in the Las Vegas Convention Center through January 11.

Available on retail shelves in the United States in late March, the new Sansa Connect will boast innovative Internet capabilities designed to keep music aficionados connected to a wide range of new music via subscription services and streaming Internet radio1 with no PC required. Designed to work with premium Internet services, the flash-based MP3 player will also contain community features for recommending music and photos with the simple click of a button and a "live" Wi-Fi connection.

"The Sansa Connect is a new music experience focused on convenience, instant gratification and social connections," said Eric Bone, product marketing director for SanDisk's audio and video line. "It's about accessing music of your choice wherever you are. If you're listening to new songs from a music service and find ones you want to keep, you can bring them into your library and don't have to wait until you get back to your PC. If you want to tell your friends about your discoveries, the Sansa Connect will also allow you to share music suggestions over the Web-anytime, anywhere-over an open wireless Internet network."

The Sansa Connect provides superior sound playback (equivalent to SanDisk's award-winning Sansa® e200 line) and will come equipped with a microSD™ card slot. The expansion slot adds additional storage capacity as well as portability of music to other devices.

The Sansa Connect feature set includes:
Wi-Fi "Connect" - access or purchase content from select service sites whenever there's an open wireless Internet connection; no PC hookup required
Music and photo playback
Community connections via the Internet¹
A microSD™ expansion slot for additional memory capacity
Internal speaker to enjoy music with friends
Sleek, thin design with large, 2.2" TFT color screen for easy viewing
Simple to use, backlit controls for fast device interface navigation
Lithium-Ion battery
Multi-pin universal connector for "Made for Sansa" accessory upgrades, battery charging and USB 2.0 connectivity
The Sansa Connect is 2.05 in. wide x 3.58 in. long x 0.63 in. high.

The 4-gigabyte (GB)² Sansa Connect will be distributed to store shelves in the United States in late March with a suggested retail price of $249.99 .The device will be available in Canada in the latter part of 2007.

In keeping with SanDisk's mantra of offering the consumer choice, the Sansa Connect player is designed to work seamlessly with a wide range of popular music formats such as MP3 and Windows Media Audio (WMA) in both unprotected and protected files. The player utilizes an open (non-proprietary) digital rights management system that will allow users to purchase songs or access subscription download services from specific premium internet sites. It will support Microsoft PlaysForSure subscription music and is designed to work with Microsoft Vista™ when it ships.

SanDisk teamed with ZING (ZING.net), a new mobile entertainment technology and services company, to develop the product. ZING's Mobile Entertainment Engine provides technology, software and services for building next generation digital media players and experiences. Portable music players based on ZING technology are distinguished by their ability to connect, download, manage and exchange entertainment content directly from the player through Wi-Fi or other wireless protocols, without requiring a PC for functionality. The ZING platform also supports mobile wireless player implementations of leading music and entertainment services, live digital broadcasts, Internet radio, and Internet community applications.
SanDisk is the original inventor of flash storage cards and is the world's largest supplier of flash data storage card products, using its patented, high-density flash memory and controller technology. SanDisk is headquartered in Milpitas, CA and has operations worldwide, with more than half its sales outside the U.S.

 
---
¹ May require subscription to access content and an open Wi-Fi network 
² 1 megabyte (MB) equals 1 million bytes; 1 gigabyte (GB) equals 1 billion bytes

SanDisk's web site/home page address: www.sandisk.com
SanDisk's product and executive images can be downloaded from www.sandisk.com/corporate/mediakit/

SanDisk, the SanDisk logo and Sansa are trademarks of SanDisk Corporation, registered in the United States and other countries. Sansa Connect, TrustedFlash and gruvi are trademarks of SanDisk Corporation. microSD, is a trademark. Other brand names mentioned herein are for identification purposes only and may be the trademarks of their respective holder(s).

This press release contains certain forward-looking statements, including expectations for new product introductions, specifications, applications, markets, pricing, customer acceptance and customers that are based on our current expectations and involve numerous risks and uncertainties that may cause these forward-looking statements to be inaccurate. Risks that may cause these forward-looking statements to be inaccurate include among others: market demand for our products may grow more slowly than our expectations or there may be a slower adoption rate for these products in new markets that we are targeting, and the other risks detailed from time-to-time under the caption "Risk Factors" and elsewhere in our Securities and Exchange Commission filings and reports, including, but not limited to, Form 10-K and our quarterly reports on Form 10-Q. We do not intend to update the information contained in this press release.
MEDIA CONTACT:
SanDisk Corporation
Carmella Lyman
(707) 256-3834
carm@Lymanpr.com