Jan 8, 2007
Launch of M2 2GBCapacity for Storing More Music, Photos and Video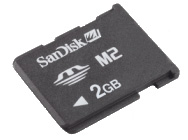 LAS VEGAS, NEVADA, Jan. 8, 2007 - SanDisk® Corporation (NASDAQ:SNDK) today introduced the Memory Stick Micro™ (M2) product line - an ultra-thin, removable storage card for use with Sony Ericsson's latest generation of slim line, multimedia mobile phones like the Cyber-shot™ and the Walkman® series phones. The SanDisk M2 cards are available in 2-gigabyte (GB ) - the market's highest capacity M2, followed by the 1GB and 512-megabyte (MB ). The announcement was made today at the Consumer Electronics Show, where SanDisk is demonstrating products in South Hall 4, booth #36203 at the Las Vegas Convention Center.

SanDisk M2 memory cards are ideal for users requiring expandable storage for more music, videos and quality photos. "The M2 is the new memory card form-factor of choice for the latest Sony Ericsson line of mobile phones delivering great music playback and advanced optics for photos and videos," said Jeff Kost, handset business vice-president at SanDisk. The M2 2GB holds up to 500 MP3 songs, 640 minutes of MPEG4 video or up to 4800 photos .

"SanDisk is responding to growing demand from users for more storage for their personal files to carry around in their phone." Kost said "Our high-capacity M2 cards provide more flexibility for users to keep their music with them and still have room for plenty of snapshots and even music videos or video-blogs." The M2 mobile cards are shipping in January to retailers worldwide, with the release in Japan scheduled later in the quarter. Suggested U.S. retail pricing: 2GB - $119.99, 1GB - $54.99, 512MB - $44.99.

The SanDisk M2 card line is designed for use with M2 supported handsets and also includes an adapter for use with Memory Sick PRO Duo devices such as cameras and game modules. The SanDisk M2 will plug into the Sony Ericsson K610, K800, K790, M600/608, V630, W300, W710, W712, Z530, Z550, Z710, and Z712 mobile phones. When coupled with its PRO Duo adapter, the M2 is also compatible with the D750, K750, P910, P990, V800, W700, W800/810, W850, W900, and Z800.

Memory Stick Micro was co-developed by SanDisk Corporation and Sony Corporation to meet the growing storage needs of highly compact, multimedia mobile phones. M2 is designed as an externally removable media with a controlled eject function and side notch to prevent it from accidentally falling out. Its edges are slotted lengthwise to allow for more slim-line designed connectors to reduce space in the host device. M2 operates at dual voltage - 1.8V for Sony Ericsson's new line of mobile phones and 3.3V for Memory Stick PRO Duo compatible products.

M2 measures 0.59" (L) x 0.49" (W) x 0.05" (H), making it the second smallest flash memory media in the world, behind the microSD, which SanDisk pioneered.

SanDisk is the original inventor of flash storage cards and is the world's largest supplier of flash data storage card products, using its patented, high-density flash memory and controller technology. SanDisk is headquartered in Milpitas, California, and has operations worldwide, with more than half of its sales outside the U.S.
---
1 gigabyte (GB) = 1 billion bytes
1 megabyte (MB) = 1 million bytes
Approximations based on 4-minute songs at 128 kbps MP3 (music), 1-minute clips at 384kbps (video), and compressed JPEG images on 2MP camera (photos). Actual numbers may vary. 

SanDisk's web site/home page address: www.sandisk.com
SanDisk's product and executive images can be downloaded from www.sandisk.com/corporate/mediakit/
SanDisk and the SanDisk logo are trademarks of SanDisk Corporation, registered in the United States and other countries. microSD is a trademark. Memory Stick PRO Duo and Memory Stick micro are trademarks of Sony Corporation. All brand names mentioned herein are for identification purposes only and may be trademarks of their respective holder(s).
This press release contains certain forward-looking statements, including expectations for new product introductions, specifications, applications, markets, pricing, customer acceptance and customers that are based on our current expectations and involve numerous risks and uncertainties that may cause these forward-looking statements to be inaccurate. Risks that may cause these forward-looking statements to be inaccurate include among others: market demand for our products may grow more slowly than our expectations or there may be a slower adoption rate for these products in new markets that we are targeting, and the other risks detailed from time-to-time under the caption "Risk Factors" and elsewhere in our Securities and Exchange Commission filings and reports, including, but not limited to, Form 10-K and our quarterly reports on Form 10-Q. We do not intend to update the information contained in this press release.
MEDIA CONTACT:
SanDisk Corporation
Mike Wong
(408) 801-1240
mike.wong@sandisk.com