Jan 8, 2007
Value Conscious Consumers Will Enjoy Cable-less Device
With High Quality Sound and Many Extras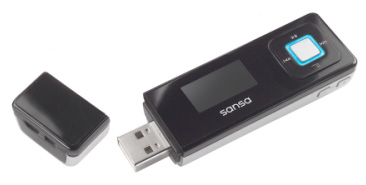 LAS VEGAS, NEVADA, Jan. 8, 2007 - SanDisk® Corporation (NASDAQ:SNDK) today unveiled an affordable cable-less, flash-based MP3 player: the 1-gigabyte (GB) Sansa Express™. Designed for the value-conscious consumer, the compact Sansa Express stands out amongst the competition as an affordably priced device with many high-end features, including a microSD™ expansion slot, FM tuner, recording capabilities, data storage and a direct connection to a consumer's computer - no USB cable required. The Sansa Express and other new SanDisk products are being demonstrated at the Consumer Electronics Show in the SanDisk booth (#36206), South Hall-4 in the Las Vegas Convention Center.

"With the Sansa Express, SanDisk is continuing its strategy of bringing new MP3 players to market for the budget conscious consumer," said Keith Washo, SanDisk retail product marketing manager. "Plus, we've made the Sansa Express easy to use. With no cable-this player uses a direct connection to the computer-you just plug and go."

In addition to high quality sound packed in a small device, the Sansa Express includes:  
Cable-less battery charging and USB 2.0 connectivity

Bright, four-line OLED Screen (1.1")

A microSD expansion slot for additional memory capacity and music portability with SanDisk TrustedFlash™ content cards

Digital FM tuner, with FM recording

Voice recording with a built-in microphone

Data and document storage

Up to 15-hour Lithium Polymer battery life

Cool, blue backlit effect

Simple to use controls for fast device interface navigation

The Sansa Express can hold up to 3GB of music-or 750 songs -by utilizing a 2GB microSD card in the player's memory expansion slot. This card feature also enables secure transferring of music to other devices equipped with microSD card slots such as mobile phones and PDAs.

About the size of a pack of gum, the dimensions of the Sansa Express MP3 player are 0.99 inches wide x 3.09 inches long x 0.64 inches high.

For instant access to millions of digital songs, the Sansa Express supports several music download and subscription services, including Rhapsody, MTV Urge, eMusic, Napster and Yahoo Music. The player is designed to work seamlessly with a wide range of popular music formats such as MP3 and Windows Media Audio (WMA) in both unprotected and protected files (such as those WMA files purchased from music stores).

The Sansa Express is designed to work with Microsoft Vista.

Available in March 2007 in the U.S. and Europe, the Sansa Express will be priced at $59.99 (MSRP).

SanDisk is the original inventor of flash storage cards and is the world's largest supplier of flash data storage card products, using its patented, high-density flash memory and controller technology. SanDisk is headquartered in Milpitas, CA and has operations worldwide, with more than half its sales outside the U.S. 
---
1 gigabyte (GB) equals 1 billion bytes
FM tuner and FM recording available in the US and as an option in other countries
Based on continuous playback at 128 kbps MP3; rechargeable batteries have a limited number of charge cycles and may eventually need to be replaced. Battery life and number of charge cycles vary by use and settings.
Approximation based on 4 minute songs at 128 kbps MP3
Manufacturer's Suggested Retail Price, United States

SanDisk's web site/home page address: www.sandisk.com
SanDisk's product and executive images can be downloaded from www.sandisk.com/corporate/mediakit/
SanDisk and the SanDisk logo are trademarks of SanDisk Corporation, registered in the United States and other countries. Sansa, Sansa Express and TrustedFlash are trademarks of SanDisk Corporation, registered in the U.S. and other countries. microSD is a trademark. Other brand names mentioned herein are for identification purposes only and may be the trademarks of their respective holder(s).

This press release contains certain forward-looking statements, including expectations for new product introductions, applications, markets, and customers that are based on our current expectations and involve numerous risks and uncertainties that may cause these forward-looking statements to be inaccurate. Risks that may cause these forward-looking statements to be inaccurate include among others: market demand for our products may grow more slowly than our expectations or there may be a slower adoption rate for these products in new markets that we are targeting, and the other risks detailed from time-to-time in our Securities and Exchange Commission filings and reports, including, but not limited to, Form 10-K and our quarterly reports on Form 10-Q. We do not intend to update the information contained in this press release.