Feb 12, 2007
Adapter Kit Provides microSD Card, miniSD Adapter and Standard SD Adapter
In a Single Package Compatible With Most Mobile Phones That Have Card Slots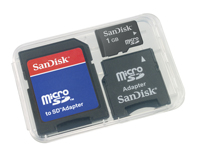 BARCELONA, SPAIN, Feb. 12, 2007 - SanDisk® Corporation (NASDAQ:SNDK) today introduced the microSD™ Multi SD™ Kit, bringing together in one package a microSD flash card with a miniSD™ adapter and a standard SD adapter, at the 3GSM World Conference 2007, where SanDisk is demonstrating products in booths 7C62 and 8C74.

The microSD Multi SD Kit removes confusion for consumers and retailers in selecting the correct card for a mobile phone, because the kit supports all mobile phones with SD-based card slots. According to SanDisk research, 87 percent of the latest mobile phone models with card slots are designed for either microSD, miniSD or standard SD.

"Consumers, when shopping for memory cards, don't always know what type of SD slot is in their mobile phone. The microSD Multi SD Kit makes the purchasing decision a snap, because the card is guaranteed to fit-either directly through a microSD slot, or by using the adapters for miniSD or standard SD slots," said Jeff Kost, vice president and general manager of mobile consumer solutions for SanDisk. "Retailers also get a break, because sales associates can focus on the benefits of added capacity rather than worrying about compatibility."

The kit makes it easy to enjoy music, photos, video clips and personal files on multiple devices. For example, a large video clip could be downloaded through a laptop computer and transferred to the microSD card using the kit's standard SD adapter. The microSD card could then be placed in a phone with either a miniSD or microSD slot. The kit is also compatible with personal electronics other than mobile phones, including SD digital cameras, as well as SanDisk's Sansa® e200 series, Sansa® Connect™, Sansa® Express™, and Sansa c200 series of MP3 players. This flexibility makes it more likely consumers will use their portable devices, especially mobile phones, to enjoy music, photos and video.

The microSD Multi SD Kit comes in three capacities: 512 MB, 1GB and 2GB.* The product is available now in Japan. It will be available in the United States and Europe in March. Pricing in the U.S. and Europe has yet to be announced. The product may be sold under other names outside of Europe.

SanDisk is the original inventor of flash storage cards and is the world's largest supplier of flash data storage card products, using its patented, high-density flash memory and controller technology. SanDisk is headquartered in Milpitas, California, and has operations worldwide, with more than half of its sales outside the U.S. 
 
---
 *1 gigabyte (GB) = 1 billion bytes; 1 megabyte (MB) = 1 million bytes

SanDisk's web site/home page address: www.sandisk.com
SanDisk's product and executive images can be downloaded from http://www.sandisk.com/corporate/mediakit/
SanDisk, the SanDisk logo and Sansa are trademarks of SanDisk Corporation, registered in the U.S. and other countries. Sansa® Express™ and Sansa® Connect™ are trademarks of SanDisk Corporation. microSD, miniSD and SD are trademarks. All trade names are either registered trademarks or trademarks of their respective holder(s).

This press release contains certain forward-looking statements, including expectations for new product introductions, specifications, applications, markets, pricing, customer acceptance and customers that are based on our current expectations and involve numerous risks and uncertainties that may cause these forward-looking statements to be inaccurate. Risks that may cause these forward-looking statements to be inaccurate include among others: market demand for our products may grow more slowly than our expectations or there may be a slower adoption rate for these products in new markets that we are targeting, and the other risks detailed from time-to-time under the caption "Risk Factors" and elsewhere in our Securities and Exchange Commission filings and reports, including, but not limited to, Form 10-K and our quarterly reports on Form 10-Q. We do not intend to update the information contained in this press release.
MEDIA CONTACT:
Solid Ground
Gijs Roeloffzen
+31 23 533 40 99
sandisk@solidground.nl
SanDisk Corporation
Mike Wong
(408) 801-1240
 mike.wong@sandisk.com