Feb 12, 2007
SD-Compatible iNAND Now With JEDEC JC 64.1 Standard Package and Ball-out
to Ease Integration of High-Capacity Storage in Handsets and Other Devices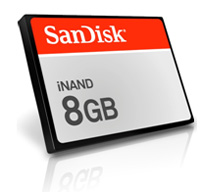 BARCELONA, SPAIN, Feb. 12, 2007 - SanDisk® Corporation (NASDAQ: SNDK) today introduced a new, JEDEC (Joint Electron Device Engineering Council) standard version of the iNAND™ embedded flash drive (EFD). This new version of iNAND, soon to be available in capacities of up to 8 gigabytes (GB)*, was unveiled at the 3GSM World Congress, where SanDisk is showcasing its storage technologies and solutions for the mobile world in Hall 8, Booth 8C74 and at Hall 7, Booth 7C62 at Spain's Fira de Barcelona exhibition grounds.

iNAND is a reliable, high-capacity and high-performance NAND flash storage device that is now JEDEC JC-64.1 package and ball-out compatible.** This new JEDEC compatibility, which allows iNAND to more readily connect to applications using this common standard, should help to reduce integration efforts for handset vendors and other mobile device manufacturers.

iNAND, which is compatible with the SD™ bus and commands, is designed to support mobile TV, multimedia downloading and other storage-hungry applications on portable systems such as mobile handsets, digital audio/MP3 players, gaming applications, GPS applications, personal media players and PDAs. With the new JEDEC standard hardware interface, the leading industry standard SD-compatible interface and smart flash management software integrated into its controller as firmware, iNAND is especially suited for these types of small portable devices. iNAND facilitates lower integration efforts and seamless access to the most cost-effective high-capacity MLC NAND flash technology available. EE Times recently named the iNAND EFD as an "Ultimate Product of the Year" finalist for its third Annual Creativity in Electronics (ACE) Award.
"JEDEC ball-out compatibility makes integration easier for our customers using iNAND as their mobile storage solution," said David Tolub, vice president and co-manager of the Mobile Handset Vendor business unit at SanDisk. "At 8GB, iNAND, with its new JEDEC standard ball-out which is also supported by a wide range of other consumer electronics products, opens up a new range of opportunities for iNAND beyond the millions of mobile handsets and consumer electronics products where it is already used."

Engineering samples of the new, JEDEC standard compatible iNAND embedded flash ddrive are available for testing and evaluation, with mass production planned for the Q3 2007. More information about iNAND can be found online at www.sandisk.com/OEM/Default.aspx?CatID=1294. Pricing information is not yet available.

JEDEC, more formally known as the JEDEC Solid State Technology Association (once known as the Joint Electron Device Engineering Council), is the semiconductor engineering standardization body of the Electronic Industries Alliance (EIA), a trade association that represents all areas of the electronics industry. More information about JEDEC is available online at www.jedec.org
SanDisk is the original inventor of flash storage cards and is the world's largest supplier of flash data storage card products, using its patented, high-density flash memory and controller technology. SanDisk is headquartered in Milpitas, California, and has operations worldwide, with more than half of its sales outside the U.S.
 
---

* 1 megabyte (MB) = 1 million bytes; 1 gigabyte (GB) = 1 billion bytes.
** Ball-out describes how an electrical connector is wired. An electrical connector typically consists of several electrical contacts or pins that can be used to carry electrical power or signals.

SanDisk's web site/home page address: www.sandisk.com
SanDisk's product and executive images can be downloaded from www.sandisk.com/corporate/mediakit/
SanDisk and the SanDisk logo are trademarks of SanDisk Corporation, registered in the United States and other countries. iNAND is a trademark of SanDisk Corporation. SD is a trademark. Other brand names mentioned herein are for identification purposes only and may be the trademarks of their respective holder(s).

This press release contains certain forward-looking statements, including expectations for new product introductions, applications, cost reductions, markets, and customers that are based on our current expectations and involve numerous risks and uncertainties that may cause these forward-looking statements to be inaccurate. Risks that may cause these forward-looking statements to be inaccurate include among others: market demand for our products may grow more slowly than our expectations or there may be a slower adoption rate for these products in new markets that we are targeting, we may not be able to reduce flash memory costs as expected, and the other risks detailed from time-to-time in our Securities and Exchange Commission filings and reports, including, but not limited to, Form 10-K and our quarterly reports on Form 10-Q. We do not intend to update the information contained in this press release.
MEDIA CONTACT: 
Solid Ground
Kobi Ben Simchon
+31 20 419 84 00  sandisk@solidground.nl
SanDisk Corporation
Mike Wong
(408) 801-1240
 mike.wong@sandisk.com