Mar 8, 2007
Cards Will Be Bundled With Free MicroMate USB 2.0 Reader
LAS VEGAS, NEVADA, Mar. 8, 2007 - SanDisk® Corporation (NASDAQ: SNDK) today introduced an 8-gigabyte (GB)1 SanDisk Ultra® II SD™ High Capacity (SDHC™) card to meet the growing demand for more photo and video storage. The new cards can store over 4,000 high-resolution pictures or up to 15 hours of MPEG 4 video2. The announcement was made at the Photo Marketing Association (PMA) Show at the Las Vegas Convention Center, where SanDisk is displaying its photographic products in Booth G191 on Level 1 of the South Hall.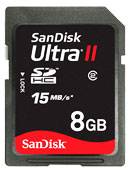 The SanDisk Ultra II SDHC card features write speeds of 9 megabytes (MB) per second and read speeds of 10MB/sec.3 The cards are targeted at digital photography enthusiasts with 5 megapixel or higher resolution cameras or videographers with camcorders that require significantly faster flash storage cards. The card carries a Class 44 speed rating.
The SanDisk MicroMate™ USB 2.0 reader, which normally retails for $19.99, will be included with the 8GB SanDisk Ultra II SDHC card at no extra charge. SDHC cards require an SDHC-compatible reader to transfer images from card to computer, and the MicroMate readers work with both SDHC and SD cards.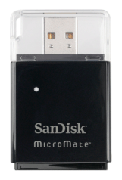 "As new SDHC-compatible digital still cameras and camcorders arrive on the market with greater frequency, consumers should select a memory card that meets the demands of these devices," said Anna Enerio, retail product marketing manager at SanDisk. "This combination of an 8GB SanDisk Ultra II SDHC card and a MicroMate reader gives consumers high capacity, proven performance and convenience at an exceptional value."

The 8GB SanDisk Ultra II SDHC card adheres to the SD 2.00 specification, a new design that is required for cards and cameras to support capacities from 4GB to 32GB. The specification was developed by the SD Association, an industry standards board, which also defined three speed classes for speed and performance capabilities. The speed rating system, adopted by the SD Association, is intended to help consumers select the right card for the desired application. It does not denote the fastest memory card.

Though standard SD and SDHC cards look identical in size and shape, only SDHC-compatible cameras and devices can accept the new SDHC cards. SanDisk differentiates its new cards with the SDHC logo on the card and retail package.
Suggested Pricing and Availability
| | | | | |
| --- | --- | --- | --- | --- |
|   | Capacities | US$ | Euros, Ex VAT | Availability |
| SanDisk 8GB Ultra II SDHC Bundle with MicroMate SDHC/SD | 8GB + MicroMate USB 2.0 Reader | $239.99 | €121 | June 2007 |
 For additional information, please visit SanDisk's website:
SanDisk is the original inventor of flash storage cards and is the world's largest supplier of flash data storage card products, using its patented, high-density flash memory and controller technology. SanDisk is headquartered in Milpitas, CA and has operations worldwide, with more than half of its sales outside the U.S.   
---
1 1 gigabyte (GB) = 1 billion bytes.
2 Based on SanDisk internal testing. 1 megabyte (MB) = 1 million bytes.
3 Approximations based on compressed JPEG images on a 5MP camera (pictures) and hours of Super Fine MPEG 4 video (320 x 240, 384 kbps video). Actual numbers may vary depending on camera model, resolution and compression.
4 The SDA speed class rating was developed to identify minimum data transfer and latency requirements for a host application, and is generally related to the emerging application of uninterrupted real-time video capture (from camcorders and cell phones) with an appropriately rated SD card. By contrast, SanDisk's own performance specifications apply to sequential write and read operations in non-real-time applications such as file transfers between a card and a computer or in digital cameras between the camera's buffer and the card.

SanDisk's web site/home page address: www.sandisk.com
SanDisk's product and executive images can be downloaded from www.sandisk.com/corporate/mediakit/ 

SanDisk, the SanDisk logo and SanDisk Ultra are trademarks of SanDisk Corporation, registered in the U.S. and other countries. MicroMate is a trademark of SanDisk Corporation. SD, SDHC and the SDHC logo are trademarks. Other brand names mentioned herein are for identification purposes only and may be trademarks of their respective holder(s). All trade names are either registered trademarks or trademarks of their respective holders.

This press release contains certain forward-looking statements, including expectations for new product introductions, applications, markets, and customers that are based on our current expectations and involve numerous risks and uncertainties that may cause these forward-looking statements to be inaccurate. Risks that may cause these forward-looking statements to be inaccurate include among others: market demand for our products may grow more slowly than our expectations, there may be a slower adoption rate for these products in new markets that we are targeting, these products may not perform as expected, these products may not be available when expected or at the prices expected, and the other risks detailed from time-to-time in our Securities and Exchange Commission filings and reports, including, but not limited to, Form 10-K and our quarterly reports on Form 10-Q. We do not intend to update the information contained in this press release.
MEDIA CONTACT:
SanDisk Corporation
Ken Castle
(408) 801-2195
ken.castle@sandisk.com