Apr 13, 2007
Used For Storing Audio, Video and Other Data on Portable Devices Such As Mobile Phones, iNAND is Recognized at Electronics Industry's Premier Gala Event
MILPITAS, CALIF., April 13, 2007 - SanDisk® Corporation's (NASDAQ: SNDK) iNAND™ flash memory module has received the EE Times Annual Creativity in Electronics (ACE) Award for the Ultimate Product of the Year in the Processor/Memory category. Honors were presented at the recent EE Times ACE Awards Gala as part of the Embedded Systems Conference Silicon Valley, the largest electronic systems design event in North America.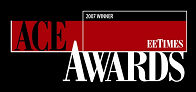 Positioned as a substitute for hard drives and other types of embedded memory, SanDisk's iNAND module is a high-capacity, high-performance single-package flash memory device with a built-in controller. Based on the leading industry-standard SD interface, the iNAND module also features SanDisk's MLC (Multi-Level Cell) technology. Used for storing music, video, digital still images and other data, the module is designed especially for small portable systems such as mobile phones, digital audio/MP3 players, games and personal media players. Capacities range from 256 megabytes (MB) to 8 gigabytes (GB)1.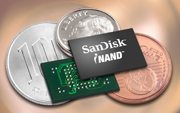 "We're delighted to receive a coveted ACE Award for iNAND," said Yoram Cedar, SanDisk's executive vice president of the Mobile Business Unit and Corporate Engineering. "It reflects the rapid transformation we are seeing among manufacturers to use durable solid state NAND flash memory for an ever growing array of mobile phones and consumer electronics."

The Ultimate Products of the Year categories are the most significant products introduced in the last 12 months as determined by large-scale peer review in seven technology segments. Finalists in each category are chosen by selected, qualified readers of EE Times and eeProductCenter on a quarterly basis via electronic balloting. More than 1,000 engineers participate in the voting process to determine the winners.

"SanDisk wins the Ultimate Product of the Year award for Processor/Memory because many EE Times readers felt the move to a solid state storage device, such as the iNAND module, is a big step in the right direction." said Brian Fuller, editor in chief of EE Times.

The EE Times ACE Awards were created to recognize the people, companies and products that show leadership in the electronics industry, honoring those who are leading the way and making positive contributions -- the real innovators of technology. Finalists were evaluated by a prestigious panel of judges, comprised of the leading voices of academia, industry and Wall Street executives. For more information, visit http://www.eetimes.com/ace.

The CMP Technology Electronics Group is the premier technology and business media brand serving the information needs of the creators of technology worldwide. Offering a full suite of products and services to reach electronics technology professionals throughout the world, the CMP Technology Electronics Group delivers the most targeted audience and actionable information to marketers in the electronics technology community. Each month, the CMP Technology Electronics Group delivers more than 1 million copies of its print publications, including EE Times, to subscribers in more than 23 countries and online visitors from 100 countries view more than 8 million pages on its Web sites in seven languages including EETimes.com and TechOnline. More than 40,000 decision makers attend its Embedded Systems Conferences each year in Boston, Silicon Valley, China and Taiwan.

SanDisk is the original inventor of flash storage cards and is the world's largest supplier of flash data storage card products using its patented, high-density flash memory and controller technology. SanDisk is headquartered in Milpitas, California, and has operations worldwide, with more than half its sales outside the U.S. 
---
1 1 megabyte (MB) = 1 million bytes; 1 gigabyte (GB) = 1 billion bytes.

SanDisk's product and executive images can be downloaded from
www.sandisk.com/corporate/media.asp
SanDisk's web site/home page address: www.sandisk.com

SanDisk and the SanDisk logo are trademarks of SanDisk Corporation, registered in the United States and other countries. iNAND is a trademark of SanDisk Corporation. Other brand names mentioned herein are for identification purposes only and may be the trademarks of their respective holder (s).

This press release contains certain forward-looking statements, including expectations for new product introductions, applications, markets, and customers that are based on our current expectations and involve numerous risks and uncertainties that may cause these forward-looking statements to be inaccurate. Risks that may cause these forward-looking statements to be inaccurate include among others: market demand for our products may grow more slowly than our expectations, our products may not perform as expected, there may be a slower adoption rate for these products in new markets that we are targeting, and the other risks detailed from time-to-time in our Securities and Exchange Commission filings and reports, including, but not limited to, Form 10-K and our quarterly reports on Form 10-Q. We do not intend to update the information contained in this press release.
CONTACT: 
SanDisk Corporation
Ken Castle
(408)801-2195
Ken.Castle@sandisk.com