Jul 17, 2007
IBM Selects SanDisk's SATA 5000 2.5" SSD to Provide Flash-Based Storage Solution in IBM's BladeCenter HS21 XM Blades
MILPITAS, CALIF., July 17, 2007 - SanDisk® Corporation (NASDAQ: SNDK) today announced that IBM has selected SanDisk to provide a flash-based storage solution for recently-released blade servers. SanDisk's SATA 5000 2.5-inch solid state drive (SSD) will be offered for data storage within the IBM BladeCenter® HS21 XM, featuring the latest in processing and power-management performance.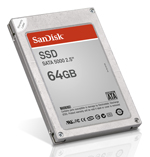 Blade computers - which integrate servers, storage, networking and applications into one system - offer a design point that helps reduce the proliferation of server "farms," large IT staffs to manage them and wasted energy resources. IBM HS21 XM blades are packed with up to 32 gigabytes1 (GB) of random-access memory and up to eight I/O ports, helping to boost memory and processing performance while reducing energy costs as compared to traditional rack systems.

According to IDC, blade servers are the fastest growing sector of the overall server market, with revenues projected to surpass $11 billion by 20102.

IBM selected SanDisk's SSD product based on its high levels of reliability and performance and low power consumption. Using the SSD, power savings with IBM BladeCenter HS21 XM can be up to 18 watts per blade, 252 watts per chassis and 1,512 watts per server rack3, which can help reduce energy costs.

For the server industry, SanDisk SSDs provide an advantage over conventional hard disk drives in a variety of areas:
Reliability - Incorporating advanced flash management technology, SanDisk SSDs deliver 2 million hours mean time between failures (MTBF)4, approximately six times more hours than conventional hard disks.
Performance - SanDisk SSDs offer a sustained read rate of 67 megabytes (MB) per second5 and a random read rate of 7,000 inputs/outputs per second (IOPS) for a 512-byte transfer6. 
Power efficiency - SanDisk SSDs have minimal power requirements, with savings rated at over 50 percent compared with a conventional hard disk drive - 0.9 watts during active operation versus 1.9 watts7.  
Cooler and quieter - Power efficiency contributes to reduced heat generation. Furthermore, without the motor, bearings and moving head mechanism of conventional spinning hard drives, SanDisk SSDs generate even less heat than a conventional hard disk drive. Additionally, while conventional hard disk drives always make at least some noise during read and write operations, SanDisk SSDs are completely silent, contributing to a quieter server environment. 
Low cost of ownership - With no moving parts, SanDisk SSDs contribute to a virtually maintenance-free alternative to conventional disk drives. 
Expandable product offering - SanDisk SSDs are available in capacities ranging from 4 GB to 64GB, allowing for easy upgrades depending on need.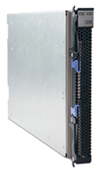 Scott Tease, worldwide marketing manager for IBM BladeCenter, said: "IBM is the first major blade vendor to deliver enterprise-class solid state storage in blade servers, helping clients balance datacenter cost, complexity, reliability and manageability. SanDisk's SSD uses up to 87 percent less power than a conventional hard disk drive and runs with no moving parts, eliminating a common point of disk failure and making the HS21 XM blade solution even more reliable."

"The integration of SanDisk's SATA 5000 2.5" SSD within IBM blades is a testament to the value of these products over conventional spinning media," said Ofer Tsur, vice president of SSD marketing at SanDisk. "Servers, personal computers and many other systems are sure to benefit with SSD products from SanDisk."

SanDisk offers SSD products in 4, 8, 16, 32 and 64 GB capacities. More information about SanDisk SSD products is available online at www.sandisk.com/ssd.

SanDisk is the original inventor of flash storage cards and is the world's largest supplier of flash data storage card products, using its patented, high-density flash memory and controller technology. SanDisk is headquartered in Milpitas, California, and has operations worldwide, with more than half its sales outside the U.S. 
---
1 1 gigabyte (GB) = 1 billion bytes
2 IDC, Worldwide and U.S. Blade Server 2006-2010 Forecast and 2005 Vendor Shares, report #203964.
3 IBM internal estimates.
4 MTBF is calculated based on Parts Stress Method of Telcordia SR-332.
5 H2BENCH 3.6: average access time = average seek time + average latency time.
6 IOMETER 2003.12.16.
7 MobileMark 2005; notebook computer (Intel Core Duo Processor ULV U2500), 1.20GHz, 533MHz, 1.0GB, DDR2-533 SDRAM. 

SanDisk's product and executive images can be downloaded from http://www.sandisk.com/about-sandisk/media-kit.aspx 
SanDisk's web site/home page address: www.sandisk.com

SanDisk and the SanDisk logo are trademarks of SanDisk Corporation, registered in the United States and other countries. Other brand names mentioned herein are for identification purposes only and may be the trademarks of their respective holder(s).

This press release contains certain forward-looking statements, including expectations for new product introductions, applications, markets, customer acceptance and customers that are based on our current expectations and involve numerous risks and uncertainties that may cause these forward-looking statements to be inaccurate. Risks that may cause these forward-looking statements to be inaccurate include among others: market demand for our products may grow more slowly than our expectations or there may be a slower adoption rate for these products in new markets that we are targeting, our products may not perform as expected or be available when expected and the other risks detailed from time-to-time in our Securities and Exchange Commission filings and reports, including, but not limited to, Form 10-K and our quarterly reports on Form 10-Q. We do not intend to update the information contained in this press release.