Jul 18, 2007
Ducati Edition Cards Embody Performance and Style
of the Italian Racing-Inspired Motorcycle Company

MILPITAS, CALIFORNIA, JULY 18, 2007 - Borrowing from the lightning-fast speeds, precision engineering and colorful style of international motorcycle racing, SanDisk®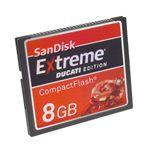 Corporation (NASDAQ:SNDK) today launched a line of turbo-charged flash memory cards - the SanDisk Extreme® Ducati Edition CompactFlash® and the SanDisk Extreme Ducati Edition SD™ Plus. Both have the quickest read/write times of the SanDisk portfolio1 and represent the company's ultimate performance products for digital photographers.
The announcement was made during a press conference at SanDisk headquarters on the eve of the U.S. Grand Prix MotoGP race on July 22 at Laguna Seca in Monterey, California. Present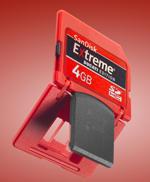 for the launch were Casey Stoner of Australia, a Ducati competition rider who is currently ranked number one in the international MotoGP circuit, and teammate Loris Capirossi of Italy.
The SanDisk Extreme Ducati Edition cards are the result of a sponsorship and marketing relationship between SanDisk and Ducati Corse, the racing arm of Italy's famed Ducati motorcycle company. The line-up consists of 4- and 8-gigabyte2 (GB) capacities for the SanDisk Extreme Ducati Edition CompactFlash card and 4GB for the SanDisk Extreme Ducati Edition SD Plus card. The latter features a snap-open connector that enables the card to be plugged in directly to the USB port of a personal computer without requiring a cable or reader. Distinctive bright red labels and packaging bear images of Ducati MotoGP racers and the Ducati Corse emblem.
"With the SanDisk Extreme Ducati Edition cards, we have reached a new threshold of speed - 45 megabytes per second for the CompactFlash cards and 20MB/sec1 for the SD Plus card," said Tanya Chuang, director of worldwide retail product marketing for the high performance imaging market at SanDisk. "These speeds allow for fast transfers of images from the cards, and are especially useful for professional photographers in their work-flow environments."
The SanDisk Extreme Ducati Edition CompactFlash card is twice as fast as the SanDisk Extreme III card and is 5MB faster than the new SanDisk Extreme IV card, she added.
SanDisk's relationship with Ducati Corse, which was launched in January, "takes the marketing of our memory products into a new dimension," said Wes Brewer, vice president of SanDisk's Cards and Accessories Division. "Ducati is on the leading edge of motorcycle design and performance, and SanDisk is the world leader in flash memory cards. Both companies share a passion for speed and for pushing the envelope of technology. We feel that SanDisk's new products will resonate not only with photographers but also with the millions of Ducati and MotoGP fans around the world," he added.
SanDisk is currently rolling out a worldwide merchandising and marketing campaign that leverages the Ducati MotoGP sponsorship.
Initial distribution is planned for August in North America and Europe, with the cards available through photo specialty stores, high-end niche retailers, high-end department stores, Ducati network shops and other outlets, including on-line. Suggested retail prices are $164.99 for the 4GB CompactFlash card, $314.99 for the 8GB CompactFlash card and $129.99 for the 4GB SD Plus card. They will also be available for pre-order on the SanDisk website at www.sandisk.com/Ducati.
Alessandro Cicognani, marketing and licensing manager of Ducati Corse, noted that SanDisk is one of only a handful of Ducati licensing partners. "This combination of performance, cutting-edge technology and design is a perfect fit for both companies," he said.
The SanDisk Extreme brand, introduced in 2003, has received awards and accolades worldwide. Apart from faster speeds, SanDisk Extreme cards also are highly durable and can resist extremes of temperature, from well below freezing (minus 13 degrees Fahrenheit or minus 25 degrees Celsius) to near boiling (185 F/85C)3. Both of the SanDisk Extreme Ducati Edition cards come with RescuePROas ® Deluxe recovery software CD, enabling users to retrieve accidentally deleted images or files.
Because SanDisk Extreme CompactFlash cards are faster than the transfer rate supported by traditional card readers, SanDisk offers the optional SanDisk Extreme FireWire Reader, which supports FireWire 400 and 800 connectivity on recent versions of both the Windows and Mac operating systems.
Along with the memory cards, SanDisk today also announced the SanDisk Extreme Ducati Edition USB Flash Drive, a 4GB device that has a read/write speed of 20MB/sec1 and embodies the styling of a Ducati motorcycle. (See separate press release).
Ducati, founded in 1926, is one of the world's best-known names in performance motorcycles. Emphasizing unique engine features, innovative design, advanced engineering and overall technical excellence, Ducati motorcycles have won 14 of the last 16 World Superbike Championship titles - more individual victories than the competition put together. Since 2003, Ducati also has been a leader in the MotoGP World Championship circuit.
SanDisk is the original inventor of flash storage cards and is the world's largest supplier of flash data storage card products, using its patented, high-density flash memory and controller technology. SanDisk is headquartered in Milpitas, California and has operations worldwide, with more than half its sales outside the U.S.
---
1
Based on SanDisk internal testing; performance may be lower depending upon host device. 1 megabyte (MB) = 1 million bytes.
SanDisk, the SanDisk logo, CompactFlash, SanDisk Extreme and RescuePRO are trademarks of SanDisk Corporation, registered in the U.S. and other countries. Other brand names mentioned herein are for identification purposes only and may be trademarks of their respective holder(s). All trade names are either registered trademarks or trademarks of their respective holders.
This press release contains certain forward-looking statements, including expectations for new product introductions, applications, markets, and customers that are based on our current expectations and involve numerous risks and uncertainties that may cause these forward-looking statements to be inaccurate.  Risks that may cause these forward-looking statements to be inaccurate include among others: market demand for our products may grow more slowly than our expectations, there may be a slower adoption rate for these products in new markets that we are targeting, these products may not perform as expected, these products may not be available when expected or at the prices expected, and the other risks detailed from time-to-time in our Securities and Exchange Commission filings and reports, including, but not limited to, Form 10-K and our quarterly reports on Form 10-Q. We do not intend to update the information contained in this press release.