Jul 18, 2007
Inspired by Ducati's Legendary Racing Motorcycles, New Drive Makes It Easy For Anyone to Become a "Ducatista"
MILPITAS, CALIFORNIA, JULY 18, 2007 - SanDisk® Corporation (NASDAQ:SNDK) today rolled out the sleek SanDisk Extreme® Ducati Edition USB Flash Drive. A tribute to Ducati's distinctive Italian design and engineering, the new drive has the same glossy red chassis and black trim as the Ducati Corse team motorcycles now racking up victories on the MotoGP circuit.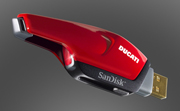 The true "Ducatisti," as aficionados of Ducati motorcycles call themselves, will appreciate the attention to detail in the SanDisk Extreme Ducati Edition USB Flash Drive, including the Ducati Corse logo on top of the drive and the red tail light that illuminates whenever the drive is inserted into the USB port of a computer .
On the inside, the drive offers a generous 4 gigabytes
1
(GB) of capacity and front-of-the-pack read and write speeds of 20 megabytes per second
2
 - the fastest of the SanDisk portfolio of consumer USB drives. In other words, there isn't a long wait to fill the drive's big fuel tank with documents, photos, music and other digital data.
"Ducati and SanDisk share a passion for bringing together performance and design," said Alessandro Cicognani, Ducati Corse marketing and licensing manager. "That's why Ducati was proud to welcome SanDisk as a sponsor of our MotoGP team back in January, and why we're delighted today that SanDisk has created a product so closely mirroring our commitment to excellence."

"There has never been a USB flash drive that looked like this," said Greg Rhine, senior vice president and general manager of the Consumer Products Division at SanDisk. "The SanDisk Extreme Ducati Edition USB Flash Drive is fast and functional, but it's also a way for everyone to share the excitement of Ducati motorcycles and Ducati's long history as a racing champion."
The SanDisk Extreme Ducati Edition USB Flash Drive comes with a custom lanyard, as well as SanDisk's RescuePRO® Deluxe software for recovering data that is accidentally deleted. The drive is compatible with Windows 2000, Windows XP, Windows Vista, and versions 10.1.2 or better of the Mac operating system.
The drive has a manufacturer's suggested retail price of $124.99 in the United States. It is expected to be available in North America and Europe in August, and worldwide in September. The drive will be sold through high-end niche retailers, high-end department stores, Ducati network shops and other outlets, including on-line. It will also be available for pre-order on the SanDisk website at
www.sandisk.com/Ducati
.
Today, SanDisk also announced SanDisk Extreme Ducati Edition CompactFlash® cards, in 4GB and 8GB capacities, and a SanDisk Extreme Ducati Edition 4GB SD ™ Plus card. These cards have the fastest performance that SanDisk has ever offered in their formats. (See separate press release.)
"These new Ducati Extreme Edition products are the beginning of what we believe will be an important partnership, leveraging Ducati's reputation in MotoGP to support a worldwide merchandising and marketing campaign for SanDisk," said Tanya Chuang, director of worldwide retail product marketing for the high performance imaging market at SanDisk. "Our Ducati Edition products also clearly show SanDisk's capabilities in performance and design, which we feel put us far ahead of the competition."
Ducati, founded in 1926, is one of the world's best-known names in performance motorcycles. Emphasizing unique engine features, innovative design, advanced engineering and overall technical excellence, Ducati motorcycles have won 14 of the last 16 World Superbike Championship titles more individual victories than the competition put together. Since 2003, Ducati also has been a leader in the MotoGP World Championship circuit.
SanDisk is the original inventor of flash storage cards and is the world's largest supplier of flash data storage card products, using its patented, high-density flash memory and controller technology. SanDisk is headquartered in Milpitas, California, and has operations worldwide, with more than half its sales outside the U.S. 
---
2
Based on SanDisk internal testing; performance may be lower depending upon host device. 1 megabyte (MB) = 1 million bytes.
SanDisk, the SanDisk logo, CompactFlash, RescuePRO and SanDisk Extreme are trademarks of SanDisk Corporation, registered in the U.S. and other countries. Other brand names mentioned herein are for identification purposes only and may be trademarks of their respective holder(s).
This press release contains certain forward-looking statements, including expectations for new product introductions, applications, markets, and customers that are based on our current expectations and involve numerous risks and uncertainties that may cause these forward-looking statements to be inaccurate.  Risks that may cause these forward-looking statements to be inaccurate include among others: market demand for our products may grow more slowly than our expectations, there may be a slower adoption rate for these products in new markets that we are targeting, these products may not perform as expected, these products may not be available when expected or at the prices expected, and the other risks detailed from time-to-time in our Securities and Exchange Commission filings and reports, including, but not limited to, Form 10-K and our quarterly reports on Form 10-Q. We do not intend to update the information contained in this press release.