Aug 27, 2007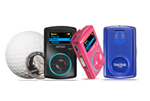 MILPITAS, Calif., August 27, 2007- SanDisk®Corporation (NASDAQ:SNDK), the second largest seller of MP3 players in the United States, today introduced the colorful Sansa® Clip, a tiny MP3 player that boasts an array of cool features, as well as distinctively big sound for its small size. Perfect for the fitness buff or traveler, the compact Sansa Clip comes with a fashionable clip for wearing, FM radio with recorder*, microphone*, long-lasting rechargeable battery and a bright screen for exceptionally easy navigation of tunes. The Sansa Clip is expected to be available this fall at manufacturer's suggested retail prices of $39.99 for a 1 gigabyte (GB)** player and $59.99 for the 2GB unit.

"Don't let the Sansa Clip's size fool you," said Keith Washo, SanDisk retail product marketing manager for the Sansa Clip. "This tiny player packs a powerful, feature-rich punch. We're excited to bring music lovers a new, cool-looking player with great sound and audio offerings in a body that's smaller than a match box."

Consumers can also show off their style by choosing from an array of colors. The Sansa Clip comes in sleek black, candy apple red, hot pink and ice blue. (Colors are only available in the 2GB capacity.)

The Sansa Clip is loaded with exceptional features:
Superior sound - one of the best sounding MP3 players on the market
A fashionable wearable clip for hands-free portability and effortless enjoyment of digital music on the go
Large, bright (OLED) screen with a simple user interface that makes it easy to choose playlists or songs sorted by title, artist, album, genre
FM tuner and recorder* with 40 presets for listening to sports, tuning in at the gym or your favorite music station
Built-in microphone* to record thoughts while exercising or on the go
Rechargeable battery with up to 15 hours of life2 - one of the most competitive battery performances for a MP3 player of its size on the market today
Solid state flash memory for skip-free playback of music
Model
Expected Suggested Retail Price
# of songs1
(MP3)
Playback time2
# of songs
(WMA)
Playback time
Sansa Clip (1GB)
$39.99
250
16 hours, MP3
500
32 hours, WMA
Sansa Clip (2GB)
$59.99
500
32 hours, MP3
1,000
64 hours, WMA
The Sansa Clip supports many music download and subscription services, including Rhapsody To Go®, Napster, eMusic and others. It's designed to work seamlessly with a wide range of popular music formats such as MP3, WAV, Audible (for audio books) and Windows Media Audio (WMA) in both unprotected and protected files (such as those WMA files purchased from music stores). The Sansa Clip can also play "DRM-free" MP3 downloads.

The player is expected to be available from retailers in the U.S. and Europe in September 2007, with other regions to follow shortly thereafter.

SanDisk is the original inventor of flash storage cards and is the world's largest supplier of flash data storage card products, using its patented, high-density flash memory and controller technology. SanDisk is headquartered in Milpitas, CA and has operations worldwide, with more than half its sales outside the U.S. 
---
* Available as an option in some countries
* *1 megabyte (MB) = 1 million bytes; 1 gigabyte (GB) = 1 billion bytes.

1 Approximation based on 4 minute songs at 128 kbps MP3.
2 Based on continuous playback at 128kbps MP3, 64kbps WMA; rechargeable batteries may eventually need to be replaced as they have limited charge cycles (which vary with use and settings).

SanDisk's product and executive images can be downloaded from
http://www.sandisk.com/corporate/media.asp 
SanDisk's web site/home page address: http://www.sandisk.com

SanDisk, the SanDisk logo and Sansa are trademarks of SanDisk Corporation, registered in the United States and other countries. microSD is a trademark. Other brand names mentioned herein are for identification purposes only and may be the trademarks of their respective holder (s).

This press release contains certain forward-looking statements, including expectations for new product introductions, applications, markets, and customers that are based on our current expectations and involve numerous risks and uncertainties that may cause these forward-looking statements to be inaccurate. Risks that may cause these forward-looking statements to be inaccurate include among others: market demand for our products may grow more slowly than our expectations or there may be a slower adoption rate for these products in new markets that we are targeting, these products may not perform as expected, these products may not be available when expected or at the prices expected, and the other risks detailed from time-to-time in our Securities and Exchange Commission filings and reports, including, but not limited to, our Form 10-K and our quarterly reports on Form 10-Q. We do not intend to update the information contained in this press release.