Aug 31, 2007
At Double the Previous Highest Capacities, the New Cards Provide Lots of Room
For High-Resolution Digital Still Pictures and Digital Video
BERLIN, GERMANY, August 31, 2007 - SanDisk® Corporation (NASDAQ:SNDK) today introduced two new capacities in its high-performance SanDisk Ultra® II line: a 4-gigabyte (GB)1 SDHC™ Plus card and an 8GB Memory Stick PRO Duo™ card. The announcement was made at IFA, the world's largest consumer electronics show, where SanDisk is exhibiting at Booth 130, in Hall 15.1 of Messe Berlin, through Sept. 5.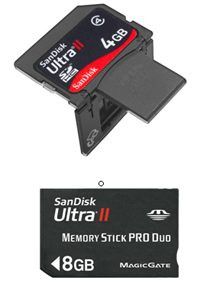 Both cards offer fast read and write speeds of 10 megabytes per second2 (10MB/sec), reducing the waiting time between camera shots and the download time when transferring photos and video to a computer.

"With video recording becoming a standard feature on digital still cameras, memory cards need more capacity and speed to capture not only high-quality photos, but also video" said Susan Park, senior product marketing manger for SanDisk Ultra II cards. "Our SanDisk Ultra II line of high-capacity memory cards provides increased storage and speed to meet the growing demands of digital photography, so consumers can capture, preserve, and relive their most precious moments."
"High-resolution digital still cameras and high-definition video camcorders using flash memory are changing the way people capture their memories," said Ron Glaz, program director for digital capture devices and photofinishing research at IDC. "But the extra clarity and detail of these images require significant increases in the speed and storage of flash memory, creating demand for capacities such as 4GB and 8GB that would have seemed outlandish a few years ago."

Beyond speed and capacity, the 4GB SanDisk Ultra II SDHC Plus card offers both SD™ and USB functionality in one card. Designed with SanDisk's unique, patented Hinge Lock technology, the card may be inserted into a USB port on any computer. This two-in-one SD-plus-USB feature eliminates the need to carry cables or card readers to transfer photos and videos from cameras or camcorders. Despite its small size, the hinge is sturdy - having survived more than 10,000 open-close cycles in SanDisk's durability testing.

The 8GB SanDisk Ultra II Memory Stick PRO Duo is designed for recording high-definition videos and high-resolution still images on Sony digital cameras and camcorders.

Pricing and availability
The 4GB SanDisk Ultra II SDHC Plus card has a manufacturer's suggested retail price in the United States of $79.99. The 8GB SanDisk Ultra II Memory Stick PRO Duo card has a U.S. MSRP of $159.99. Worldwide availability of both cards is targeted for October.

SanDisk is the original inventor of flash storage cards and is the world's largest supplier of flash data storage card products, using its patented, high-density flash memory and controller technology. SanDisk is headquartered in Milpitas, California, and has operations worldwide, with more than half its sales outside the U.S.
---
11 gigabyte (GB) = 1 billion bytes.

2 Based on SanDisk internal testing; performance may be lower depending upon host device. 1 megabyte (MB) = 1 million bytes.

SanDisk's product and executive images can be downloaded from www.sandisk.com/corporate/media.asp
SanDisk's web site/home page address: www.sandisk.com
SanDisk, the SanDisk logo and SanDisk Ultra are trademarks of SanDisk Corporation, registered in the United States and other countries. SD and SDHC are trademarks. The Memory Stick PRO Duo and MagicGate marks and logos are trademarks of Sony Corporation.. Other brand names mentioned herein are for identification purposes only and may be the trademarks of their respective holder(s).

This press release contains certain forward-looking statements, including expectations for new product introductions, applications, markets, customer acceptance and customers that are based on our current expectations and involve numerous risks and uncertainties that may cause these forward-looking statements to be inaccurate. Risks that may cause these forward-looking statements to be inaccurate include among others: market demand for our products may grow more slowly than our expectations or there may be a slower adoption rate for these products in new markets that we are targeting, our products may not perform as expected or be available when or at the prices expected and the other risks detailed from time-to-time in our Securities and Exchange Commission filings and reports, including, but not limited to, our Form 10-K and our quarterly reports on Form 10-Q. We do not intend to update the information contained in this press release.