Aug 31, 2007
Highest Capacity M2 Card Will Allow Consumers To Take
Full Advantage of Their Phone's Key Features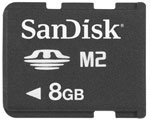 BERLIN, GERMANY, August 31, 2007 - SanDisk®Corporation (NASDAQ: SNDK) today announced that it is shipping 8-gigabyte (GB) Memory Stick Micro™ (M2) flash memory cards to phone manufacturers and mobile network operators (MNOs) for testing and evaluation purposes. Primarily used in Sony Ericsson mobile phones, the 8GB SanDisk M2 cards are ideal for the growing number of consumers who make their mobile phone-with its built-in music player, digital camera and video player/recorder-the centerpiece of their digital lifestyle.

At 8GB, SanDisk offers the largest capacity M2 card in the world. The new card will allow consumers to listen to more than 2,000 digital songs, or store more than 5,000 high-resolution pictures, or up to 5 hours of high-quality MPEG 4 videos . The announcement was made at IFA, the world's largest consumer electronics show, where SanDisk is exhibiting at Booth 130, in Hall 15.1 of Messe Berlin, through Sept. 5.

"With the addition of an 8GB SanDisk M2 card, consumers will instantly have the same amount of storage as the largest capacity iPhone," said Jeff Kost, senior vice president and general manager of the Mobile Consumer Solutions division at SanDisk. "Furthermore, removable cards make it easy to share content you create with friends, 'sideload' content and files from a computer and have virtually unlimited storage by simply purchasing more cards. SanDisk is enabling people to get more out of their phones than ever before."

Retail release of the cards and availability to phone manufacturers and network operators is planned for Q4 2007. Pricing has not yet been determined.

In addition to its Memory Stick Micro M2 cards, SanDisk also offers a broad range of both embedded and removable storage solutions for mobile handset manufacturers and mobile network operators. These include iNAND™ and mDOC™ embedded flash drives and microSD™, microSDHC™, miniSD™ and MegaSIM™ cards.

SanDisk is the original inventor of flash storage cards and is the world's largest supplier of flash data storage card products, using its patented, high-density flash memory and controller technology. SanDisk is headquartered in Milpitas, Calif., and has operations worldwide, with more than half its sales outside the U.S.
---
1 gigabyte (GB) = 1 billion bytes.
2 Approximations based on JPEG images on 5 MP camera with average file size of 1.5 megabytes (for pictures); 4 minute songs at 128 kbps MP3 (for songs) and 5 hours of MPEG 4 video (30 frames per second, 640x480, 3Mb/sec. for video). Actual numbers may vary.
SanDisk and the SanDisk logo are trademarks of SanDisk Corporation, registered in the United States and other countries. iNAND, mDOC and MegaSIM are trademarks of SanDisk Corporation, and/or its subsidiaries. microSD, microSDHC and miniSD are trademarks. Memory Stick Micro M2 is a trademark of Sony Corporation. All brand names mentioned herein are for identification purposes only and may be trademarks of their respective holder(s).

This press release contains certain forward-looking statements, including expectations for new product introductions, applications, markets, and customers that are based on our current expectations and involve numerous risks and uncertainties that may cause these forward-looking statements to be inaccurate. Risks that may cause these forward-looking statements to be inaccurate include among others: there may be a slower adoption rate for these products in new markets that we are targeting, these products may not perform as expected, these products may not be available when expected, and the other risks detailed from time-to-time in our Securities and Exchange Commission filings and reports, including, but not limited to, our Form 10-K and our quarterly reports on Form 10-Q. We do not intend to update the information contained in this press release.