Aug 31, 2007
SanDisk uSSD 5000 Solid State Drive - An Inexpensive Embedded Module -
Substitutes For Costlier Hard Disks; Will Be Used In The Intel-powered classmate PC
BERLIN, GERMANY, August 31, 2007 - Joining global efforts to bring affordable personal computers to millions of people in developing nations, SanDisk®Corporation (NASDAQ: SNDK) today announced the uSSD™ 5000 solid state drive (SSD), which can be used as an economical substitute for hard disk drives in sub-$250 PCs. Among the first computers using uSSD solid state drives will be the Intel-powered classmate PC, intended for educational markets in emerging nations.

The announcement was made at IFA, the world's largest consumer electronics show, where SanDisk is exhibiting at Booth 130, in Hall 15.1 of Messe Berlin, through Sept. 5.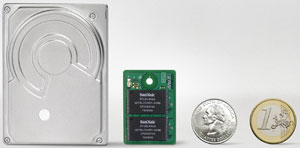 SanDisk's uSSD 5000 solid state drive is a USB module designed to be embedded directly onto the motherboard of low-cost PCs as a hard disk replacement. The uSSD 5000 solid state drive supports a variety of operating systems, including Microsoft's Windows XP Professional, Windows XP Embedded, Windows Embedded for Point of Service and Windows CE, as well as Linux. The uSSD 5000 solid state drive is expected to be available in capacities from 2 gigabytes (GB)1 to 8 GB.

This is the first SSD product from SanDisk to be offered with SanDisk's patented multi-level cell (MLC) technology. MLC technology doubles data- storage capacities in the same physical space as single-level cell (SLC) technology, resulting in significant cost savings.

"The low-cost educational PC category is an emerging market for flash storage where low cost, ruggedness and low power consumption will be the primary factors for broad-based adoption," said Greg Rhine, senior vice president and general manager of the Consumer Products Division at SanDisk. "At 2GB, the uSSD 5000 solid state drive delivers the necessary storage capacity for low-cost PCs at significantly less cost than conventional hard drives, while meeting performance and reliability requirements for this market. We are proud to have been chosen for the Intel-powered classmate PC, a product that demonstrates how inexpensive SSDs can contribute to the worthy cause of improving education in the developing world."

Compared to conventional hard disk drives, SanDisk's uSSD 5000 solid state drives are advantageous in low-cost PCs for a variety of reasons:
Cost Effectiveness - uSSD 5000 solid state drives at 2GB are significantly less expensive than even the lowest-capacity conventional hard disk drives. Future generations of flash memory will usher in higher storage capacities at the requisite price points. 
Ruggedness - With no moving parts, SanDisk's uSSD 5000 solid state drives are a perfect fit for kid's classroom wear-and-tear. The durability of uSSD 5000 solid state drives surpasses mechanical hard disk drives. 
Reliability - SanDisk's uSSD 5000 solid state drives deliver high reliability based on advanced flash management technology including powerful error detection and correction algorithms. 
Small - At 27mm x 38mm, uSSD 5000 solid state drives are about one-fourth the size of 1.8-inch hard disk drives. 
Strong Performance - uSSD 5000 solid state drives with MLC technology offer performance more than sufficient for the low cost PC market.
SanDisk uSSD 5000 solid state drives are expected to be available for customer sampling in 30 days, with volume availability expected in the fourth quarter, in capacities ranging from 1 to 8 gigabytes. In addition to the uSSD 5000 brand, SanDisk offers other SSD products in 4-, 8-, 16-, 32- and 64-GB capacities. More information about SanDisk SSD products is available online at www.sandisk.com/ssd.

SanDisk is the original inventor of flash storage cards and is the world's largest supplier of flash data storage card products, using its patented, high-density flash memory and controller technology. SanDisk is headquartered in Milpitas, California, and has operations worldwide, with more than half its sales outside the U.S.
---
1 1 gigabyte (GB) = 1 billion bytes 1 megabyte (MB) = 1 million bytes

SanDisk's product and executive images can be downloaded from www.sandisk.com/corporate/media.asp
SanDisk's web site/home page address: www.sandisk.com

SanDisk and the SanDisk logo are trademarks of SanDisk Corporation, registered in the United States and other countries. uSSD is a trademark of SanDisk Corporation. Other brand names mentioned herein are for identification purposes only and may be the trademarks of their respective holder(s).

This press release contains certain forward-looking statements, including expectations for new product introductions, applications, markets, customer acceptance and customers that are based on our current expectations and involve numerous risks and uncertainties that may cause these forward-looking statements to be inaccurate. Risks that may cause these forward-looking statements to be inaccurate include among others: market demand for our products may grow more slowly than our expectations or there may be a slower adoption rate for these products in new markets that we are targeting, our products may not perform as expected or be available when expected and the other risks detailed from time-to-time in our Securities and Exchange Commission filings and reports, including, but not limited to, our Form 10-K and our quarterly reports on Form 10-Q. We do not intend to update the information contained in this press release.