Sep 10, 2007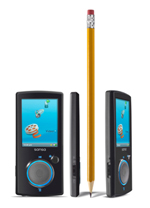 MILPITAS, Calif., September 10, 2007-SanDisk® Corporation (NASDAQ:SNDK), the second largest seller of MP3 players in the United States, today announced the new Sansa® View - a video MP3 player with a vast array of features and generous capacity, at an unbeatable price. The sleek-looking Sansa View marries the finest MP3 player attributes with full-motion video support (typically found in larger portable media players (PMPs)), a larger screen, long battery life and generous capacity-all in a thin, easy-to-carry package. Expected to be available in October, the Sansa View will carry a manufacturer's suggested retail price of $199.99 MSRP* for a 16GB** flash-based player and $149.99 for the 8GB, far surpassing the competition with respect to value and price.

A significant step-up from the company's award-winning Sansa e200 music player series, the slim Sansa View features music, photos, FM radio and audio books, plus easy video transferring capabilities and hefty memory capabilities of up to 24GB (by using an optional 8GB microSD/microSDHC card).***

"The Sansa View is a new video MP3 player that combines all of the great characteristics of a MP3 player with the video capabilities of a PMP, and packs it into a pocketable device," said Eric Bone, vice president of marketing for SanDisk's Sansa audio/video product line. "What's more, we're once again showing that category-leading technology can still be very affordable."

SanDisk's Sansa View video player innovates beyond the typical video loading procedure, making it easy for consumers to transfer videos natively using widely available software. Most popular formats are supported via embedded player functionality (H.264, WMV and MPEG4), or via a one-time software download of the Sansa Media Converter which quickly transcodes numerous video files, including DivX.

Consumers can purchase and insert one of SanDisk's microSD/microSDHC cards to play up to 24GB of music, video and photos on their Sansa View. (Today, SanDisk has announced microSD/microSDHC card capacities of up to 8GB.) In addition, the microSD card allows users to easily move their content to a cell phone or other mobile device.

A MP3 player at its core, the Sansa View device comes equipped with all the soup-to-nuts features typically found in the Sansa audio line. The smooth, backlit scroll wheel and vibrant 2.4" widescreen display make it easy to navigate to: a music library; video collection; digital photos; digital FM radio with 20 pre-sets; an integrated microphone and voice recording, and Audible audiobooks.

The device supports many music download and subscription services, including Rhapsody To Go®, Napster, eMusic and others.

The Sansa View player will come in two capacities-8GB and 16GB-and is expected to be available from retailers in the U.S. in early fall with other regions to follow shortly thereafter. 
Model
Expected
Suggested Retail
Price
# of songs1
(MP3)
Hours of Video Playback2
# of JPEG photos3
Sansa View (8GB)
$149.99
2,000
12 two-hour movies
4000
Sansa View (16GB)
$199.99
4,000
24 two-hour movies
8000
The Sansa View was first announced last January at CES. In June, SanDisk decided to re-scope the product to develop a player with new features and functionality that best suit current consumer interests.

SanDisk is the original inventor of flash storage cards and is the world's largest supplier of flash data storage card products, using its patented, high-density flash memory and controller technology. SanDisk is headquartered in Milpitas, CA and has operations worldwide, with more than half its sales outside the U.S. 
SANSA VIEW: SUMMARY OF FEATURES
In addition to holding thousands of songs, the Sansa View includes a plethora of features to enhance the listening and viewing experience. 

MUSIC
Supports most audio formats, including MP3, protected and unprotected WMA, WAV, DRM-free MP3 downloads 

Gapless playback for smoother music transition

Digital FM radio with 20 pre-sets
Audible audiobook support
VIDEO
Video compatibility with MPEG4, WMV, H.264 

Additionally, the Sansa Media Converter supports a large number of other video formats, including DivX

Smooth video playback at 30 frames per second (fps) 
PHOTOS
Photo JPEG viewing capabilities - up to 16 megapixel 
OTHER UNIQUE ATTRIBUTES
Slim, thin and lightweight design for easy portability - 8.8mm at the slimmest part
Vibrant, 2.4" TFT color screen with 320x240 resolution
Rechargeable, long-lasting lithium polymer battery for 35 hours of audio4 and seven video5
Voice recorder with built-in microphone
MicroSD/SDHC™ expansion slot for additional memory capacity and content portability 
---
* Manufacturer's Suggested Retail Price
**1 megabyte (MB) = 1 million bytes; 1 gigabyte (GB) = 1 billion bytes.
***8GB microSD/SDHC cards expect to be available in early fall (sold separately)

1 Approximation based on 4 minute songs at 128 kbps MP3
2 Approximation based on 320x240 resolution, MPEG4 Simple Profile, 500 kbps
3 Based on 1.7MB average file size
4 Based on continuous playback at 128kbps MP3
5 Based on continuous playback at QVGA 512kbps H.264; battery life and performance may vary depending upon usage and settings; battery not replaceable.

SanDisk's product and executive images can be downloaded from
www.sandisk.com/corporate/media.asp
SanDisk's web site/home page address: www.sandisk.com

SanDisk, the SanDisk logo and Sansa are trademarks of SanDisk Corporation, registered in the United States and other countries. microSD and SDHC are trademarks. Other brand names mentioned herein are for identification purposes only and may be the trademarks of their respective holder (s).

This press release contains certain forward-looking statements, including expectations for new product introductions, applications, markets, and customers that are based on our current expectations and involve numerous risks and uncertainties that may cause these forward-looking statements to be inaccurate. Risks that may cause these forward-looking statements to be inaccurate include among others: market demand for our products may grow more slowly than our expectations or there may be a slower adoption rate for these products in new markets that we are targeting, these products may not perform as expected, these products may not be available when expected or at the prices expected, and the other risks detailed from time-to-time in our Securities and Exchange Commission filings and reports, including, but not limited to, our Form 10-K and our quarterly reports on Form 10-Q. We do not intend to update the information contained in this press release.