Nov 13, 2007
Flash-based Storage Solution for Boosting Consumer Laptop and PC System
Performance Selected Best of Innovations 2008 in Enabling Technologies Category
NEW YORK, N.Y., November 13, 2007 - Three flash-based products from SanDisk Corporation (NASDAQ:SNDK) were named honorees today in the Innovations 2008 Design and Engineering Awards sponsored by the Consumer Electronics Association. The products, consisting of a solid-state drive, a high-capacity mobile phone card and a new computer acceleration module, will be displayed at January's International CES® in Las Vegas, where SanDisk is exhibiting in South Hall 3, Booth 30768.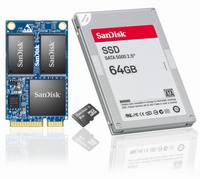 Honorees were announced at CES Unveiled, the official press preview for the show. Products entered in the competition were judged by a panel of independent industrial designers, engineers and members of the trade press to honor outstanding design and engineering in cutting-edge consumer electronics products.
SanDisk's microSDHC™ 8-gigabyte (GB)1 flash storage card was selected as an honoree in the category of Wireless Handsets Accessories. About the size of a fingernail, the 8GB microSDHC can hold more than 4,000 high-resolution pictures and as many as 2,000 digital songs or up to 15 hours of MPEG 4 video.2 The product began shipping in October.
SanDisk's 64-Gigabyte SATA 5000 2.5-inch solid-state drive (SSD) was chosen as an Innovations 2008 Design and Engineering Award honoree in the Computer Peripherals category. Introduced earlier this year at Computex in Taiwan, the 64GB SATA 5000 is positioned to achieve the "sweet spot" of memory storage for laptop computers. It is aimed at both enterprise users and early-adopter consumers such as gamers.
Concurrently, Vaulter™ Disk was selected as the top honoree in the Enabling Technologies category. The flash-based module works in conjunction with a PC's hard drive to store and launch the computer's operating system and software applications. The new SanDisk Vaulter™ Disk will be available to OEMs early next year.
Commenting on the 8GB SDHC flash card, Michael Romero, senior director of SanDisk's mobile consumer solutions division, said, "With these new cards, any mobile phone with a compatible microSDHC slot can have as much storage as an iPhone. In addition to storing large amounts of music, pictures and videos, these removable cards let consumers share the content they create with friends, easily move files between card and computer and offer a way to quickly add more capacity."
Doreet Oren, director of product marketing for SanDisk's computing solutions division, said: "The 64 GB SSD and Vaulter flash module demonstrate SanDisk's leadership in developing flash-based PC storage solutions that can replace or work in unison with hard drives in laptops and PCs. These two products not only improve the performance and reliability of PCs but also drive down the total cost of ownership over today's traditional mechanical drives. We are pleased and honored with the industry recognition of our wide portfolio of solutions for the personal computing market."
The Consumer Electronics Association (CEA) is the preeminent trade association promoting growth in the $148 billion U.S. consumer electronics industry. More than 2,200 companies enjoy the benefits of CEA membership, including legislative advocacy, market research, technical training and education, industry promotion and the fostering of business and strategic relationships. CEA also sponsors and manages the International CES - Where Entertainment, Technology and Business Converge. All profits from CES are reinvested into CEA's industry services. More information: www.CE.org.
SanDisk is the original inventor of flash storage cards and is the world's largest supplier of flash data storage card products, using its patented, high-density flash memory and controller technology. SanDisk is headquartered in Milpitas, California, and has operations worldwide, with more than half its sales outside the U.S.
---
1 1 gigabyte (GB) = 1 billion bytes.
2 Approximations based on JPEG images on 5 MP camera with average file size of 1.5 megabytes (for pictures); 4-minute songs at 128kbps MP3 (for songs) and 5 hours of MPEG 4 video (30 frames per second, 640x480, 3MB/sec. for video). Actual numbers may vary.
SanDisk's product and executive images can be downloaded from
www.sandisk.com/corporate/media.asp
SanDisk's web site/home page address: www.sandisk.com  

SanDisk and the SanDisk logo are trademarks of SanDisk Corporation, registered in the United States and other countries. Vaulter is a trademark of SanDisk Corporation. microSDHC is a trademark. Other brand names mentioned herein are for identification purposes only and may be the trademarks of their respective holder (s).
This press release contains certain forward-looking statements, including expectations for new product introductions, applications, specifications and markets that are based on our current expectations and involve numerous risks and uncertainties that may cause these forward-looking statements to be inaccurate. Risks that may cause these forward-looking statements to be inaccurate include among others: there may be a slower adoption rate for these products in new markets that we are targeting, these products may not perform as expected and these products may not be available when expected, and the other risks detailed from time-to-time in our Securities and Exchange Commission filings and reports, including, but not limited to, Form 10-K and our quarterly reports on Form 10-Q. We do not intend to update the information contained in this press release.