Jan 7, 2008
SanDisk Offers Industry-Leading Capacities And A Long List Of Standard Features, Including Bright Screens, FM Radio And Voice Recorder
LAS VEGAS, NEVADA, Jan. 7, 2008 - SanDisk Corporation (NASDAQ:SNDK), the second largest seller of MP3 players in the United States, today announced capacity increases for two of its most popular flash-based digital media players: the tiny Sansa® Clip moves to a top capacity of 4 gigabytes1 (GB) from 2 GB, while the powerful Sansa View jumps to 32 GB from a previous top capacity of 16 GB. The new capacities were announced during a press conference at the 2008 International Consumer Electronics Show, where SanDisk is demonstrating products at Booth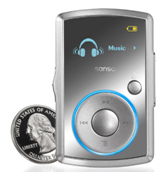 30768, South Hall 3, in the Las Vegas Convention Center.

The matchbox-sized Sansa Clip, introduced in August in capacities of 1GB and 2GB, is the perfect companion for jogging, working out or just hanging out. The new 4GB version, due in February with a manufacturer's suggested retail price of $79.99, can store 1,000 songs2, runs for 15 hours on its rechargeable battery3 and comes in a stylish silver color with a mirror finish on the front. Sansa Clip stands above the leading wearable music player because of its bright OLED color screen - allowing users to select the music they hear, not just wait for songs to come around at random.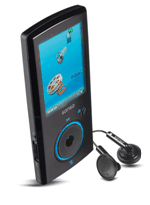 The full-featured Sansa View, introduced in September in capacities of 8GB and 16GB, features a vibrant 2.4-inch TFT color screen with 320x240 resolution for crisp playback of full-motion video. The new 32GB version, due in February with an MSRP of $349.99, can hold a stunning 48 two-hour movies4 or 8,000 songs2. The rechargeable, long-lasting lithium ion battery provides 35 hours of audio or 7 hours of video playback5. The Sansa View has built-in support for the MPEG4, WMV and H.264 video formats.

"As a world leader in the design and production of flash memory, SanDisk continues to meet or beat the competition in raising capacities of our Sansa digital media players - giving people the freedom to carry more entertainment with them wherever they go - while maintaining prices that consumers find compelling," said Eric Bone, vice president of marketing for the Audio & Video Business Unit at SanDisk. "The 4GB Sansa Clip, for example, can store about 100 albums, giving users enough choices for any mood or situation. The 32GB Sansa View can hold an assortment of videos, so users don't have to decide in advance which one or two digital movies or personal videos to bring with them."

The Sansa Clip and Sansa View share a long list of advanced features, including:
Audio formats: support for MP3, WMA, WAV and Audible audio books.
Music services: support for many music download and subscription services, including Rhapsody To Go®, Napster, eMusic and others.
Recording: built-in microphone for voice recording.
FM radio: built-in FM tuner, with user option to create station presets.
Accessories: earphones and USB cable.
The featherweight Sansa Clip, weighing only 0.9 ounces, comes with a clip that makes it easy to attach the device to clothing, a backpack or purse. The clip is detachable, so the device can become even smaller when the clip isn't needed.

The Sansa View, weighing 2.9 ounces, can display JPEG photos and has a microSD™/microSDHC™ card slot. By adding SanDisk's 8GB microSDHC card, the total capacity of the new 32GB Sansa View increases to 40GB.

Pricing and availability 
Sansa Clip continues to be available in 1GB capacity with an MSRP of $39.99 and 2GB capacity with an MSRP of $59.99. The 4GB Sansa Clip is expected to be available in February in the United States with an MSRP of $79.99. The 1GB Sansa Clip is available in black; the 2GB Sansa Clip is available in black, red, pink or blue; and the 4GB will be available in silver.

Sansa View continues to be available in 8GB capacity with an MSRP of $149.99 and 16GB capacity with an MSRP of $199.99. The 32GB Sansa View is expected to be available in February in the United States with an MSRP of $349.99.

Both the Sansa Clip and the Sansa View require a computer running Windows XP or Windows Vista.

For more information, visit www.shopsansa.com.

About SanDisk

SanDisk Corporation, the inventor and world's largest supplier of flash storage cards, is a global leader in flash memory - from research, manufacturing and product design to consumer branding and retail distribution. SanDisk's product portfolio includes flash memory cards for mobile phones, digital cameras and camcorders; digital audio/video players; USB flash drives for consumers and the enterprise; embedded memory for mobile devices; and solid state drives for computers. SanDisk (www.sandisk.com/corporate) is a Silicon Valley-based S&P 500 company, with more than half its sales outside the United States. 
---
1 1 megabyte (MB) = 1 million bytes; 1 gigabyte (GB) = 1 billion bytes.

2 Approximation based on 4 minute songs at 128 kbps MP3

3 Based on continuous playback at 128kbps MP3 or 64kpbs WMA; rechargeable batteries may eventually need to be replaced as they have limited charge cycles (which vary with use and settings).

4 Approximation based on 320x240 resolution, MPEG4 Simple Profile, 500 kbps.

5 Based on continuous audio playback at 128kpbs MP3 or continuous video playback at QVGA 512kbps H.264. Battery life and performance may vary depending upon usage and settings; battery not replaceable.

SanDisk's product and executive images can be downloaded from http//www.sandisk.com/about-sandisk/media-kit.aspx
SanDisk's Sansa web site/home page address: http://www.sandisk.com/sansa

SanDisk, the SanDisk logo and Sansa are trademarks of SanDisk Corporation, registered in the United States and other countries. microSD and SDHC are trademarks. Other brand names mentioned herein are for identification purposes only and may be the trademarks of their respective holder (s).

This press release contains certain forward-looking statements, including expectations for new product introductions, applications, markets, and customers that are based on our current expectations and involve numerous risks and uncertainties that may cause these forward-looking statements to be inaccurate. Risks that may cause these forward-looking statements to be inaccurate include among others: market demand for our products may grow more slowly than our expectations or there may be a slower adoption rate for these products in new markets that we are targeting, these products may not perform as expected, these products may not be available when expected or at the prices expected, and the other risks detailed from time-to-time in our Securities and Exchange Commission filings and reports, including, but not limited to, our Form 10-K and our quarterly reports on Form 10-Q. We do not intend to update the information contained in this press release.