Feb 25, 2008
Confidential Financial And Legal Data Now Secured With SanDisk Cruzer Enterprise USB Flash Drives, Managed By SanDisk CMC Server Software
MILPITAS, CALIFORNIA, February 25, 2008 - SanDisk Corporation (NASDAQ:SNDK) today announced that the State of Washington's Division of Child Support has selected SanDisk's Cruzer® Enterprise secure USB flash drives and Central Management & Control (CMC) server software to protect highly confidential client data at its headquarters and in 10 field offices statewide.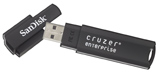 The Division of Child Support (DCS) administers state and federal child support laws, including the collection of child-support payments from non-custodial parents. DCS manages about 350,000 active child-support cases and collects about $700 million per year in child-support payments.
"With the many recent reports of data loss and theft involving government agencies around the world, we are pleased to help DCS respond to security problems before they happen," said Roy Ramati, vice president and general manager of the Enterprise Division at SanDisk. "DCS employees don't have to give up the convenience of carrying data on flash drives, while the division's information technology (IT) staff knows that data is password-protected and encrypted - and that Cruzer Enterprise drives can be easily managed with CMC, even in field offices far from headquarters."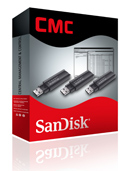 DCS, part of the Washington State Department of Social and Health Services, gathers highly confidential information - including Internal Revenue Service tax returns, employer records, criminal histories and even U.S. State Department passport data - in pursuing its collection efforts. Protecting this data from unauthorized access and improper use is crucial.
As one element of its data security strategy, DCS last month purchased 200 Cruzer Enterprise drives along with SanDisk's CMC software for managing the complete lifecycle of those drives. The secure flash drives are being provided to unit supervisors, who manage collection teams in DCS field offices. The master CMC console for provisioning and managing the drives will be at DCS headquarters in Olympia, Wash., with sub-administrators in each DCS field office.

Cruzer Enterprise protects all files stored on the drive with advanced hardware-based 256-bit AES encryption. Users are also required to create a complex password during the set-up process. The combination of encryption and password protection makes it extremely difficult for unauthorized users to access data if the drive is lost or stolen. Cruzer Enterprise is also fast, with read speed of 24 megabytes (MB) per second and write speed of 20 MB/sec1.

CMC server software provides lifecycle management for Cruzer Enterprise drives, including password recovery and renewal through the network, remote termination of lost drives, central back-up and restore, and central usage tracking. This means data is not lost when a drive is lost, and IT administrators can provision a replacement flash drive with user files stored on the network.
ControlGuard, a leading provider of enterprise-grade security solutions and a member of the SanDisk Enterprise Solutions Technology Alliance (SESTA), managed the sale of CMC to the Division of Child Support.

"ControlGuard and SanDisk together offer powerful tools to convert USB flash drives from security threats into security assets," said David Raanan, chief marketing officer of ControlGuard. "We applaud the State of Washington's Division of Child Support for showing true leadership in protecting confidential data."

SanDisk's Enterprise Division provides IT managers with a comprehensive hardware and software solution to meet the ongoing threat of data leakage from insecure network endpoints. More information on SanDisk Cruzer Enterprise and SanDisk CMC software is available online at: http://www.sandisk.com/enterprise/.

SanDisk Corporation, the inventor and world's largest supplier of flash storage cards, is a global leader in flash memory - from research, manufacturing and product design to consumer branding and retail distribution. SanDisk's product portfolio includes flash memory cards for mobile phones, digital cameras and camcorders; digital audio/video players; USB flash drives for consumers and the enterprise; embedded memory for mobile devices; and solid state drives for computers. SanDisk (http://www.sandisk.com/corporate/about/) is a Silicon Valley-based S&P 500 company, with more than half its sales outside the United States.
---
1Based on SanDisk internal testing; performance may be lower depending upon host device. 1 megabyte (MB) = 1 million bytes.

SanDisk's web site/home page address: http://www.sandisk.com  
SanDisk's product and executive images can be downloaded from http://www.sandisk.com/about-sandisk/media-kit.aspx  

SanDisk, the SanDisk logo and Cruzer are trademarks of SanDisk Corporation, registered in the U.S. and other countries. Other brand names mentioned herein are for identification purposes only and may be trademarks of their respective holder(s).

This press release contains certain forward-looking statements, including specifications, applications, markets, customer acceptance and customers that are based on our current expectations and involve numerous risks and uncertainties that may cause these forward-looking statements to be inaccurate. Risks that may cause these forward-looking statements to be inaccurate include among others: our products may not perform as expected, no security technology can be guaranteed to be 100% secure, and the other risks detailed from time-to-time under the caption "Risk Factors" and elsewhere in our Securities and Exchange Commission filings and reports, including, but not limited to, Form 10-K and our quarterly reports on Form 10-Q. We do not intend to update the information contained in this press release.