Apr 7, 2008
"Two-For-One" Solution Provides Integrated Secure Data Storage And Two-Factor Authentication Technology From RSA In SanDisk Cruzer Enterprise Flash Drives
MILPITAS, CALIFORNIA, April 7, 2008 - SanDisk Corporation (NASDAQ:SNDK) today announced the ability to deploy, store and use RSA SecurID® software tokens from RSA, The Security Division of EMC, on SanDisk Cruzer® Enterprise USB flash drives. Now available for order, this "two-for-one" solution gives users a single device for secure data storage and two-factor authentication, an alternative to carrying both a flash drive and a separate hardware authenticator.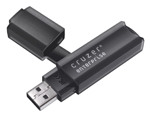 Cruzer Enterprise is managed by SanDisk's CMC (Central Management & Control) server software, making it easy for IT managers to provision and monitor flash drives throughout their lifecycle. At the same time, Cruzer Enterprise flash drives that contain RSA SecurID software tokens provide two-factor authentication capabilities for remote and mobile network access - requiring something users have (the one-time passcode generated on the drive, used with or without a PIN) and something users know (the drive's password).


"This is an ideal solution for employees who need to travel light and yet be fully connected, as well as for IT departments concerned with data security and regulatory compliance challenges," said Roy Ramati, Vice President and General Manager of the Enterprise Division at SanDisk. "Adding RSA SecurID to our management and security solutions for the enterprise is a major step forward in our mission: providing IT professionals with tools to enhance employee productivity through mobility and remote connectivity."

SanDisk has certified interoperability between Cruzer Enterprise Flash Drives and RSA SecurID technology through the RSA Secured® Partner Program, which enables interoperability partners to embed RSA technology within their products and solutions. The RSA Secured program includes a formalized certification process that puts each product through a series of tests to ensure that the end-user is getting the maximum available benefits from an interoperable solution.

"Two-factor authentication is no longer a one-size fits all solution, so we are working with SanDisk to optimize our joint customers' deployments by balancing risk, cost and convenience and offering a broad choice of authentication mechanisms," said Sam Curry, Vice President of Product Management and Product Marketing, Identity and Access Assurance Group at RSA, the Security Division of EMC. "By leveraging a single device to support additional security capabilities, we are building the necessary confidence that corporate data is being accessed securely by customers, partners and employees."

SanDisk Cruzer Enterprise flash drives protect all files with advanced hardware-based 256-bit AES encryption. Users are also required to create a complex password during the set-up process. The combination of encryption and password protection makes it extremely difficult for unauthorized users to access data if the drive is lost or stolen. Cruzer Enterprise - available in 1, 2, 4 and 8 gigabyte (GB)1 capacities - is also fast, with read speed of 24 megabytes (MB) per second and write speed of 20 MB/sec2.

CMC server software provides lifecycle management for Cruzer Enterprise drives, including centralized provisioning of drives throughout the organization, password recovery and renewal through the network, central back-up and restore, central usage tracking, and remote termination of lost drives. This means data is not lost when a drive is lost, and IT administrators can provision a replacement flash drive with user files stored on the network.

CMC is also capable of working with RSA Authentication Manager to remotely provision software token seeds and, if necessary, the RSA SecurID application itself to remote employees - reducing the cost of deployment.

SanDisk Cruzer Enterprise drives with pre-installed RSA SecurID software tokens, as well as CMC software with a module to support RSA SecurID two-factor authentication, are available for order now from SanDisk and SanDisk-authorized resellers. Cruzer Enterprise drives can securely store RSA SecurID software token seeds, available for purchase and enablement from RSA or its channel partners, to generate one-time passwords directly from the drive.

SanDisk, a global leader in USB flash drives, is driving the convergence of secure portable storage, identity management and virtualization through its Enterprise Division to create a comprehensive solution for mobile professionals in enterprises and government agencies. Today, SanDisk's Enterprise Division offers solutions for more securely storing and managing enterprise data, within and outside the enterprise environment. With the upcoming introduction of virtualization and identity and access management capabilities, SanDisk expects to allow IT managers to boost employee productivity by mobilizing the corporate computing environment through flexible, secure solutions that also reduce total cost of ownership. More information is available at www.sandisk.com/enterprise.

SanDisk Corporation, the inventor and world's largest supplier of flash storage cards, is a global leader in flash memory - from research, manufacturing and product design to consumer branding and retail distribution. SanDisk's product portfolio includes flash memory cards for mobile phones, digital cameras and camcorders; digital audio/video players; USB flash drives for consumers and the enterprise; embedded memory for mobile devices; and solid state drives for computers. SanDisk (www.sandisk.com/corporate) is a Silicon Valley-based S&P 500 company, with more than half its sales outside the United States. 
---
1 1 gigabyte (GB) = 1 billion bytes. Some capacity is not available for data storage.
2 Based on SanDisk internal testing; performance may be lower depending upon host device. 1 megabyte (MB) = 1 million bytes.

SanDisk's web site/home page address: http://www.sandisk.com  
SanDisk's product and executive images can be downloaded from http://www.sandisk.com/corporate/mediakit  
For more Information visit: http://www.sandisk.com/Enterprise

SanDisk, the SanDisk logo and Cruzer are trademarks of SanDisk Corporation, registered in the U.S. and other countries. Other brand names mentioned herein are for identification purposes only and may be trademarks of their respective holder(s).

RSA, Secured, and SecurID are registered trademarks or trademarks of RSA Security, Inc. in the U.S. and/or other countries. EMC is a registered trademark of EMC Corporation. All other company and product names may be trademarks of their respective owners.

This press release contains certain forward-looking statements, including specifications, applications, markets, customer acceptance and customers that are based on our current expectations and involve numerous risks and uncertainties that may cause these forward-looking statements to be inaccurate. Risks that may cause these forward-looking statements to be inaccurate include among others: market demand for our products may grow more slowly than our expectations, there may be a slower adoption rate for products in new markets that we are targeting, our products may not perform as expected, no security technology can be guaranteed to be 100% secure, and the other risks detailed from time-to-time under the caption "Risk Factors" and elsewhere in our Securities and Exchange Commission filings and reports, including, but not limited to, Form 10-K and our quarterly reports on Form 10-Q. We do not intend to update the information contained in this press release.