Oct 15, 2008
Artist' Albums, Including Coldplay, Katy Perry, Leona Lewis, Rihanna and Robin Thicke will be Available on High Quality, DRM-Free MP3 slotMusic™ Cards at Best Buy® and Wal-Mart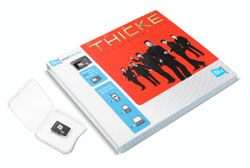 (Los Angeles, CA, New York, NY, Milpitas, CA - October 15, 2008) - The world's four largest music companies and SanDisk Corporation (NASDAQ:SNDK), a leading seller of MP3 players and flash memory cards in the United States, today unveiled the full list of artists joining the inaugural slotMusic line-up. Starting this week, music fans can purchase slotMusic cards-microSD™ cards with pre-loaded, high quality, DRM-free MP3 music-featuring new release albums from favorite artists like Coldplay, Katy Perry, Leona Lewis, Rihanna and Robin Thicke and catalog titles from Elvis, Abba and more. Within days of shipping, slotMusic cards will arrive on the shelves of Best Buy and Wal-Mart in the United States, with a manufacturer's suggested retail price of $14.99.
slotMusic makes today's hottest music available on interoperable microSD cards that let fans instantly plug and play albums into their microSD slot-enabled mobile phones, portable media players, computers, and an increasing number of car stereos
More than just your typical music albums or single downloads, slotMusic cards boast 1GB1 (gigabyte) of capacity to offer artists a compelling new way to express themselves to their fans. In addition to songs, slotMusic cards may hold liner notes, album art, videos and other creative content that an artist may choose.

Grammy™-winning recording artist Robin Thicke, is utilizing the additional space on his card to add exclusive videos, behind the scenes footage and photos, personally chosen by Thicke to share with his fans.  
Dozens of popular artists from EMI Music, SONY BMG, Universal Music Group, and Warner Music Group are making their debut on slotMusic cards in time for the holidays, including:
ABBA
Chris Brown
Coldplay
Connie Talbot
Daughtry
Don't Quit Fitness Bundle
Elvis Presley
Five Finger Death Punch
Jimi Hendrix
Jimmy Buffet
Katy Perry
Keane
Kelly Clarkson
Kiss
Leona Lewis
Lynyrd Skynyrd
Metro Station
MIA
Nelly
New Kids On the Block
Ne-Yo
Nickelback
Pussycat Dolls
Rihanna
Rise Against
Robin Thicke
Saving Abel
Shwayze
Solange
Sugarland
Tim McGraw
Toby Keith
Usher
Weezer
Young Jeezy
Consumers can expect additional releases from other artists before the end of the year.
slotMusic has an unparalleled, pre-existing installed base at launch: hundreds of millions of multimedia-phones.
slotMusic cards are packaged with a tiny USB adapter (a $9.99 value) ensuring seamless interoperability with all computers - Windows, Linux and Mac-and enabling music fans to move their music to any music management software program or MP3 music device. The MP3-based music tracks will be played back at up to 320 kilobits per second (kbps), offering a high quality audio experience.
slotMusic cards are expected to be available in Europe in 2009.  
SanDisk Corporation (NASDAQ: SNDK), inventor of the ubiquitous microSD format, is leading the technology development behind slotMusic.
For more information regarding slotMusic, please visit www.slotmusic.org.
About EMI Music
EMI Music is the recorded music division of EMI Group Limited, one of the world's leading music companies. EMI Music represents artists spanning all musical tastes and genres. Its record labels include Angel, Astralwerks, Blue Note, Capitol, Capitol Nashville, EMI Classics, EMI CMG, EMI Records, EMI Televisa Music, Manhattan, Mute, Parlophone and Virgin.
About SanDisk
SanDisk Corporation, the inventor and world's largest supplier of flash storage cards, is a global leader in flash memory - from research, manufacturing and product design to consumer branding and retail distribution. SanDisk's product portfolio includes flash memory cards for mobile phones, digital cameras and camcorders; digital audio/video players; USB flash drives for consumers and the enterprise; embedded memory for mobile devices; and solid state drives for computers. SanDisk (www.sandisk.com/corporate) is a Silicon Valley-based S&P 500 company, with more than half its sales outside the United States.
About SONY BMG MUSIC ENTERTAINMENT
SONY BMG MUSIC ENTERTAINMENT is a global recorded music company with a roster of current artists that includes a broad array of both local artists and international superstars, as well as a vast catalog that comprises some of the most important recordings in history. Sony BMG Music Entertainment is a wholly owned subsidiary of Sony Corporation of America.
About Universal Music Group
Universal Music Group is the world's leading music company with wholly owned record operations or licensees in 77 countries. Its businesses also include Universal Music Publishing Group, the industry's leading global music publishing operation.
Universal Music Group's record labels include Decca, Deutsche Grammophon, Disa, Emarcy, Fonovisa, Interscope Geffen A&M Records, Island Def Jam Music Group, Lost Highway Records, Machete Music, MCA Nashville, Mercury Nashville, Mercury Records, Philips, Polydor Records, Universal Motown Republic Group, Universal Music Latino, Universal Records South, and Verve Music Group as well as a multitude of record labels owned or distributed by its record company subsidiaries around the world. The Universal Music Group owns the most extensive catalog of music in the industry, which includes the last 100 years of the world\'s most popular artists and their recordings. UMG's catalog is marketed through two distinct divisions, Universal Music Enterprises (in the U.S.) and Universal Strategic Marketing (outside the U.S.). Universal Music Group also includes eLabs, its new media and technologies division; Bravado, its merchandising company; Twenty-First Artists, its full service management division; and Helter Skelter, its live music agency. Universal Music Group is a unit of Vivendi, a global media and communications company.
About Warner Music Group
Warner Music Group became the only stand-alone music company to be publicly traded in the United States in May 2005. With its broad roster of new stars and legendary artists, Warner Music Group is home to a collection of the best-known record labels in the music industry including Asylum, Atlantic, Bad Boy, Cordless, East West, Elektra, Lava, Nonesuch, Reprise, Rhino, Roadrunner, Rykodisc, Sire, Warner Bros. and Word. Warner Music International, a leading company in national and international repertoire, operates through numerous international affiliates and licensees in more than 50 countries. Warner Music Group also includes Warner/Chappell Music, one of the world's leading music publishers.
---
1 1 megabyte (MB) = 1 million bytes; 1 gigabyte (GB) = 1 billion bytes.

SanDisk's Sansa web site/home page address: www.sansa.com
slotMusic.org's online: www.slotmusic.org
SanDisk, the SanDisk logo and Sansa are trademarks of SanDisk Corporation, registered in the United States and other countries. Sansa Fuze is a trademark of SanDisk Corporation. slotMusic is a trademark of SLOTmedia Group LLC. microSD and SDHC are trademarks. Other brand names mentioned herein are for identification purposes only and may be the trademarks of their respective holder (s).

This press release contains certain forward-looking statements, including expectations for new product introductions, applications, markets and customers that are based on our current expectations and involve numerous risks and uncertainties that may cause these forward-looking statements to be inaccurate. Risks that may cause these forward-looking statements to be inaccurate include among others: market demand for our products may grow more slowly than our expectations or there may be a slower adoption rate for these products in new markets that we are targeting, these products may not perform as expected, these products may not be available when expected or at the prices expected, and the other risks detailed from time-to-time in our Securities and Exchange Commission filings and reports, including, but not limited to, our most recent annual report on Form 10-K and our subsequent quarterly reports on Form 10-Q. We do not intend to update the information contained in this press release.
MEDIA CONTACT