Aug 18, 2009
Tailor-Made Products Meet Certain Military Specs and Feature Improved Accessibility for the Visually Impaired and Durable, Waterproof Design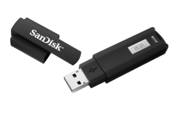 Milpitas, Calif., August 18, 2009 - SanDisk Corporation (NASDAQ: SNDK), the global leader in flash memory cards, today announced that its SanDisk® Cruzer® Enterprise secure USB flash drives are now enhanced to meet the unique requirements of government employees. The Cruzer Enterprise design was independently tested and certified under Military Standard 810-F environmental standards in addition to being suitable for use by the visually-impaired under Section 508 requirements. Cruzer Enterprise drives feature industry-leading cryptographic modules and encryption algorithms, durable waterproof design, and are fully compliant with Trade Agreements Act (TAA) requirements for purposes of U.S. Government procurements. In addition, the Cruzer Enterprise line of flash drives is listed for Common Criteria certification, which it is expected to receive next month.
Military Standard 810-F Design and Waterproof:
The federal government requires that IT devices meet certain design standards in order to prevent the loss of critical information if the host drive is ever exposed to liquid. This feature is particularly important for military and health care settings, which often involve sensitive information as well as an increased risk of exposure for the storage drive. SanDisk's line of Cruzer Enterprise flash drives passed an environmental test conducted by an independent laboratory, and was certified as meeting Military Standard 810-F 506.4 and 512.4 when submitted to immersion and rainy conditions using fresh water.
Section 508 Compliance:
Section 508 of the Rehabilitation Act of 1973 requires federal agencies to make their electronic and information technology accessible to people with disabilities. The law was enacted to eliminate barriers in information technology, to provide new opportunities for people with disabilities as well as to encourage the development of technologies that will help achieve these goals.
SanDisk reconfigured the Cruzer Enterprise's graphical user interface (GUI) to increase accessibility for visually-impaired users. The encrypted USB drives are now compatible with certain assistive technologies such as screen reader software that recreates the Cruzer Enterprise's GUI through text-to-speech representation or via a Braille output device.
"SanDisk has upgraded the Cruzer Enterprise product line to meet the needs of a much broader range of users," said Yariv Fishman, director of product marketing, enterprise solutions, SanDisk. "By reconfiguring the USB drive's GUI, we increased the accessibility of important information technology to the visually-impaired. Additionally, the drive's waterproof design is a perfect fit for health care professionals, soldiers and anyone else who needs to safeguard their critical data from harmful contact with liquid."
To further meet the federal government's need for secure storage, SanDisk intends to implement Common Access Card (CAC) and Personal Identity Verification (PIV) functionality on its Cruzer Enterprise flash drives in accordance with Department of Defense and FIPS 201 standards. Smart cards are issued as a standard form of identification for active-duty military personnel, National Guard members, government employees and contractors.
SanDisk Cruzer Enterprise secure USB drives feature FIPS (Federal Information Processing Standard) 140-2 Level 2 certification for encryption, a standard set by the National Institute of Standards and Technology (NIST). FIPS certification confirms that a drive has met NIST standards for design of the cryptographic module, for the strength of encryption algorithms and resistance to physical intrusion. Cruzer Enterprise drives are also listed for Common Criteria certification, an internationally recognized ISO standard (ISO/IEC 15408) used by governments and other organizations to assess the security and assurance of technology products. Common Criteria is an important worldwide evaluation standard for security products as its certifications are recognized in 26 countries around the world.
SanDisk Cruzer Enterprise can be centrally managed by SanDisk's Central Management and Control software (CMC), which has been used by government agencies, healthcare organizations and enterprises for years. The CMC device agent resides on a company-issued Cruzer Enterprise drive, giving corporate IT departments and government agencies greater control and flexibility over the lifecycle management of the device - including deployment throughout the organization, password recovery and renewal through the network, central back-up and restore of data, central usage tracking with detailed audit reports, and remote termination of lost drives.
About SanDisk
SanDisk Corporation is the global leader in flash memory cards, from research, manufacturing and product design to consumer branding and retail distribution. SanDisk's product portfolio includes flash memory cards for mobile phones, digital cameras and camcorders; digital audio/video players; USB flash drives for consumers and the enterprise; embedded memory for mobile devices; and solid state drives for computers. SanDisk is a Silicon Valley-based S&P 500 company with more than half its sales outside of the United States.
---
* Based on internal testing, complies with MIL-STD 506.4 (Blowing rain) and 512.4 (Immersion). This equates to compliance with IEC 60529 IPX7. IEC 60529 is a European system of test specification standards for classifying the degrees of protection provided by the enclosures of electrical equipment. An IPX7 designation mean a product can withstand accidental immersion in one meter of water for up to 30 minutes. An IPX8 designation is for continuous underwater use. Product must be clean and dry before use.

SanDisk's web site/home page address : http://www.sandisk.com
SanDisk's product and executive images can be downloaded from:
http://www.sandisk.com/about-sandisk/media-kit.aspx
For more Information visit: http://www.sandisk.com/business-solutions/enterprise.aspx
SanDisk, the SanDisk logo and Cruzer are trademarks of SanDisk Corporation, registered in the U.S. and other countries. Other brand names mentioned herein are for identification purposes only and may be trademarks of their respective holder(s).
This press release contains certain forward-looking statements, including expectations for new product introductions, applications, features, markets, and customers that are based on our current expectations and involve numerous risks and uncertainties that may cause these forward-looking statements to be inaccurate. Risks that may cause these forward-looking statements to be inaccurate include among others: our products may not perform as expected, we may not successfully implement the CAC and PIV functionality on our products, no security technology can be guaranteed to be 100% secure, market demand for our products may grow more slowly than our expectations or there may be a slower adoption rate for these products in new markets that we are targeting, these products may not be available when expected, and the other risks detailed from time-to-time in our Securities and Exchange Commission filings and reports, including, but not limited to, our most recent Annual Report filed on Form 10-K and our subsequent Quarterly Reports filed on Form 10-Q. We do not intend to update the information contained in this press release.