Jan 7, 2010
SanDisk 2nd Generation pSSD's Thin, Lightweight Form Factor and Increased Performance Enable LG to Deliver Enhanced User Experience
CES 2010, South Hall 4, 35387MP., LAS VEGAS- January 7, 2010 -
SanDisk Corporation (NASDAQ: SNDK), the global leader in flash memory cards, today announced that the 64-gigabyte (GB)1 SanDisk® pSSDTM Gen2 was selected by LG Electronics (LG), a global leader and technology innovator in mobile communication, as the Solid State Drive (SSD) of choice for its new ultra-thin mobile PC. Unlike conventional Hard Disk Drives (HDDs), SSDs have no moving parts, improving durability which helps prevent data loss resulting from drive failure. In addition, SSD-equipped computers run cooler and more quietly, consume less power and deliver faster performance than those using HDDs.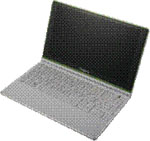 The new LG ultra-thin mobile PC combines enhanced performance with fast and accessible 3G mobile broadband connectivity. LG's device is built with compact dimensions (weighing 970 grams and measuring 298X186X17.6mm thin with an 11.6 inch LCD screen), 3.5hrs of battery life, a webcam and multiple connectivity options (USB, BT WLAN), making portable computing easy and accessible. With a Menlow platform to minimize power consumption, the device runs Microsoft's Windows® 7 operating system.
"SanDisk pSSD's small form factor and low power consumption help us deliver a stylish, streamlined ultra-thin mobile PC, while boosting performance and reducing power consumption," said Harrison Park, general manager, PC PBL team, LG Electronics. "Our customers can enjoy the benefits of a carefree computing experience that they can take with them anywhere, anytime, all day long."
"LG's solid state-based ultra-thin mobile PC leverages fast and accessible 3G mobile broadband connectivity, heralding a market shift towards providing users with always-on and always-connected capabilities," said Rizwan Ahmed, director product marketing, solid state drives, SanDisk. "SanDisk pSSD drive's unique features help OEMs like LG bring to market smaller and lighter computing devices that benefit from the advantages of SSD technology."
The SanDisk pSSD drive has an industry-standard 1.8" form factor with a micro SATA interface, delivering a variety of features that complement the LG ultra-thin mobile PC.
The SanDisk pSSD drive employs the speed and reliability of the popular SATA interface to provide a high-performance, cost-effective storage solution for smaller devices like netbooks.
The SanDisk pSSD drive's lightweight, compact size (weighing up to 8.7 grams and measuring 39.8mm x 54.00mm x 4.0mm) and low power consumption (average power (typical)2 of 0.3W3) are well-matched for the LG ultra-thin mobile PC's specific requirements for a small form factor and extended battery life.
The SanDisk pSSD modular solid state drive helps LG deliver greater performance to its users. SanDisk pSSD offers 9,000 vRPM4 of performance and the added benefit of employing nCache™ acceleration technology, a large non-volatile write cache technology that boosts burst random write performance. The nCache™ acceleration technology improves user responsiveness and helps prevent incidences of the drive "stalling."
SanDisk pSSD Gen2 drive comes in a variety of PATA and SATA interfaces and is available to OEMs in capacities ranging from 8GB to 64GB. More information about SanDisk's pSSD drives is available at: www.sandisk.com/pssd
About SanDisk
SanDisk Corporation is the global leader in flash memory cards, from research, manufacturing and product design to consumer branding and retail distribution. SanDisk's product portfolio includes flash memory cards for mobile phones, digital cameras and camcorders; digital audio/video players; USB flash drives for consumers and the enterprise; embedded memory for mobile devices; and solid state drives for computers. SanDisk is a Silicon Valley-based S&P 500 company, with more than half its sales outside the United States.
---
1 The logical capacity of the drive conforms with the IDEMA HDD Specification. See www.idema.org for details. 1GB = 1, 000,000,000 bytes. Some capacity not available for data storage.
2 While running MobileMark and average (typical) power.
3 Assumes HIPM (Host Initated Power Management) is enabled.
4 vRPM (virtual Revolutions Per Minute) - a metric to compare SSD performance in client PCs with theHDD and with other SSDs. vRPM answers the question how fast would a HDD have to spin in order to deliver the same performance as a SSD in a client PC. vRPM = 50 / ((0.5 / 4kB random read IOPS) + 0.5 / 4kB random write IOPS)).
5 nCache™ acceleration technology is a large Non Volatile Write Cache, a unique feature in SanDisk pSSD-P2 and SanDisk pSSD-S2 that improves random write performance and ensures an improved user experience. Studies show that modern operating systems mostly access the storage device using 4k access blocks. The cache is filled during these small write commands and emptied during idle time when the host is not accessing the drive, with no risk of data loss. For a typical everyday use, the write performance that the users see is the nCache technology (burst) high performance, and not steady state (sustained) SanDisk pSSD performance. Based on IOmeter 4K random write test.
SanDisk's product and executive images can be downloaded from:
www.sandisk.com/about-sandisk/media-kit
SanDisk's web site/home page address: www.sandisk.com
© 2010 SanDisk Corporation. All rights reserved. SanDisk and the SanDisk logo are trademarks of SanDisk Corporation, registered in the United States and other countries. SanDisk pSSD is a trademark of SanDisk Corporation. Other brand names mentioned herein are for identification purposes only and may be the trademarks of their respective holder (s).
This press release contains certain forward-looking statements, including expectations for new product introductions, specifications, applications, markets, and customers that are based on our current expectations and involve numerous risks and uncertainties that may cause these forward-looking statements to be inaccurate. Risks that may cause these forward-looking statements to be inaccurate include among others: market demand for our products may grow more slowly than our expectations or there may be a slower adoption rate for these products in new markets that we are targeting, our products may not perform as expected and the other risks detailed from time-to-time in our Securities and Exchange Commission filings and reports, including, but not limited to, our most recent annual report on Form 10-K/A and our subsequent quarterly reports on Form 10-Q. We do not intend to update the information contained in this press release.