Feb 15, 2010
Support for e.MMC 4.4 Interface Now Available
INAND EFDs Perform Boot, System Code and Mass Storage Functions With Single Device
SanDisk's Advanced 32nm 3-bit-per-cell (X3) NAND Flash Technology Reduces Complexity of High Capacity Embedded Solutions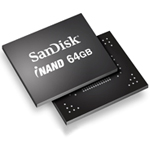 MOBILE WORLD CONGRESS, HALL 8, Booth 8B91, Barcelona, February 15, 2010 - SanDisk Corporation (NASDAQ: SNDK), the global leader in flash memory cards, today introduced the new SanDisk® iNAND™ Embedded Flash Drives (EFD) with support for the e.MMC 4.4 specification. Based on 3-bit-per-cell (X3) NAND flash technology, the drives offer up to 64 gigabytes (GB)1 of capacity in a single device, and can be used for boot, system code and mass storage functions.
An increasing number of mobile phones offer a wide array of applications and storage-intensive content such as movie and music playback, imaging capabilities, gaming, GPS map data, business applications and more. SanDisk iNAND EFDs are specifically designed for these advanced smartphones and provide high capacity and reliable storage in a power-efficient package with a small footprint.
SanDisk's X3 Technology Enables High Capacity Embedded Storage
SanDisk's advanced X3 technology enables the development of high capacity embedded solutions that are robust and power-efficient with minimal package complexity. The successful development and wide distribution of many X3-based products through OEM and retail channels in recent years demonstrates both the technology's maturity and SanDisk's ability to bring to market reliable yet innovative solutions.
SanDisk's memory management expertise and X3 controller technology allow for the continued cost-effective growth of mobile storage solutions. 64GB iNAND EFDs meet the reliability and performance requirements of OEMs for mobile system grade storage. The new 64GB iNAND EFD is based on an eight flash die stack design using SanDisk's advanced X3 32nm flash, and is offered in a 16x20x1.4mm form factor with a standard ball grid array (BGA) for quick integration into smartphone designs.
"The maturity of SanDisk's X3 flash technology together with innovations in flash management are what allow us to continue making higher embedded storage capacities, such as 64GB, a practical solution in the market," said Oded Sagee, director, mobile product marketing, SanDisk. "We understand the highly competitive environment in which our customers operate. By leveraging the substantial experience gained with our X3 NAND and significant advancements made in flash management technology, we offer our customers a very high return on their investment."
Optimized For Maximum Efficiency
SanDisk iNAND EFDs consolidate system code and user storage into a single embedded device in order to conserve precious board space, simplify smartphone design, reduce power consumption and save OEMs the cost of an otherwise needed separate boot device. In addition, the drives utilize a unique state-aware architecture that grants the mobile host additional degrees of control over the storage device, enabling optimal resource utilization and improved system responsiveness.
iNAND devices based on X3 technology fully comply with the e.MMC 4.4 specification and range in capacities from 4GB to 64GB.
About SanDisk
SanDisk Corporation is the global leader in flash memory cards, from research, manufacturing and product design to consumer branding and retail distribution. SanDisk's product portfolio includes flash memory cards for mobile phones, digital cameras and camcorders; digital audio/video players; USB flash drives for consumers and the enterprise; embedded memory for mobile devices; and solid state drives for computers. SanDisk is a Silicon Valley-based S&P 500 company, with more than half its sales outside the United States.
---
11 gigabyte (GB) = 1 billion bytes.
SanDisk and the SanDisk logo are trademarks of SanDisk Corporation, registered in the United States and other countries. iNAND is a trademark of SanDisk Corporation. Other brand names mentioned herein are for identification purposes only and may be the trademarks of their respective holder(s). © 2010 SanDisk Corporation. All rights reserved.
This press release contains certain forward-looking statements, including expectations for new product introductions, specifications, applications, markets, customer acceptance and customers that are based on our current expectations and involve numerous risks and uncertainties that may cause these forward-looking statements to be inaccurate. Risks that may cause these forward-looking statements to be inaccurate include among others: market demand for our products may grow more slowly than our expectations, there may be a slower adoption rate for these products in new markets that we are targeting, our products may not be available when we anticipate, our products may not perform as expected, and the other risks detailed from time-to-time under the caption "Risk Factors" and elsewhere in our Securities and Exchange Commission filings and reports, including, but not limited to, our most recent annual report on Form 10-K/A and our subsequent quarterly reports on Form 10-Q. We do not intend to update the information contained in this press release.
Media Contact:
SanDisk Corporation
Mike Wong
Phone:+1 650-743-3983
Email: mwong@sandisk.com