Feb 23, 2010
Reliable SanDisk G3 SSD Opens Files up to Twice as Fast and is More Rugged
Compared to a 7,200 RPM Hard Disk Drive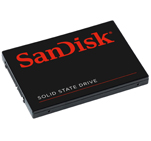 Milpitas, Calif., February 23, 2010 - SanDisk Corporation (NASDAQ: SNDK), the global leader in flash memory cards, today announced that it has begun shipping its SanDisk® G3 Solid State Drives (SSD) to retailers in North America and Europe. The flash memory-based SanDisk G3 SSD offers a compelling alternative to a 7,200 RPM Hard Disk Drive (HDD) for many customers - including do-it-yourself enthusiasts, IT managers or anyone seeking increased durability and performance with high reliability.
"Our rugged drive enables a superior customer experience by delivering extended endurance and fast performance in a resilient SSD design," said Eric Bone, vice president, retail product marketing, SanDisk. "SanDisk believes in an uncompromising development approach which insists that an SSD's long term reliability and durability are just as important as its overall speed. We're leveraging our long history of flash memory and retail expertise to bring the SanDisk G3 SSD to market."
Long-term reliability: The 120 gigabyte (GB)* SanDisk G3 SSD can endure up to 80 terabytes (TB)* of data written to it over its lifetimeiv. The solid state drive uses a smart flash management system called ExtremeFFSTM technology that has the potential to accelerate random write performance and thus extend the endurance of SanDisk G3 SSDs inside computers that use operating systems such as Microsoft Windows XP and Windows 7v
Rugged durability: SanDisk G3 SSD uses no moving parts, enabling improved durability that helps resist drive damage. Backed by rigorous shock and vibration testing procedures and a 10-year limited warrantyii, the drive offers some of the best-in-class quality assurance that could only come from a trusted leader in flash memory.
Fast performance: SanDisk G3 SSD opens files up to twice as fast as a 7,200 RPM HDDi, so users can enjoy faster boot-ups and improved system responsiveness. SanDisk G3 SSD has sequential performance of up to 220 megabytes per second (MB/sec) read speediii and up to 120MB/sec write speediii.
Lower maintenance costs: By replacing standard HDDs with SanDisk G3 SSDs, users can defer laptop purchase costs and reduce maintenance requests associated with disk drive failure.
SanDisk G3 SSD is Microsoft Windows 7 certified and is compatible with Apple Mac OS X Snow Leopard as well as Windows XP, Windows Vista and Linux. The drive also supports the newest Windows 7 TRIM feature, which contributes to a substantial gain in the SanDisk G3 SSD's performance by allowing the drive to continuously manage its resources and retain optimized performance throughout its lifespan.
SanDisk G3 SSD is available now at www.sandisk.com via the U.S. and UK e-commerce sites in 60GB and 120GB capacities with prices of $229.99 and $399.99 respectively. The drive will be available at retailers in North America and Europe soon, with exact pricing to be set by retailers.
About SanDisk
SanDisk Corporation is the global leader in flash memory cards, from research, manufacturing and product design to consumer branding and retail distribution. SanDisk's product portfolio includes flash memory cards for mobile phones, digital cameras and camcorders; digital audio/video players; USB flash drives for consumers and the enterprise; embedded memory for mobile devices; and solid state drives for computers. SanDisk is a Silicon Valley-based S&P 500 company, with more than half its sales outside the United States.
---
i Based on SanDisk internal testing using Microsoft Windows Performance Tool Kit. Performance varies depending upon OS and application. Platform: Intel Core 2 Processor E8400, 2GB DDR2; OS: Microsoft Windows 7 Ultimate; HDD: Seagate HDD 7200.4 RPM 250 GB; SSD: G3 RC304 60GB
ii 10 Year warranty in regions not recognizing limited warranty.
iii Based on SanDisk internal testing; performance may be lower depending upon host device. 1 megabyte (MB) = 1 million bytes.
* 1 gigabyte (GB) = 1 billion bytes. 1 terabyte (TB) = 1 trillion bytes.
iv Based on 120 GB G3 SSD; Approximations based on LDE (Long-term Data Endurance) - an industry metric, introduced by SanDisk, that quantifies how much data can be written to a SSD in its lifespan expressed in terabytes written (TBW). Data is written using typical PC transfer size, written at a constant rate over the life of the SSD, and data is retained for at least 1 year upon LDE exhaustion. Based on SanDisk internal measurements, a typical client PC user writes 4GB/day.
v ExtremeFFS is a SanDisk page-based flash management algorithm, optimized for popular operating systems, has the potential to greatly increase SSD random write speeds and efficiency thus accelerating the performance and extending the endurance of SSDs inside PCs.
SanDisk's product and executive images can be downloaded from:
http://www.sandisk.com/corporate/media.asp
SanDisk's web site/home page address: http://www.sandisk.com
© 2010 SanDisk Corporation. All rights reserved. SanDisk and the SanDisk logo are trademarks of SanDisk Corporation, registered in the United States and other countries. ExtremeFFS is a trademark of SanDisk Corporation. Other brand names mentioned herein are for identification purposes only and may be the trademarks of their respective holder (s).
This press release contains certain forward-looking statements, including expectations for new product introductions, specifications, applications, markets, and customers that are based on our current expectations and involve numerous risks and uncertainties that may cause these forward-looking statements to be inaccurate. Risks that may cause these forward-looking statements to be inaccurate include among others: market demand for our products may grow more slowly than our expectations or there may be a slower adoption rate for these products in new markets that we are targeting, our products may not perform as expected or may not be available at the prices, in the regions, in the capacities or at the time expected and the other risks detailed from time-to-time in our Securities and Exchange Commission filings and reports, including, but not limited to, our most recent annual report on Form 10-K and our subsequent quarterly reports on Form 10-Q. We do not intend to update the information contained in this press release.