Jul 20, 2010
New Campaign Offers Consumers Exclusive Tiësto Content and Encourages Them to Capture Video of His Concerts Using Mobile Phones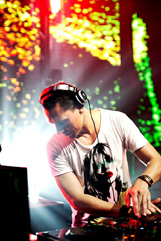 Milpitas, Calif., July 20, 2010-SanDisk Corporation (NASDAQ: SNDK), the global leader in flash memory cards, today announced that it is partnering with Tiësto, the world's No.1 DJ, to create a crowd-sourced music video using mobile phone footage from concert audiences around the world1. Consumers who attend Tiësto concerts can contribute footage from the events, and customers who purchase specially marked SanDisk microSDHC™ cards can download exclusive tracks created by Tiësto for his "What's Next" virtual mix CD.
SanDisk will sponsor select Tiësto concerts throughout North America and Europe. During each event, the audience will be encouraged to record their concert experience using mobile phones while Tiësto performs a track from the exclusive mix offered to SanDisk customers. Concert-goers can upload their footage to www.wakeupyourphone.com/tiesto, and later Tiësto will select his favorite fan-generated clips for use in the track's official music video.
"Tiësto's concert audiences are going to help create a professional music video shot using mobile phones," said Bob O'Keefe, vice president, retail marketing, SanDisk. "Consumers are already taking mobile videos every day, and SanDisk is giving Tiësto's fans the opportunity to showcase the power of today's handsets."
Smartphones do more than place calls; they serve as mobile offices, music players, movie theaters, cameras and camcorders, GPS devices and gateways to the mobile Internet. These features produce large files that can quickly fill a phone's onboard storage capacity. SanDisk microSDHC cards provide consumers with maximum freedom and flexibility in how they create and distribute content, letting them enjoy their mobile phones without worrying about running out of storage.
"I love the way technology is evolving. It's amazing that SanDisk is the little memory card inside all of those phones and cameras every night," said Tiësto. "Everyone is a photographer and movie maker, and it's all happening in real time."
Download Exclusive Tiësto Content
SanDisk is also making available premium Tiësto content for download from www.wakeupyourphone.com/tiesto; Tiësto's "Whats Next" mix contains five exclusive tracks and an extended mix. SanDisk is offering the content without charge to all customers who purchase a specially marked SanDisk microSDHC card*. The cards are available now in Europe, and will be available in North America starting in the fall.
Record Tiësto's Performance at the Following SanDisk-Sponsored Concerts
| | | |
| --- | --- | --- |
| Date | City | Venue |
| July 30 | London | Victoria Park |
| July 31 | Berlin | Dream (Tempelhof Fluhagen) |
| Aug 21 | Moscow | Open Air Venue |
| Sep 3 | Frankfurt | Cocoon |
| Sep 17 | Stockholm | Annext |
| Sep 21 | London | Scala Club |
| Sep 23 | Paris | Queen Club |
| Oct 1 | Abu Dhabi | Yas Island |
| Oct 30 | Los Angeles | LA Convention Center |
About SanDisk
SanDisk Corporation is the global leader in flash memory cards - from research, manufacturing and product design to consumer branding and retail distribution. SanDisk's product portfolio includes flash memory cards for mobile phones, digital cameras and camcorders; digital audio/video players; USB flash drives for consumers and the enterprise; embedded memory for mobile devices; and solid state drives for computers. SanDisk is a Silicon Valley-based S&P 500 company, with more than half its sales outside the United States.
---
1 Ranked #1 on DJList.com as of July 19, 2010; top-grossing DJ per Billboard mid-year 2010 Top 25 tour gross.
*Download content offer is available until 28/02/2011 in Europe and 03/31/2011 in North America.
SanDisk's product and executive images can be downloaded from
/corporate/media.asp
SanDisk's web site/home page address:
SanDisk and the SanDisk logo are trademarks of SanDisk Corporation, registered in the United States and other countries. Wake Up Your Phone is a trademark of SanDisk Corporation. microSDHC is a trademark of SD-3C LLC. Other brand names mentioned herein are for identification purposes only and may be the trademarks of their respective holder (s).
This press release contains certain forward-looking statements, including expectations for new applications, features, markets, promotions and customers that are based on our current expectations and involve numerous risks and uncertainties that may cause these forward-looking statements to be inaccurate. Risks that may cause these forward-looking statements to be inaccurate include among others: the market demand for our products may grow more slowly than our expectations or there may be a slower adoption rate for these products in new markets that we are targeting, our products may not perform as expected and the other risks detailed from time-to-time in our Securities and Exchange Commission filings and reports, including, but not limited to, our annual report on Form 10-K and our quarterly reports on Form 10-Q. We do not intend to update the information contained in this press release.