Jul 27, 2010
Tiny SanDisk Cruzer Blade USB Offers Sleek High-Capacity Storage, Letting Consumers Take Their Favorite Files With Them Wherever They Go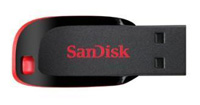 Milpitas, Calif., July 27, 2010- SanDisk Corporation (NASDAQ: SNDK), the global leader in flash memory cards, today announced the availability of its smallest USB flash drive to U.S. and Canadian consumers. The SanDisk Cruzer® Blade is about the size of a standard size paper clip and weighs approximately the same as a penny, creating a tiny footprint that fits easily on a keychain or mobile phone dongle. Despite its small size, the drive packs high-capacity storage at an affordable price.
Available in capacities ranging from 2 gigabytes (GB)1 to 16GB, the SanDisk Cruzer Blade lets consumers take their favorite digital content with them wherever they go. A 4GB drive can store 1,000 songs, 1,200 high- resolution photos, or 8 hours of 768kb/s video*. The SanDisk Cruzer Blade offers reliable storage in a sturdy form factor, helping consumers rest assured that their digital content is safe.
"At half the size of some other USB drives, our compact Cruzer Blade provides consumers with highly portable storage at a great value," said Kent Perry, director, retail product marketing, SanDisk. "The drive lets users transfer their digital data quickly between computers, and delivers a storage boost to devices such as netbooks that often need additional memory but are difficult to upgrade easily."
The SanDisk Cruzer Blade USB flash drive is available now in the United States and Canada at sandisk.com, with prices ranging from $14.99 to $77.99. The drive carries a two year limited warranty.
About SanDisk
SanDisk Corporation is the global leader in flash memory cards, from research, manufacturing and product design to consumer branding and retail distribution. SanDisk's product portfolio includes flash memory cards for mobile phones, digital cameras and camcorders; digital audio/video players; USB flash drives for consumers and the enterprise; embedded memory for mobile devices; and solid state drives for computers. SanDisk is a Silicon Valley-based S&P 500 company, with more than half its sales outside the United States.
---
11 gigabyte (GB) = 1 billion bytes
*Approximations: results will vary based on file size, resolution, compression, bit rate, content, host device, pre-loaded files and other factors. See www.sandisk.com
SanDisk's product and executive images can be downloaded from:
www.sandisk.com/corporate/media.asp
SanDisk's website/home page address: www.sandisk.com
© 2010 SanDisk Corporation. SanDisk, the SanDisk logo and Cruzer are trademarks of SanDisk Corporation, registered in the United States and other countries. Other brand names mentioned herein are for identification purposes only and may be the trademarks of their respective holder(s).
This press release contains certain forward-looking statements, including expectations for new product introductions, specifications, applications, markets, and customers that are based on our current expectations and involve numerous risks and uncertainties that may cause these forward-looking statements to be inaccurate. Risks that may cause these forward-looking statements to be inaccurate include among others: market demand for our products may grow more slowly than our expectations or there may be a slower adoption rate for these products in new markets that we are targeting, our products may not perform as expected or may not be available at the prices, in the regions, in the capacities or at the time expected and the other risks detailed from time-to-time in our Securities and Exchange Commission filings and reports, including, but not limited to, our most recent annual report on Form 10-K and our subsequent quarterly reports on Form 10-Q. We do not intend to update the information contained in this press release.