Dec 18, 2013
The Prestigious Award Recognizes SanDisk's Leadership in Technological Innovation and the Strength of Its Patent Portfolio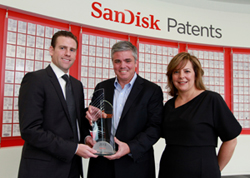 MILPITAS, Calif., Dec. 18, 2013 – SanDisk Corporation (NASDAQ: SNDK), a global leader in flash storage solutions, was named a Thomson Reuters Top 100 Global Innovator for 2013, the third consecutive year SanDisk has received this distinction recognizing its achievements as one of the world's most innovative companies. The award methodology is based on a series of proprietary patent-related metrics across four principle criteria: overall patent volume, patent grant success rate, global reach of the portfolio, and patent influence as evidenced by citations.
"I am pleased that Thomson Reuters has again recognized SanDisk as a global leader in innovation and intellectual property," said Eric Whitaker, senior vice president and chief legal officer, SanDisk. "The fact that SanDisk has received this distinction three years running is powerful validation of the work our employees do to drive the industry-leading technologies that will enable the next generation of storage solutions."
From a three-person start-up in Silicon Valley to a world-recognized brand with more than 5,000 employees, SanDisk is a pioneer in flash storage solutions, and has maintained a 25-year legacy of expanding the possibilities of storage.
"The Thomson Reuters Top 100 Global Innovators once again prove that they are the companies driving growth, creating jobs, and pioneering new products and services," said David Brown, managing director, Thomson Reuters IP Solutions. "We congratulate SanDisk and are honored to recognize their efforts with this annual report."
The Thomson Reuters 2013 Top 100 Global Innovator peer-reviewed methodology was executed using Thomson Reuters Derwent World Patents Index® (DWPI), Derwent Patents Citations Index™, Quadrilateral Patent Index™, and Thomson Innovation®, its IP and intelligence collaboration platform. Comparative financial analysis was done using the Thomson Reuters Advanced Analytics for Deal-Making platform.
According to Thomson Reuters, their 2013 Top100 Global Innovators:
Outperformed the S&P 500 for the third consecutive year, by four percent in annual stock price growth and two percent in market cap weighted revenue growth
Collectively generated $4.5 trillion in revenue
Added 266,152 new jobs over the last year, a rate that was 0.81 percent higher than the new job creation rate among constituents of the S&P 500
To view the full report on the Thomson Reuters 2013 Top 100 Global Innovator program, go to www.top100innovators.com.
About SanDisk
SanDisk Corporation (NASDAQ: SNDK),a Fortune 500 and S&P 500 company, is a global leader in flash storage solutions. For more than 25 years, SanDisk has expanded the possibilities of storage, providing trusted and innovative products that have transformed the electronics industry. Today, SanDisk's quality, state-of-the-art solutions are at the heart of many of the world's largest data centers, and embedded in advanced smart phones, tablets and PCs. SanDisk's consumer products are available at hundreds of thousands of retail stores worldwide. For more information, visit www.sandisk.com.
---
© 2013 SanDisk Corporation. All rights reserved. SanDisk is a trademark of SanDisk Corporation, registered in the United States and other countries. Other brand names mentioned herein are for identification purposes only and may be the trademarks of their respective holder(s).