Mar 1, 2015
New, Best-in-Class Embedded Flash Drive with Innovative Storage Architecture Enables 1Gb Per Second or Higher Data Transfer Speed on Demand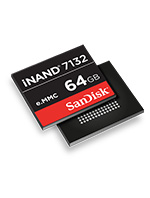 MOBILE WORLD CONGRESS, BARCELONA, March 1, 2015 – SanDisk Corporation (NASDAQ: SNDK), a global leader in flash storage solutions, today introduced the iNAND® 7132 storage solution, the most advanced embedded storage solution from SanDisk to date. Designed for use in flagship mobile devices, the iNAND 7132 storage solution features SanDisk's new iNAND Accelerator Architecture with SmartSLC technology, an innovative new storage architecture that quickly and intelligently responds on-demand to mobile users' needs and gives superior experiences to the most data-intensive applications. Available in capacities up to 64GB1, iNAND 7132 storage solution enables original equipment manufacturers (OEMs) to introduce a new generation of high-capacity smartphones, tablets and connected devices that offer exceptional user experiences.
"iNAND 7132 is the perfect high capacity storage solution for the next generation of smartphones, tablets and smart devices," said Drew Henry, senior vice president and general manager for Mobile and Connected Solutions at SanDisk. "Featuring our new iNAND Accelerator Architecture with SmartSLC, our best-in-class iNAND 7132 storage solution delivers amazing performance for faster burst photography and 4K Ultra HD video capture, supports the newest 802.11 standards with ease, and enables blazingly fast data side-loading."
Designed for Performance, Capacity and Endurance
iNAND 7132 storage solution is built with SanDisk's 1Y nanometer 3-bit-per-cell (X3) NAND flash storage. When combined with the drive's SmartSLC technology, this storage solution offers near single-level-cell performance when the user need demands it, with the storage solution boasting sequential write speeds of up to 1Gb per second and beyond2. It brings tremendous performance to even the most data-intensive business, video, photography and mobile gaming applications, as well as supports 802.11ac and 802.11ad network standards.
The incredible speed of the iNAND 7132 storage solution also enables device makers to push the design boundaries of smartphone photography and video functionality. When used in optimized smartphones, the performance of the iNAND 7132 storage solution supports professional grade digital photography capabilities, including image capture in RAW format, thereby expanding the possibilities of image capture and processing. In addition, 4K Ultra HD video can be captured and played back with ease.
SanDisk-commissioned testing and analysis conducted by Granite River Labs, a global leader in engineering services and test solutions for high speed connectivity, found iNAND Accelerator to have a significant impact on smartphone performance. "In our tests, the iNAND 7132 storage solution with iNAND Accelerator featuring SmartSLC technology measurably boosted sequential write speeds. Specifically, we've validated download speeds up to and above 1Gbps2," said Miki Takahashi, director of engineering at Granite River Labs.
In addition to its advanced new architecture, iNAND 7132 storage solution uses e.MMC 5.0+ specification and incorporates a sophisticated error correction hardware and software technology that enhances its endurance and responsiveness, and reduces latency. This enables devices with the iNAND 7132 storage solution to perform at high levels throughout the life of the device, even as the storage continues to fill up.
Optimized for the Mobile Ecosystem
SanDisk, which works with all major smartphone and tablet manufacturers, optimized the iNAND 7132 storage solution to seamlessly work with industry-leading application processors and bring performance to Android, Chrome and Windows based smartphones, tablets and connected devices.
In addition to improving the performance on popular system platforms and applications, iNAND 7132 storage solution helps reduce performance restrictions for application developers, enabling new possibilities in mobile device design.
iNAND 7132 storage solution is supported by advanced simulation, trouble-shooting and engineering tools that enable mobile manufacturers to quickly and easily integrate the device into mobile device designs. This offers the potential to significantly reduce the time from product development to product availability.
Specific features and specifications include:
Built on the e.MMC 5.0+ HS400 specification
Sequential write/read speeds up to 125/280 MB/s3
Features unique application architecture enhancements that reduce latency and support consistent performance
Supports up to 3 fps of RAW image capture3
Available in packages just 11.5mm x 13mm in size and as thin as 0.8 mm enabling integration in slim host devices
Market Research Analyst Perspective:
"There is a rising data appetite among smartphone users, which largely driven by advanced media creation and consumption – the capture of million-megapixels images and 4K video capture, digital book downloads, tons of emails, offline music, documents storage and retrieval all done on the smartphone itself. This has marked an imminent need for flash storage that is not only higher capacity, but also offers better performance delivery and greater reliability compared to a traditional MLC flash storage. SanDisk is delivering on all these three important fronts with its innovative new iNAND 7132 EFD. It not only comes in higher capacity configurations, but also supercharges performance right at the application peaks and opens the door for an entire new range of application experiences." – Neil Shah, research director, Devices & Ecosystems, at Counterpoint Research.
Availability
Samples of the iNAND 7132 storage solution are currently available to customers in capacities up to 64GB.
SanDisk at Mobile World Congress
SanDisk also announced separately today the company's new 200GB1 SanDisk Ultra® microSDXC™ UHS-I card, Premium Edition, the world's highest capacity microSD card for use in mobile devices; SanDisk® High Endurance Video Monitoring microSDHC/microSDXC cards designed specifically for dash cameras and home video monitoring systems; and two new mobile flash drives, the company's first Dual USB Drive with Type C connector, and the 128GB iXpand™ Flash Drive. SanDisk will be displaying these new solutions as well as the new iNAND 7132 storage solution in the company's Mobile World Congress 2015 booth, Stand # 7A61 located in Hall 7.
About the iNAND Family of Products
SanDisk iNAND storage solutions have made incredible mobile experiences possible on hundreds of millions of devices. The SanDisk iNAND product family offers an embedded storage solution for every performance segment and comes in capacities from 4GB to 128GB. The SanDisk iNAND EFD product family includes iNAND 3120, iNAND 5020/5130, and iNAND 7030 EFDs. SanDisk's iNAND storage solutions, available in EFD (Embedded Flash Drive) and MCP (Multi-Chip Package) forms, provide tablets, smartphones, e-Book readers, personal media players and personal navigation devices with fast system responsiveness, improved multitasking and browsing performance, long battery life and an enhanced user experience.
About SanDisk
SanDisk Corporation (NASDAQ: SNDK), a Fortune 500 and S&P 500 company, is a global leader in flash storage solutions. For more than 25 years, SanDisk has expanded the possibilities of storage, providing trusted and innovative products that have transformed the electronics industry. Today, SanDisk's quality, state-of-the-art solutions are at the heart of many of the world's largest data centers, and embedded in advanced smartphones, tablets and PCs. SanDisk's consumer products are available at hundreds of thousands of retail stores worldwide. For more information, visit www.sandisk.com.
---
1 1GB=1,000,000,000 bytes. Actual user storage less.
216GB and 32GB capacity only. Based on testing conducted by Granite River Labs; performance may vary depending upon drive capacity, host device, file attributes, OS and application.
3 Based on internal testing; performance may vary depending upon drive capacity, host device, file attributes, OS and application.  
© 2015 SanDisk Corporation. All rights reserved. SanDisk and iNAND are trademarks of SanDisk Corporation, registered in the United States and other countries. 
This news release contains certain forward-looking statements, including expectations for markets and customers that are based on our current expectations and involve numerous risks and uncertainties that may cause these forward-looking statements to be inaccurate. Risks that may cause these forward-looking statements to be inaccurate include among others: the market demand for our products may grow more slowly than our expectations or our products may not be available in the capacities that we expect or perform as expected, or the other risks detailed from time-to-time in our Securities and Exchange Commission filings and reports, including, but not limited to, our most recent annual report on Form 10-K. We do not intend to update the information contained in this news release.
Media Contact:
Laura Bakken
SanDisk Corporation
408-801-7653
laura.bakken@sandisk.com